The Pacific Northwest's "new normal" is starting to feel like old normal in Washington's Methow Valley.
This is the fifth summer in a row that wildfire season has hit the Methow Valley especially hard, causing hazardous smoke conditions that persist for weeks and leaving residents feeling trapped and isolated.
Cooped up inside, valley residents can get a little stir-crazy as they watch summer drift by in a haze. The alternative—wearing a mask to go outside—only adds to the sense of apocalypse.
So Kelly Edwards with the University of Washington's Interdisciplinary Center for Exposures, Diseases, Genomics and Environment (EDGE) decided to try a new strategy this summer to help community members manage their health while also bringing people together for a little fun.
Connecting at the farmers market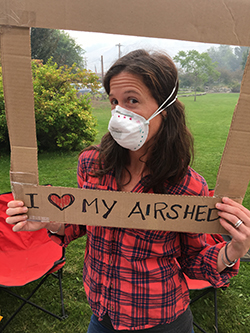 A resident of the Methow Valley herself, Edwards is an adjunct professor in the UW Department of Environmental & Occupational Health Sciences (DEOHS) and EDGE's director of community engagement.
She also works with the Methow Valley Clean Air Project, a local effort to expand a grassroots network of sensors providing local, up-to-the-minute air quality data.
She partnered with two community members, Anthony Twig Wheeler, a leader in somatic therapy, and clinical herbalist Robin Baire, who specializes in teas and tinctures to combat the inflammatory response triggered by smoke exposure. The three worked with Amanda Durkin, a DEOHS undergraduate summer research intern, to set up a booth at the Twisp Farmers Market last week.
The group plans a similar engagement event on Saturday as part of a "stress-less" workshop and community dance party with local radio station KTRT on the Twispworks campus from 5 pm to 8 pm.
Making a mask your own
At the farmers market, visitors shared how the smoke is affecting them and tried samples of therapeutic tea. Edwards and Durkin passed out air masks provided by EDGE, encouraging people to color on them with non-toxic markers.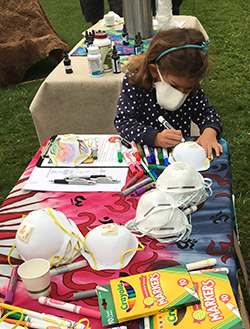 "We wanted to give people the right kind of masks," says Edwards, "but we also wanted them to make them their own. Adding color made them more fun to wear and also kept people from looking sick."
The N95 masks are capable of filtering out tiny particulate matter that poses a health risk. Unlike many masks provided by public health agencies, these masks have an air-exchange pocket at the nose to make exhalation easier and keep internal temperatures cooler.
When will the smoke clear?
Along with the masks, Kelly distributed a handout designed for schoolchildren with simple messages about what's in wildfire smoke and how to take care of yourself until it passes.
One of the biggest insights from the activity was recognizing the benefit of framing simple, helpful information in a positive way, Edwards says.
One suggestion reads: Remind yourself that you're OK, and the smoke will go away again.
"This is what I really needed to hear today," one older community member told Edwards.