Dr. Russ Castner is helping to improve human health—one graduate student at a time.
The retired Shoreline dentist never got the chance to use the environmental health degree he earned as one of the first graduates of the UW School of Public Health.
Yet his ongoing support for students in the Department of Environmental & Occupational Health Sciences (DEOHS) has fueled national and international research into the connections between our health and the environment.
"The earth is in trouble, and we look to these environmental health students to keep us from doing even more damage to the planet," Castner said.
A gift in perpetuity
Castner recently completed payments to create the Russell L. Castner Endowed Research Fund supporting the next-generation leaders trained by DEOHS in environmental and occupational health. Since 2015, the fund has supported the research of two graduate students each year investigating health issues that range from Alzheimer's disease to heat-related illness.
"I give to the department because the excellent faculty there invested time in me," Castner said. "The department is doing important work ... I want to help students training to do the work that I was unable to do."
A lifelong passion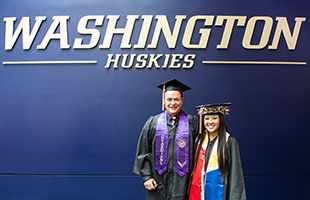 When Castner entered the UW, the environmental health program was part of the School of Medicine. Halfway through his education, the UW moved the program into the newly created School of Public Health and Community Medicine.
Castner was interested in improving air and water quality as well as agricultural practices for safer food production. But when he graduated in 1971, he found limited job opportunities.
"When the program first started, it was geared toward government inspection work, and there were no government jobs available when I graduated," Castner said. "Now the field has exploded into so many areas that touch on so many aspects of health."
Instead, Castner shifted course to enroll in the UW School of Dentistry, leading to a 40-year career as a dentist. But he never forgot his original passion for environmental health.
Research on Alzheimer's disease
Castner and his wife, Svanhild Swasand, have given nearly $140,000 to the UW through the endowed fund. That includes donations made individually by Swasand, who holds a UW degree in accounting.
Together, they support one DEOHS master's student and one doctoral student each year with awards that pay for research-related supplies and travel. "Funding is tight for students, and this award allows students to complete their research or attend a conference," said Rachel Shaffer, a PhD student in Environmental Toxicology and 2018 Castner award recipient. "This award is also meaningful to me because of Dr. Castner's connection to the school."
Shaffer will use the funding to support her research into the links between air pollution and Alzheimer's disease. The money will allow her to attend a conference with Alzheimer's experts or pay for additional lab analysis on brain tissue specimens of Alzheimer's patients.
Research on well water contamination
MPH student Kori VanDerGeest will use her 2018 Castner award to make her research accessible to non-English speakers.
She will conduct a workshop on nitrate contamination of well water for community stakeholders in Washington's Yakima Valley that will be simultaneously translated into Spanish. "I am very grateful to Dr. Castner for this award," VanDerGeest said. "Simultaneous translation will be critical to ensure everyone has an equal opportunity to learn and participate."
For Castner, meeting students who share his passion for environmental health gives him hope for the future.
"Giving to the school has been a great experience," Castner said. "I have gotten to meet really exceptional professors and some really smart students with fire in their bellies. They are going places and will make a difference."