I'm working for Exponent, a leading scientific and engineering consulting firm, in their Health Sciences practice. I am mostly focusing on the biocompatibility of medical devices, but I really like the diversity of different projects that I'm working on. It's a reminder of how toxicology can be applied in so many different ways.
I graduated from the UW Department of Environmental & Occupational Health Sciences (DEOHS) with a core toxicology skill set, which I use daily to help our clients and guide them through the regulatory process.
Student support
As a graduate student, I was able to go to the Society of Toxicology conference each year with funding from the Environmental Health Student Support Fund and other sources.
It's really important for students to be able to go to those conferences because they're exposed to the latest and greatest of what's going on in those fields.
It's also an important networking opportunity, especially for students nearing the end of their PhD program. Lots of different companies and institutions attend the conference, and it's a one-stop shop for networking and doing preliminary, informal interviews, just to get your name out there. I networked with individuals from two consulting firms, including Exponent. They were able to put a name to a face when my application came through for my current position.
Diverse learning opportunities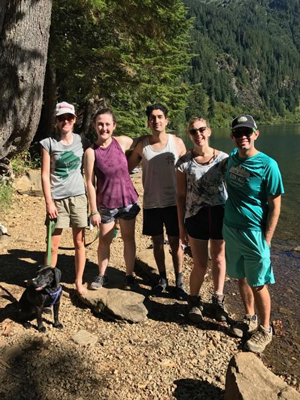 At DEOHS, I trained under Professors Elaine Faustman and Terrance Kavanagh, leaders in the toxicology field. It was exceptional to be able to obtain day-to-day guidance from them on my dissertation research.
It was extremely valuable to be trained in a toxicology program housed within a department of environmental and occupational health with such a broad research portfolio. Had I trained elsewhere, I wouldn't have been exposed to research focused on a diverse array of important public health issues ranging from the toxicity of engineered nanomaterials—which is what I studied—to climate change, environmental microbiology, air pollution, epidemiology, cardiovascular disease and children's environmental health.
It was also great to be trained within a school of public health and to take classes in epidemiology and biostatistics, which allowed me to approach toxicology from a much more quantitative, bioinformatics-focused perspective.
Life in Seattle
In Seattle, there are lots of opportunities for hiking, running and skiing, which provided such a great outlet in graduate school. When you were feeling stressed and overwhelmed with all the work you had to do, you could go on a hike with friends over the weekend and clear your head.
The friends I met in the toxicology program are some of my best friends. To this day, my cohort and I call ourselves "Team Tox." We still keep in touch and I think we always will.