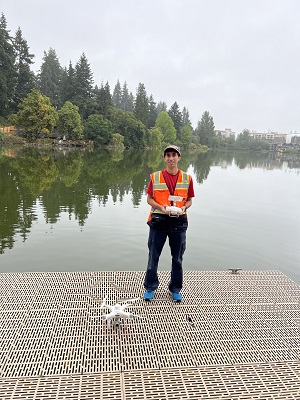 The effects of climate change are leading to an explosive surge in harmful algal blooms, jeopardizing drinking water supplies and threatening human health. Harmful algal blooms (HABs) occur when algae grow exponentially, potentially producing toxins that can poison fish, mammals and birds—as well as cause human illness or even death in extreme incidents. Thus, investigation is required to better mitigate their harmful effects.
In spring 2023, an interdisciplinary team of UW researchers were awarded a Tier 1 pilot grant from the UW Population Health Initiative to better understand harmful algal blooms in freshwater lakes.
Led by Joey Teresi, a second-year MS student in the UW Department of Environmental & Occupational Health Sciences (DEOHS), this project aims to integrate a new drone surveillance technique into the monitoring of HABs in Echo Lake, a body of water located in Shoreline, Washington.
"The main goals of this project are to assess the feasibility of using drones for freshwater lake monitoring, record the challenges encountered and help guide future drone applications in this field," explained Teresi.
Other UW investigators include Teresi's faculty adviser, DEOHS Teaching Professor Tania Busch Isaksen, as well as DEOHS Professor Scott Meschke and School of Aquatic and Fishery Sciences Associate Professor Gordon Holtgrieve.
A drone's-eye view of harmful algal blooms
This pilot project will measure the presence of HABs using chlorophyll concentrations as a proxy for the algal growth of the lake. "Chlorophyll is the photosynthetic pigment in all algae and cyanobacteria. It's what takes energy from the sun and converts it into chemical energy," explained Teresi. The more chlorophyll detected in the lake, the greater the likelihood a HAB will occur.
A visual assessment of algal growth of the lake from above may provide more information than the same assessment from the shoreline or boat. "Basically, we'll go out and fly the drone around the lake," described Teresi. "The drone is going to be taking hundreds of photos as it goes and, essentially, all those images are entered into photo processing software that will stitch them together into one large image of the lake."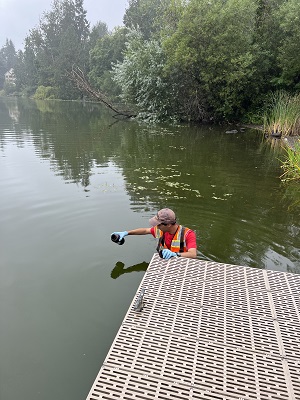 "This image will then be processed using Geographic Information System (GIS) software, which will analyze and assign a value to every pixel on a scale of how 'green' it is," said Teresi. In theory, the greener the pixel, the greater the amount of chlorophyll is in that section of water.
To double-check that these images are correctly approximating the chlorophyll concentration, water samples will be collected from different areas of the lake and tested in the lab. "If there's a moderate or strong correlation between these two values, then we can confidently say that a drone can be useful for estimating the amount of chlorophyll in a lake," explained Teresi.
Protecting people as climate change boosts blooms
Incorporating drones as a supplemental monitoring tool to estimate chlorophyll levels in an entire lake can help water managers better prepare for HABs and, therefore, better protect people.
"If we have aerial images telling us the lake is becoming progressively greener, it could become an algal bloom that turns harmful and produces toxins," emphasized Teresi. "We can then communicate this risk to the public and take more of a proactive rather than reactive approach."
This information is critical during a time when climate change continues to exacerbate the conditions that allow harmful algal blooms to thrive in crucial freshwater resources.
Ultimately, incorporating aerial vehicles into environmental monitoring is still an emerging field. "It's definitely been a work in progress," said Teresi. "There's been a lot of hiccups along the way and some changes. But we're still pretty excited about what we'll find with this work."
Adapted from the original post here.