Malnutrition causes nearly half of the deaths in children under five, a global burden of disease shouldered predominately in Africa and Southeast Asia. It can be severely disabling, and the condition is difficult to alleviate. Researchers are investigating whether intestine-cohabitating microorganisms shared between livestock and children might be a key to this problem.
A new study in Kenya led by Dr. Peter Rabinowitz in the UW School of Public Health will investigate whether children living in close proximity with domestic animals show evidence of sharing of gut microbes that can affect nutritional status. If this is the case, it is possible that resetting the microbiome—the gut's microbial communities--in livestock can be a sustainable intervention to improve children's health and development. Dr. Rabinowitz and colleagues at the University of Washington, Washington State University, and CDC Kenya will perform these investigations in a community in Western Kenya, where over 90% of the households own livestock.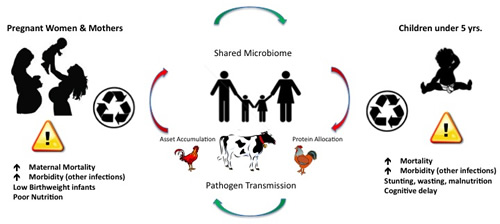 "Disturbance in the balance of bacterial communities in our intestines can make it hard for children to absorb nutrition and grow and develop normally. When humans and animals live closely together, there may be sharing of these microbial communities, or 'microbiomes.' As we work to improve childhood nutrition globally it is important to explore these relationships," explained Dr. Rabinowitz, who is associate professor in the UW Department of Environmental and Occupational Health Sciences and Department of Global Health . Dr. Rabinowitz directs the UW Human-Animal Medicine Project, a "One Health" program linking human, animal, and environmental health.
"Human-Animal Medicine explores the unprecedented convergence of human, animal, and environmental health in an increasingly crowded and interdependent world," explained Rabinowitz. "Recent global pandemics such as SARS and influenza H1N1—require that we look at new paradigms for healthy coexistence."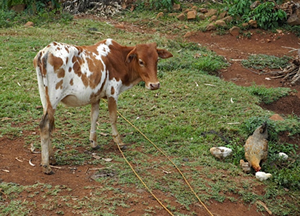 Also involved in the project are Dr. Judd Walson (UW Department of Global Health); Dr. Wes Van Voorhis (UW Department of Medicine); Dr. Guy Palmer (Paul G. Allen School for Global Animal Health, Washington State University, Affiliate Associate Professor, Global Health); and Dr. Joel Montgomery of the Centers for Disease Control-Kenya.
Grand Challenges Explorations (GCE) funds individuals worldwide to explore ideas that can break the mold in how we solve persistent global health and development challenges. Dr. Rabinowitz's project is one of more than 80 Grand Challenges Explorations Round 11 grants announced today by the Bill & Melinda Gates Foundation. Successful projects have the opportunity to receive future support up to $1 million.