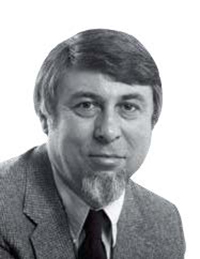 The Sheldon D. Murphy Endowed Chair in Toxicology and Environmental Health was established in 1990 through the generous donations of individuals, foundations and corporations to honor the memory of Dr. Sheldon D. Murphy. The purpose of this Chair is to enable the University of Washington's Department of Environmental & Occupational Health Sciences (DEOHS) to attract and retain outstanding faculty members in Toxicology and Environmental Health. The recipient of the Chair is awarded funding to support innovative new research projects, as well as leverage support for existing work.
About Dr. Sheldon D. Murphy
Dr. Sheldon Murphy, former DEOHS chair and professor, played a key role in the development of toxicology as a discipline. He joined the department as professor and chair in 1983 and served in these roles until his death in 1990.
His research focused on the mechanisms of toxic action and interactions of chemicals, especially pesticides and irritant air pollutants. One primary theme of Dr. Murphy's research was the study of the toxicology of organophosphorus compounds, particularly the role of metabolism in modulating their toxicity.
Dr. Murphy's contributions to the discipline of toxicology were many and varied. He was a charter member of the Society of Toxicology in 1963, and later became one of its youngest presidents, assuming the position in 1974. The Society of Toxicology honored him with major awards, including its Achievement Award (1970), the Education Award (1979) and the Merit Award shortly before his death.
The Education Award from the Society of Toxicology testifies to Dr. Murphy's commitment to the training of young scientists in the discipline. He was responsible for starting, directing and fostering toxicology programs at three major universities (Harvard, University of Texas and University of Washington, training numerous students and fellows who now occupy prominent positions in academia, industry and consulting firms. Several of them followed his path and now head successful toxicology programs at numerous universities in the US and abroad.
Recipients of the Sheldon D. Murphy Chair
Assistant Professor Julia Yue Cui joined DEOHS on July 1, 2014, and was appointed the Sheldon D. Murphy Endowed Chair. Her research investigates the effects of developmental exposure to environmental chemicals and reprogramming the gut microbiome on drug metabolism and obesity.
Professor Terrance Kavanagh was appointed Sheldon D. Murphy Fellow. He directs the Interdisciplinary Center for Exposures, Diseases, Genomics and Environment and the UW Nanotoxicology Center. He also co-directs the Predictive Toxicology Center. His research investigates the adverse effects of chemicals and other materials to understand the mechanisms by which they cause toxicity and inflammation. He is also studying the role of antioxidants. He is also working to develop more accurate in vitro models to test chemicals for potential risk to humans.
Professor Evan Gallagher joined DEOHS as an associate professor in 2004 and was awarded the Sheldon D. Murphy Endowed Chair from 2004 to 2007. Dr. Gallagher's research focuses on molecular and biochemical toxicology and involving environmental issues that cross ecosystem and human health boundaries. His NIEHS Superfund project is directed toward an understanding the mechanisms of pesticide and metal induced olfactory injury in salmon. Other projects use zebra fish to address epigenetic mechanisms of chemical olfactory injury. He also has continuing studies on the comparative biochemistry of glutathione transferases.
Professor Zhengui Xia joined DEOHS in 1997 as an assistant professor and was the Sheldon D. Murphy Endowed Chair from 1997 to 2000. Dr. Xia's research encompasses two primary targets: 1) mechanisms that regulate apoptosis especially in relation to neurodegeneration (Parkinson's disease) and toxin-induced neuronal damage; and 2) mechanisms that regulate neurogenesis including neuronal fate determination, neuronal survival and differentiation both during brain development and in adult brain.
More information regarding Dr. Murphy can be found in this Toxicological Sciences article (2000).