Undergraduate Summer Research Program
Environmental Health Research Experience Program (EHREP)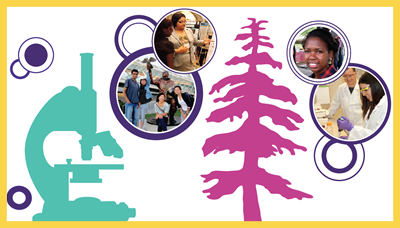 Environmental and Occupational Health Science is an interdisciplinary field that uses the tools of science to solve human health problems related to the environment. If you want to use your science background to help people live healthier lives, this research program is for you.  The Environmental Health Research Experience Program (EHREP) is a funded, nine week, summer experience for talented undergraduates who express strong interest in environmental health science research. Each year, the department will select 7 students from a national pool of applicants and pair each with a faculty mentor.  To gain a better understanding of the potential projects, please see the previous research projects page.
Students from populations traditionally underrepresented in the sciences are encouraged to apply. The program is made possible by a five-year grant from the National Institute of Environmental Health Sciences (NIEHS) and generous, ongoing support from department faculty.
The experience will:
Provide first-hand experiences in laboratories of leading environmental and occupational health researchers
Introduce students to key environmental and occupational health concepts
Offer academic research exposure that will help students be more competitive for graduate school.
Application deadline
The application deadline for the 2014 program was February 14th 2014.  All applicants will be notified of the decision by email, and all notices will be sent by April 1st.
Dates
The program follows the University of Washington summer quarter schedule. The dates for 2014 are June 23 to August 22. Students must be able to be in Seattle for the full duration of the program, so confirm the end date for your spring term and the start date for your fall term before you apply.
Eligibility
This program is for current undergraduates who will be completing their undergraduate degree in the 2014-2015 academic year or later. Students who will have completed their degree prior to the program start date are not eligible to apply. Funding requires that participants be US Citizens or US Permanent Residents.
One of the goals of the EHREP program is to diversify the field of Environmental and Occupational Health Sciences. Therefore, students who have been traditionally underrepresented in the sciences are strongly encouraged to apply. Underreprented groups include: first generation college students; students with disabilities; students from an economically disadvantaged background, and students from racial and ethnic groups that are underrepresented, such as: Blacks or African Americans, Hispanics or Latinos, American Indians or Alaskan Natives, and Native Hawaiians and other Pacific Islanders.
Students from all majors may apply, although the program is most appropriate for those studying any science, mathematics, engineering, environmental health, and public health.  To be considered, students must have completed at least one year of a lab science sequence (college biology, general or organic chemistry, physics) at the time of application.  The most competitive applicants will have completed 2 or more years of lab sciences.
Funding
The stipend for 9 weeks is $5,200.
Housing
EHREP students are responsible for providing their own housing, including on-campus options at the University of Washington. Students who choose to live on campus should expect to pay approximately $30 per night for housing in a single bedroom in a shared apartment.  At this nightly rate, total cost for housing will be approximately $1800 for the duration of the program. Students planning to live on campus will be required to pay a housing deposit of $250 by May 3rd, with the remainder due at check-in on June 22nd . Each apartment accommodates four students and includes four bedrooms, a shared kitchenette and a shared living space. Please see the UW Housing website for more information on the accommodations.
Non-University of Washington Students
EHREP welcomes applications from outside the University of Washington. In 2013, EHREP students came from: Salish Kootenai College, University of California, Northwestern University, Universidad del Este, Puerto Rico; University of Wisconsin, and Baylor University.
Application Instructions
The application deadline for the 2014 program was February 14th 2014.  All applicants will be notified of the decision by email, and all notices will be sent by April 1st.
Read through the following instructions before beginning your application. A complete application consists of the following 3 items, all which must be submitted by February 14th, 2014, 5pm Pacific Time: 1) Application form including personal statement, 2) Unofficial transcripts 3) One letter of recommendation.
Application Form including Personal Statement:  
All applicants will complete the online application form (https://catalyst.uw.edu/webq/survey/tsterry/218827) Question # 21 on this application form asks you to copy and paste in your personal statement. Prepare your statement before you begin the application.   The suggested length is 500 words. In your statement, address the following:
Address your motivation to engage in environmental and occupational health science research.
Describe the nature and duration of any previous research you have completed.
Review information about past mentors and projects on the EHREP Student Research Page (http://deohs.washington.edu/undergraduate/previous-research-projects), and then discuss which research projects or mentors interest you most and why.
Include any personal information that will help us understand strengths or weaknesses in your application.

Letter of Recommendation: Question # 22 on this application asks you to provide the name, title, and email address of the person who will be submitting your letter of recommendation. You should choose someone who can speak specifically about your academic achievements and your potential to engage in academic research.   Give your referee the following instructions:
file format: save the recommendation letter as a PDF file and name it: LastName_FirstName_Letter (where the LastName and FirstName are those of the applicant)
subject line: put the following information in the subject line of the email: LastName_FirstName_Letter (where the LastName and FirstName are those of the applicant)
email address: email the pdf letter attachment to ehrep@uw.edu
Unofficial Transcript: Degree audits or summaries are not acceptable in place of a transcript. If you are not sure how to obtain an unofficial transcript, contact the Registrar's Office of your College/University.
file format: save your unofficial transcript as a PDF file and name it: LastName_FirstName_Transcript (where the LastName and FirstName are those of the applicant)
subject line: put the following information in the subject line of the email: LastName_FirstName_Transcript (where the LastName and FirstName are those of the applicant)
email address: email the pdf letter attachment to
If you have questions, please contact:
Trina Sterry
Undergraduate Program Manager & Adviser
ehrep@uw.edu or 206-543-4207