The COVID-19 pandemic has forced us all to adapt—whether that means throwing together dinner from pantry staples or tackling an urgent public health concern with some ingenuity and left-over materials in your lab.
Using PVC pipe, scraps of wood, duct tape, scavenged equipment parts and instruments in his lab, DEOHS Principal Lecturer and Assistant Chair Martin Cohen recently fielded a request from the Washington State Department of Labor & Industries (L&I) about alternatives to personal protective equipment (PPE) in the time of COVID-19.
In February, because of a shortage of N95 respirators and surgical masks for health care workers, the L&I Safety & Health Assessment & Research for Prevention (SHARP) program began investigating the last-resort use of handmade fabric masks for these workers.
Since then, the Centers for Disease Control and Prevention has recommended that the general public use face masks when social distancing is impossible, generating more questions about how to fashion handmade masks.
L&I reached out to DEOHS scientists to consult on these issues, and Cohen, a former senior industrial hygienist for SHARP, responded, together with DEOHS Professor and Chair Michael Yost, Professor Christopher Simpson and Professor and Assistant Chair Scott Meschke.
Masks that both filter and breathe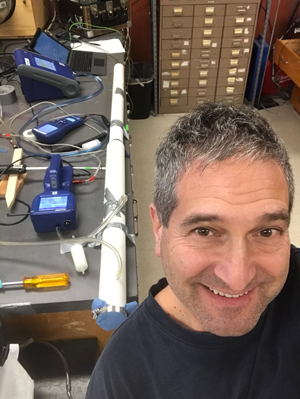 SHARP sent Cohen a variety of materials to test, including cotton, muslin, fleece, lycra, surgical wrap and polyurethane foams. A friend of Yost's also donated some rayon and Thinsulate materials for testing.
The DEOHS team defined two major criteria for a material's performance in a handmade mask: how well it filters particles and how breathable it is.
Both qualities are important for an effective face mask, but they can work in opposition. A good filter, such as a vacuum bag, can impede breathing or make a wearer more likely to breathe in unfiltered air from around the edges of the mask. In contrast, T-shirt material is very breathable but is not as good a filter for particles.
"You're looking for something in between," Cohen said.
MacGyvering a mask test
To quickly test for these metrics with what he had in the lab, Cohen set up a "quick and dirty" approach that approximates methods used by the Food and Drug Administration (FDA) for testing surgical masks.
To test for particle filtration, he supplemented ambient air—which contains dust particles—with sodium chloride particles from a small particle generator resembling a humidifier. This is a rough approximation of the FDA method, which uses a mist of uniformly sized latex particles.
Then he attached each of the materials to the open end of a PVC pipe and measured the number of particles upstream and downstream from each material by adapting particle counters designed for testing the fit of respirators.
To test the breathability of the fabrics, he pressed a piece of each fabric between two pieces of cherry wood from his home shop that had PVC pipe mounted through them. Then he pulled air through the fabric and measured the drop in pressure across each material.
Promising mask makings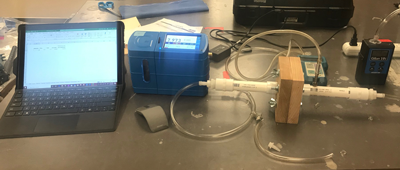 The materials that performed best in Cohen's tests for filtration and breathability were surgical wrap, a polypropylene fabric used in hospitals to prevent dust from settling on instruments after they are sterilized, and Thinsulate insulation. Next best was high-quality quilting cotton.
The results are exploratory, and none of the materials was tested for safety, Cohen noted. Cohen hopes the last-resort use of handmade masks for health care workers and others won't last long.
"After this outbreak, hopefully we will learn that we need to have good supplies of PPE," he said.
What about reusing PPE?
The DEOHS team also consulted for L&I about whether disinfection methods could allow health care workers to reuse PPE, particularly N95 respirators.
To approach this question, even a simple test wasn't possible because it would involve working with the novel coronavirus, Simpson said. So the group combed the literature to evaluate the performance of various disinfection methods, including heat, humidity, UV radiation and vapor-phase hydrogen peroxide treatment.
Based on how well these methods killed other pathogens, Yost created a mathematical model to predict their effectiveness against novel coronavirus.
UV radiation treatment emerged as a promising choice because it is effective at killing pathogens and is also commercially available, Simpson said.
Guidance from L&I
Two guidance documents recently issued by L&I provide advice about considerations for making face masks as a last resort when N95 respirators or face masks are not available and decontamination of N95 respirators by letting masks sit unused over a certain period of time.
"Homemade masks are not PPE since their ability to protect healthcare workers is unknown," they wrote.