UW Department of Environmental & Occupational Health Sciences (DEOHS) alumna Amy Liu is a marine chemist and certified industrial hygienist at the Seattle firm Sound Testing, where she conducts safety inspections on vessels from fishing boats to cruise ships before they undergo repairs. She is the first woman in the US to be certified as a marine chemist by the National Fire Prevention Association.
Liu also teaches in the DEOHS Continuing Education Programs and serves on the Maritime Advisory Committee for Occupational Safety and Health in the US Department of Labor.
We recently chatted with her about her inspiration for a career in worker safety, her experience doing a master's at DEOHS and her favorite parts of her job.
How did you get interested in the field of environmental and occupational health?
I was always very interested in science, and I studied chemistry as an undergraduate. My father was a marine chemist before he retired. When I finished my chemistry degree, I didn't know what I wanted to do. My dad said, "You've done the hard part. Why don't you try out what I do?"
I worked in shipyards for a year after finishing school, but I realized that if I wanted to go down that track, I needed to have experience in industrial hygiene. That's how I decided to do a master's in Occupational Hygiene in DEOHS.
Marine chemistry is about workplace safety, but I also learned from my dad and my work at the shipyard that so much of this world is really about people and the connections you make.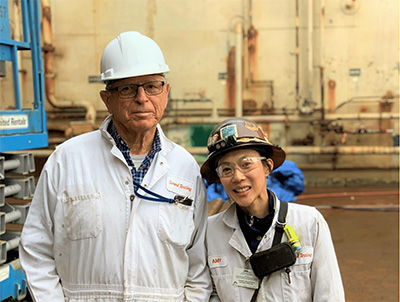 What was your experience like at DEOHS?
The department has so many people who are knowledgeable in so many different areas. The opportunity to learn from such a wonderful network of instructors has benefited me so much as I've moved into the workforce and used these experiences.
I was lucky to work with DEOHS Professor Scott Meschke in the Environmental and Occupational Health Microbiology Lab. I learned so much about water quality and really appreciated all the ways the lab helped people through outreach.
Principal Lecturer Emeritus Janice Camp, then the director of the Field Research and Consultation Group, was so personable and dedicated to students, and connected us to different opportunities. I got to see how individuals can really make an impact at job sites.
I also received my first Occupational Safety and Health Administration (OSHA) training credentials through a course taught by Associate Teaching Professor Richard Gleason. Years later, I'm working with him on OSHA outreach training. That's a special connection. All the courses I took have helped shape me into the safety professional I am today.
What do you love most about your job?
Being able to go into the field has given me a wonderful perspective on making workplaces safer.
I love working with the people in shipyards and the shipping industry, making connections and hearing their stories. It has a kind of old-school feel in the trades, with many people who have a multigenerational connection to their work.
It's really special to have such a tight-knit community doing this specialized work. I like to make connections and help people in their daily lives—making it safer for them so they can go home and enjoy life.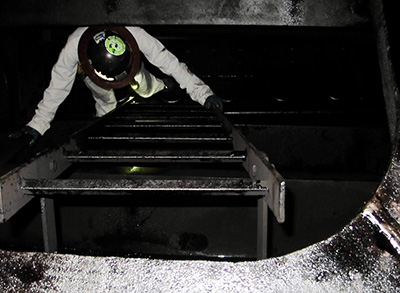 What is most challenging about it?
I carry out inspections on job sites—mostly in shipyards and port terminals—that can be very dangerous. Workers are welding, torch cutting and doing other activities in areas not designed for these types of processes. Vessels are constructed for sailing, not repairing.
I look at the combined health hazards on these job sites—such as the potential for airborne contamination, fire, explosions and ergonomic and musculoskeletal issues.
Trying to maneuver through each job is a big challenge. I make sure I'm thinking about all the different hazards workers are running into as well as my own safety.
Vessels are designed for buoyancy, with sealed up compartments, but when they are opened up for repairs there's often not good access or lighting.
You're kind of bouldering through these spaces, holding on with your hands and trying to find wedges for your feet so you don't fall down while doing a safety inspection. It's intense work in that way but rewarding—it's tons of fun.
How does your DEOHS training inform your work?
My experience at the UW changed my life—the way I look at the world, at jobs, at different types of hazards. I love being able to use the analytical approach I learned in the program on job sites by applying my background in chemistry, industrial hygiene and environmental safety. I don't think many people get to use their education to the extent I do.
For example, when I worked in Scott Meschke's lab I went to a job site for a dairy company that was disinfecting surfaces with chlorine dioxide. I thought about what I'd learned there the other day when I was working with a ship that was using a similar treatment for ballast water.
I also remember Janice Camp teaching us about an easy fix to make a cart more ergonomic and safe: putting it on larger wheels. These little bits of information come into play for me all the time on job sites when I am trying to make something a little easier for workers.
Read more about Liu in this profile from the Seattle Office of Economic Development.