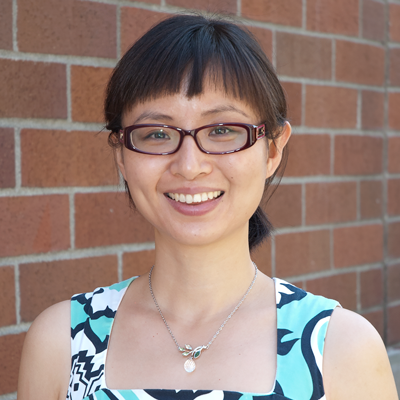 Editor's note: In January 2022, Julia Yue Cui also received the 2022 Society of Toxicology Achievement Award, recognizing her early and sustained research in the areas of nuclear receptors, epigenetics and the microbiome. Learn more.  
Julia Yue Cui, associate professor in the UW Department of Environmental & Occupational Health Sciences (DEOHS), will receive the 2021 Toxicology Early Career Award this week from the American Society for Pharmacology and Experimental Therapeutics (ASPET) Division for Toxicology.
The award recognizes the excellence and originality of Cui's research.
Cui studies the role of the gut microbiome in toxicology—specifically, how the gut microbiome can modulate the harmful effects of environmental contaminants during critical windows of exposure.
"Toxicology suits my personality," Cui said, "because results so often can directly improve public health."
She feels passionate about this work because of its therapeutic potential.
Understanding the role of the microbiome in toxicology could help improve health outcomes and quality of life for people exposed to contaminants by delaying the onset or reducing the severity of diseases such as liver cancer or Alzheimer's disease, Cui said.
"As a basic scientist, there's very little I can do to clean up large polluted sites or alter genetic risk factors," Cui said. "But we can manipulate important targets in our bodies, including the microbiome."
A surprise discovery leads to research funding
Cui's interest in the microbiome was sparked unexpectedly as a postdoctoral student using her advanced bioinformatics and sequencing skills to help a junior graduate student in her adviser's lab.
At the time, Cui's research focused on liver development and drug metabolism. As she helped the graduate student with a mouse experiment, Cui noticed dramatic changes in the liver metabolism of germ-free mice that had no microbiome in adult age.
"At the time, I thought I was just helping my colleague out," said Cui, "but it ended up helping me tremendously by broadening my horizons. I was able to marry my long-term research interest in developmental toxicology with the status of the microbiome to look at susceptibility to toxicants."
Cui turned this idea into her first successful proposal for an Individual Research Grant (R01) from the National Institute of Environmental Health Sciences. Her award letter came two months after she joined DEOHS in July 2014.
Advancing toxicology through mentorship
After seven years at UW, Cui says that mentoring graduate students, undergraduates and other trainees is the best part of her job. She credits her own mentor, Curtis D. Klaassen, for inspiring her to enter the field of toxicology.
"In toxicology, like in any young discipline with the potential to develop, you have to be sure to train the younger generation to carry the torch. We need a lot more young scientists with new ideas and the stamina to advance our field," Cui said.
Mentorship is one of Cui's special strengths, said DEOHS Professor and Chair Michael Yost.
"Julia has become one of our most sought-after mentors for new graduate students," he said. "She establishes a very deep rapport with her lab group and invests in each person's future. She is having a tremendous influence on our future and our approach to toxicology training."
Learning from failure
What does the ASPET Toxicology Early Career Award mean for Cui? "Pressure!" Cui said. "Now there's the expectation that I will be successful, but in my career, I have had a lot more experiences of failures than of successes."
Several years ago, Cui was invited by a group of university students to give a talk. "They asked how I manage to be successful in getting so many research grants. I said I submitted many grant proposals to get one funded," Cui said. "I may not be the smartest person in the room, but I learn from failures and figure out how to reposition myself."
Cui might not want the attention and the high expectations that come with the ASPET award, but she appreciates the recognition. "It's a very nice pat on the shoulder for all of the hard work that my trainees and I have done," she said.