Last spring, a cohort of students in the UW Brotherhood Initiative toured Boeing sites in Everett and Renton with faculty members in the UW Department of Environmental & Occupational Health Sciences (DEOHS).
The visit was part of a partnership between the Northwest Center for Occupational Health and Safety (NWCOHS) and the Brotherhood Initiative, which supports underrepresented men of color at the UW. The partnership introduces these students to academic and career opportunities in occupational health and safety, and hopes to create awareness of the field as emblematic of the initiative's focus on positive social change.
At Boeing, scholars received an in-depth, behind-the-scenes look at careers in worker health and safety, facilitated by DEOHS and NWCOHS faculty members Marissa Baker and Martin Cohen, as well as alumni.
"This was a great and fun collaboration between NWCOHS, the Brotherhood Initiative and Boeing," said Baker. "Scholars got to connect with health and safety professionals and see the airplane manufacturing process close up. I really enjoyed getting to know the scholars and I hope that this is the start of ongoing collaboration."
Fostering community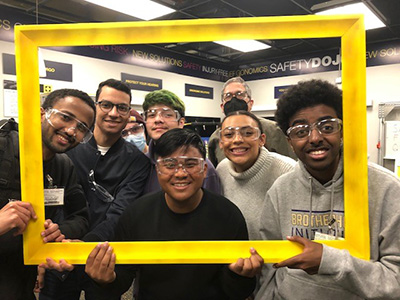 After 2015 survey data showed that Black, Latino, Southeast Asian, Pacific Islander and Native American undergraduate men were dropping out at higher rates than their white counterparts, the Brotherhood Initiative formed to address barriers these students face and to support their success at the UW.
Brotherhood Initiative scholars participate in a year-long seminar in their freshman and sophomore years that focuses on academic preparation, social, emotional and mental health, and post-graduate planning.
The initiative provides scholars the space to process barriers to their success, such as interpersonal microaggressions or challenges with UW policies and procedures, and to hear from and be supported by mentors of color.
The program supports scholars from "the moment they step foot on campus to the moment they leave campus," said Paul Metellus, student success coordinator for the Brotherhood Initiative.
Creating connections
Before the Boeing visit, Cohen and DEOHS Research Industrial Hygienist Marc Beaudreau spoke with Brotherhood Initiative scholars about careers in occupational health and safety, highlighting the Bachelor of Science degree in Environmental Health in DEOHS.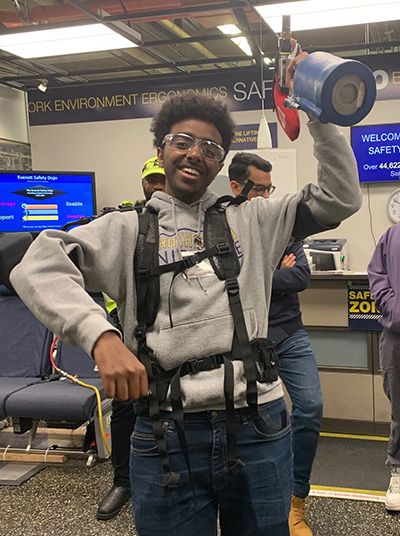 Metellus said the scholars really enjoyed the first-hand experience of visiting Boeing and appreciated learning about a career path that directly supports workers.
Many scholars think of engineering as the main career available at companies like Boeing, Metellus said. NWCOHS offered scholars the opportunity to ponder other competitively paid career paths that can positively impact the lives of others.
As part of its efforts to expose scholars to careers where they could have a positive impact on people in their communities, the initiative also invited Jose Carmona, a DEOHS and NWCOHS alum, to speak to scholars.
Carmona, who works as a safety and health compliance officer for Washington State Department of Labor & Industries in Yakima, discussed how environmental and occupational health issues are societal problems. He also spoke about One Health, which focuses on interconnections among people, animals, plants and their shared environment.
A growing partnership
Going forward, NWCOHS and the Brotherhood Initiative hope to continue their partnership to introduce more scholars to the Environmental Health degree and careers in occupational health, and to connect scholars with undergraduate research opportunities.
"It was a great opportunity to meet the students and their mentors," Cohen said. "We hope to encourage more young men of color to enter the field of worker health and safety. It can only help to improve the conditions of workers."
Acknowledgments: Special thanks to Paul Metellus and Jose Carmona for their contributions to this story.