David Kalman, PhD
Professor and DEOHS Chair Emeritus
Joined DEOHS
1978; served as department chair 1998–2014.
Proudest achievement
Helping to expand the department.
"I would urge new faculty to be interested in everything and collaborate broadly while also building your own research identity. Finding a good balance between your personal focus and forming strong collaborations is what a faculty career is all about."
- David Kalman
David Kalman wasn't planning to spend his entire career at the Department of Environmental & Occupational Health Sciences (DEOHS) at the University of Washington.
Yet somehow, after joining the faculty in 1978, he never left. Forty years later, the environmental health professor and former department chair will retire this month.
Kalman trained as a chemist and earned his doctorate from the UW in 1978. Upon graduating, he was offered a position in DEOHS and eventually served as director of the department's Environmental Health Laboratory, assistant chair, director of the undergraduate program and finally department chair, a role he held for 16 years.
"It has been a pleasure working with students, faculty and staff, " Kalman said. "I am ready to move on, but I hope to not be a stranger after I retire."
A hands-on scientist
Kalman said he always wanted a career in science, and he chose chemistry because it was hands-on. He became interested in environmental health during his undergraduate studies in chemistry, when he took part in a research project looking at salt water infiltration into drinking water in the Los Angeles area.
His first DEOHS project—investigating chemical pollutants in sewage treatment plants—hooked him for good.
"I stayed at UW because I like the work, and I had an easy time connecting to the research," Kalman said. "While I found my PhD work in chemistry intellectually interesting in an abstract way, my research at the department was directly applicable to people's lives."
An expanding research portfolio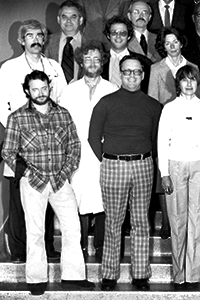 When Kalman began his career, DEOHS was small and practice-oriented. Today, the department emphasizes research with focuses in mechanistic toxicology, occupational medicine, workplace health and safety and community environmental health.
Kalman said contributing to the department's growth is his proudest professional achievement.
"David led the department's transition in our research to include a broader range of environmental and workplace factors that affect people's health," said Michael Yost, DEOHS professor and current department chair.
"He encouraged targeted growth through his support for innovative research methods, cross-disciplinary partnerships and a focus on identifying health solutions for populations most at risk from exposures in their communities or jobs."
Global impact
Understanding chemistry is a critical skill for public health scientists, Kalman said.
Kalman has researched chemical hazards in both natural and built environments, such as asbestos, heavy metals in soil, industrial chemicals and atmospheric pollutants. Much of his research has focused on developing biological indicators of human exposure to environmental agents.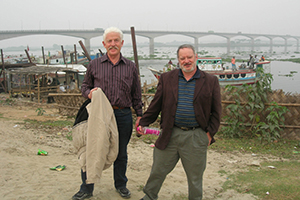 Kalman said his most impactful research assessed population exposures to arsenic in drinking water. Arsenic can lead to several kinds of cancer, skin lesions, cardiovascular disease and diabetes, as well as negatively impacting development following early-life exposures.
He worked on several studies with colleagues from the University of California, Berkeley, looking at arsenic exposures in Nevada, Chile, Argentina, India and Bangladesh.
Today, that work continues. He is currently assessing samples from Bangladesh as part of ongoing research into the health effects of arsenic exposure during childhood.
"Research findings broadly have shown that there is no clear threshold of safe arsenic exposure," Kalman said. "Even low levels of exposure have led to negative health effects in some populations."
An integrated approach to public health
The field of public health is moving toward a more integrated approach, Kalman said, rather than considering one chemical or environmental exposure at a time. For example, he said a solution to air pollution that produces solid waste is not a true solution. 
"I think professional subspecialties are giving way to more cross-cutting approaches," Kalman said. "Adopting a more systems-based approach will transform how we define our research questions and the academic disciplines within public health."