Washington is on the road to 100 percent clean energy with the passage of a new law championed by Gov. Jay Inslee that sets targets for achieving zero-carbon electricity by 2045.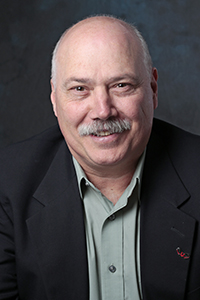 Senate Bill 5116 calls for transforming the state's electric grid and energy supply while "ensuring that the benefits of this transition are broadly shared throughout the state."
Research led by the UW Department of Environmental & Occupational Health Sciences (DEOHS) and our partners will be a key part of meeting that mandate.
Policymakers will use data from an interactive mapping tool developed by DEOHS and our research collaborators to help identify Washington communities that are the most highly impacted by fossil fuel pollution and climate change as part of moving toward a clean-power economy.
"This work is at the forefront of understanding health, climate and ecological impacts and ensuring equitable access to healthy communities," said DEOHS Chair Michael Yost, part of the research team that will lead the work.
"Having accurate, localized data about environmental risks is critical to inform decisions about funding priorities, environmental policy and strategies to help communities that are disproportionately impacted by pollution," he said.
An unequal burden
The burden of fossil fuel pollution falls unevenly across Washington communities.
In fact, where you live, your income, race and language ability are among the factors that influence the health risks you face from pollution, according to research by DEOHS and our partners.
Yost's team collaborated with state agencies and community-based organizations to launch the mapping tool earlier this year. It ranks the cumulative risk each community faces from environmental factors that influence health outcomes. The team also includes DEOHS Associate Professor Edmund Seto and PhD student Esther Min.
The new law calls for additional research by DEOHS to build on the mapping tool and inform a new cumulative impact analysis required by state lawmakers to be completed by December 2020 as part of the new clean energy law.
That effort will tap new data sources that could eventually include topics such as:
Flood risk.
Sea-level rise.
Fire risk at the intersection of urban areas and wildland.
Surface water quality.
Access to transportation.
Exposure to traffic-related air pollutants.
Mortality risk from localized heat events.
Greenhouse gas emissions.
The health risks in your neighborhood
Currently, the tool includes 19 indicators of community health, including exposure to diesel emissions, proximity to hazardous waste facilities, housing affordability and race.
These are combined into a cumulative score reflecting environmental and socioeconomic risk factors that allows for comparison across Washington's more than 1,450 US Census tracts.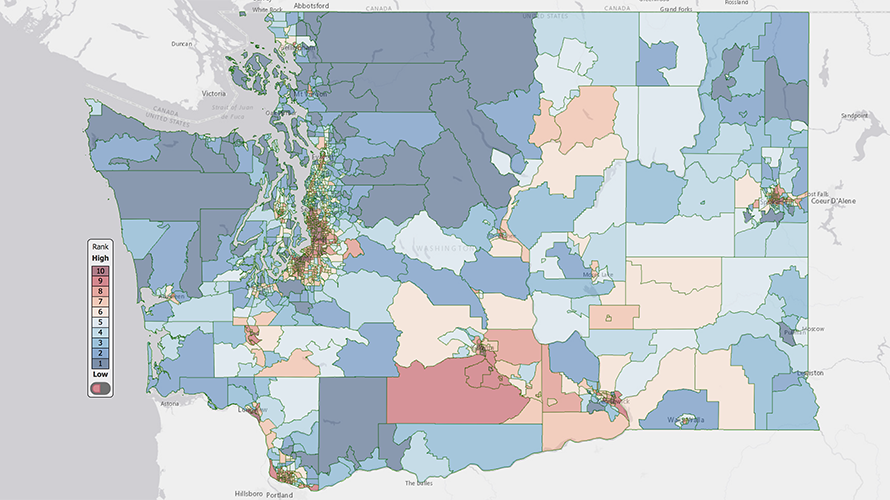 The cross-sector collaboration that developed the tool includes DEOHS; Front and Centered, a coalition of community organizations in Washington; the state Department of Health (DOH); the state Department of Ecology; and the Puget Sound Clean Air Agency.
DOH, which hosts the mapping tool on its website, is already getting calls from utilities as they assess how the new law will affect them, said Jennifer Sabel, senior DOH epidemiologist. DOH is currently organizing a working group that includes DEOHS to develop the impact analysis.
"We're planning to use the same platform and a lot of the same indicators" to build out the tool, she said.
Integrating climate data
The UW Climate Impacts Group will be an important new partner in developing the impact analysis, providing expertise and data on localized climate impacts.
It's an opportunity to help build "climate-ready communities," said Heidi Roop, a DEOHS affiliate assistant professor and lead scientist for science communication with the Climate Impacts Group.
"The real power of this is the opportunity to be forward-looking and to better connect people to what climate change may mean in their own communities," she said.
For example, how will sea-level rise affect different communities along our coastline? How could changes in stream flow and temperature affect water quality? If you are an outdoor worker or an asthma patient, how will climate change affect you?
"It's increasingly important to help people make connections between environmental impacts like air pollution and climate change and how it manifests in their day-to-day lives," Roop said, so that communities can plan and seek resources they will need to address the impacts.