As the nation's top environmental health scientist from 2009 to 2019, Linda Birnbaum became known as an influential researcher in environmental exposures, toxicology and public health.
Birnbaum was also known for plain talk and going toe-to-toe with policymakers and the chemical industry about the harm caused by their products while she served as the director of the National Institute of Environmental Health Sciences.
On December 9, Birnbaum will be the featured speaker at the inaugural Omenn Lecture on Environmental Health sponsored by the University of Washington Department of Environmental & Occupational Health Sciences.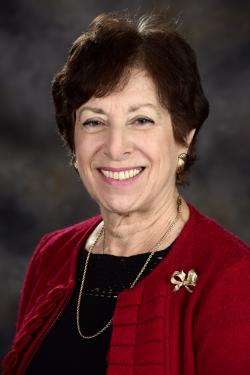 We chatted with Birnbaum this month about "forever" chemicals, politics, climate change and how to open more doors for women in science and academia.
You served on the front lines of many battles over regulating pollution to protect health. Now retired, you have said you feel free to speak your mind. So, what is on your mind?
I've always been concerned about the chemicals that don't go away—PFAS (per- and polyfluoroalkyl substances), dioxins, certain metals, PCBs (polychlorinated biphenyls). These chemicals are everywhere. PFAS—so-called "forever" chemicals—are the dioxins of the 21st century. They were seen as wonderful things when they were first heavily used in the 1960s in stain repellents, nonstick cookware and in other products that could make our lives better. The saying then was: "Better living through chemistry."
Only these chemicals never go away. They build up in our bodies. We have more understanding now that early-life exposures are so critical to the rest of your life. Even what your parents are exposed to prior to your conception, or what women are exposed to during pregnancy. These have consequences.
Why haven't we learned that we don't want chemicals that don't go away? In some ways, they are worse than dioxin, which eventually does break down. For PFAS, nature knows of no way to get rid of them.
Why aren't policymakers acting to ban these chemicals?
I have said before, we have the best laws and regulations that money can buy. There has been tremendous growth in lobbying by chemical companies, and it's become so blatant.
Pesticides, heavy metals, a lot of things are banned in the United States, but we happily export them to other countries. In other cases, we don't regulate pesticides here that are strongly regulated elsewhere. We need to engage our communities. When you motivate people, they come together and advocate for change.
In North Carolina where I live, we have the Cape Fear River system, which is contaminated by PFAS from a former DuPont chemical plant. There are many citizen groups now pushing the state to regulate this, pushing for clean water. The Environmental Protection Agency recently announced it would launch a new plan to address this and regulate some of the worst chemicals.
They've been studying these chemicals for the last 20 years, and now they promise they will finally regulate them by the end of next year. We can't continue to allow contamination to last for 20 years. We have to develop more rapid ways of dealing with it and a better understanding of chemicals before they're put out in the environment.
What is the most urgent issue facing environmental science and public health right now?
We all know that climate change is the existential threat we face. The behaviors the industrialized world has practiced basically destroyed so much of our world. Sometimes, I think all of us can get very depressed about it. Some of the biggest polluters, including us, seem unwilling to make the hard choices that need to be made.
We're seeing a complete breakdown of dialogue between people. I think there are opportunities we should all be working on to find common ground. I always tried to think about that when I was NIEHS director. Not everybody was going to agree with us, but it was important that everyone could understand what we were saying and why it mattered.
Now we're beginning to ask the right questions. Do we really need this? Is this really essential? How can we live in a healthier planet in a healthier way? The most disadvantaged among us, whether because of race, ethnicity or socioeconomic status, are the ones most impacted.
You were the first woman to serve as NIEHS director, and you broke a number of barriers for women during your 40-year career as a federal scientist. Is it getting any easier for women scientists?
This is a question I get all the time, and I do think it is a little bit easier now. Fifty years ago when I was getting my PhD, I don't remember any female faculty. Today, you see a significant number of women, especially at the assistant professor level.
We as a society haven't learned to deal with the fact that women have children in a certain period in their lives that is also when they are building their careers. We need to offer part-time opportunities, slower tracks, extra years in the tenure process, job-sharing and adapting the way we evaluate people working less than full time.