This summer, I am interning in the Environmental Health division of Chelan-Douglas Health District in Wenatchee, WA. The division promotes the health of individuals and communities in Chelan and Douglas counties by preventing or limiting human exposure to hazards in soil, water, food and other environmental media.
I have been working closely with the on-site program at the health district. Some of my duties include inspecting new septic systems to ensure they are installed properly to treat and dispose of domestic wastewater, assisting with sanitary surveys on public water systems to assess their ability to provide safe drinking water, and inspecting recreational water facilities such as pools and spas.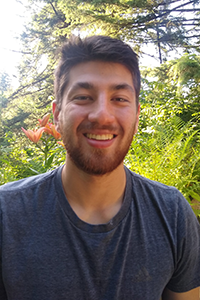 I have enjoyed exploring a career path in a field with huge job diversity. I have also found it very meaningful to talk to my coworkers and supervisors about their career paths, educational backgrounds and career advice.
I now have a firmer understanding of what knowledge and soft skills are needed to be an environmental health specialist, as well as a typical work week. The schedule can be volatile, with day-to-day operations changing with short notice. I have also developed stricter self-discipline and time management, refined my communication skills and improved my abilities as a team player.
Due to COVID-19, some of my opportunities have been limited. To adjust, I have been learning a lot about the science behind my work—such as how septic systems treat wastewater, why certain regulations are in place, how water contamination can occur, what types of pathogenic bacteria are a concern and how exposure can happen.
My experience has reinforced my passion for wanting to work in the public health field. I want to have a positive impact on the well-being of humanity and the environment around us, and foster healthy and safe communities. I am strongly considering pursuing higher education, either studying One Health or Environmental Toxicology.
To keep sane during these crazy times, I have been spending a large chunk of my free time outside (of course, following proper precautions against COVID-19). I have been running, hiking and biking a great deal. It has helped me clear my mind, unwind after work and keep healthy and fit. I have also been teaching myself to play the piano, and it has been a great creative outlet for me.