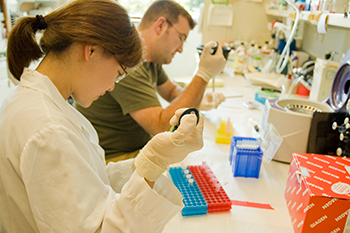 The field of toxicology is focused on developing improved ways to identify and reduce the harmful effects of chemical, physical, and biological agents at all levels of biological organization, from molecules to humans to complex ecosystems. This Master of Science degree in Environmental or Applied Toxicology trains students to identify, understand, and analyze toxic agents and their effects on human health and the environment. The curriculum includes courses in the supporting sciences of biostatistics and epidemiology, as well as foundational courses in exposure science and environmental health. Additional courses provide in-depth training in risk assessment and the fundamentals of toxicology, including organ system toxicology and the effects and mechanisms of toxicity of a wide range of toxic agents. Students earning an MS in Environmental or Applied Toxicology are well prepared to develop, interpret and utilize toxicological data to solve environmental health problems.
Questions about our degree programs?
Interested in an MS or PhD degree? You may qualify for in-state tuition if you reside in one of 16 Western states and territories. Learn more
Career paths of recent graduates
Graduates from the MS in Environmental or Applied Toxicology programs pursue careers in environmental health practice, research, or consulting, or continue on to doctoral work in the field. Recent graduates from this degree option are currently working as:
A Senior Associate at Amgen, a multinational biotechnology company (Class of 2011)
A Senior Environmental Toxicologist at Amec Foster Wheeler, a multinational consultancy, engineering and project management company (Class of 2013)
Five students who graduated from the MS in Environmental Toxicology program between 2011 and 2016 are currently pursuing PhDs in our Environmental Toxicology Program.