Daaniya Iyaz
MS, Environmental Health
Hometown
Born in Chennai, India; raised in Sammamish, WA, USA
Future plans
Working in public health in government or consulting.
"I want to investigate how climate change and environmental stressors affect the most susceptible communities and to learn how we can develop practical solutions for community resilience."
- Daaniya Iyaz
Daaniya Iyaz's interest in the intersection of health and the environment drives her commitment to helping communities overcome the disproportionate effects of climate change.
"As a Pacific Northwest resident and someone born in a hometown within the tropics, I have seen climate change transform places I call home," she said. "However, I have also seen that this transformation is not the same for everyone; reality and research prove that health is often shaped by zip code or the color of one's skin."
Iyaz is pursuing her MS in Environmental Health in the UW Department of Environmental & Occupational Health Sciences (DEOHS), where her thesis focuses on the effects of wildfire smoke on health outcomes and hospital admissions, primarily in pediatric populations.
Guided by many voices
Her work with her mentor, DEOHS Associate Teaching Professor Tania Busch Isaksen, is partly inspired by seeing climate change exacerbate wildfires in the Pacific Northwest.
"The most important thing I've learned in my thesis research so far is to recruit as many different perspectives as you can on your research," Iyaz said. "My mentors and peers have given me a lot of invaluable feedback on my methods and on different literature sources to look into, and their various academic backgrounds have helped strengthen all aspects of my thesis approach."
Iyaz also studies how climate change affects public health in disadvantaged and underserved communities through a graduate certificate in climate change and health with the UW Center for Health and the Global Environment. She volunteers with Global Water Labs and the UW Program on Climate Change and is the chair of the UW Campus Sustainability Fund.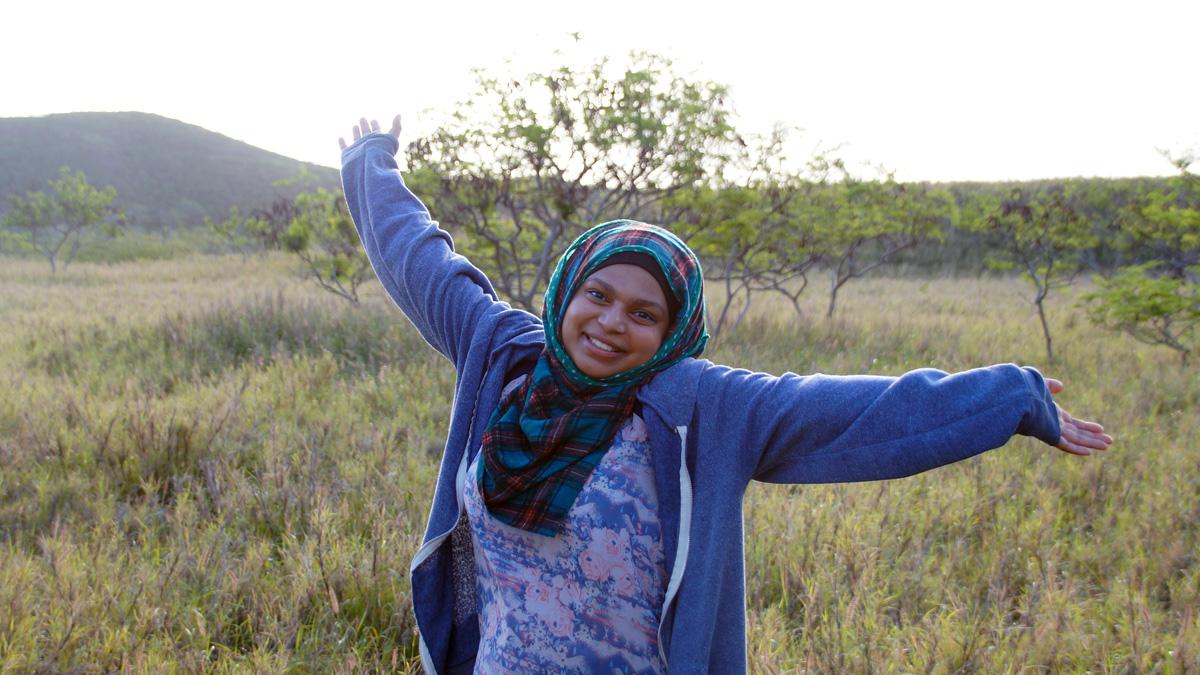 Entrepreneurship to bring discoveries to life
Last summer, Iyaz worked as a Population Health Social Entrepreneurship fellow through a program supported by the Population Health Initiative in partnership with the Buerk Center for Entrepreneurship, CoMotion and the Evans School of Public Policy & Governance.
The program pairs graduate students from various disciplinary backgrounds with UW-based innovations to explore how best to deploy social enterprise models.
"I'm really interested in the idea of social entrepreneurship ... because I feel like there are so many amazing research ideas out there, especially when it comes to the environment and the healthcare sector," Iyaz explained. But these ideas "need the entrepreneurship lens to get them out of the lab and into the real world," she said.
As part of her fellowship, Iyaz worked with Caring for Caregivers Online (COCO), an artificial-intelligence-enhanced telehealth and virtual therapy platform designed to support family, or nonprofessional, caregivers through app-based on-demand support and wellness counseling. The company was launched via a PHI pilot grant in 2019.
Caring for caregivers
Iyaz has been a caregiver for her own mother for several years and felt that she could offer a firsthand perspective on the physical and mental challenges and social isolation caregivers face to COCO refine and develop its resources.
She conducted interviews and research on user experience to determine the best ways to improve the service and market it to stakeholders.
Iyaz interviewed people from the Washington Department of Social and Health Services, COCO team members, social workers, medical professionals and other members of the healthcare sector throughout her time on the project.
"I really enjoyed seeing the passion they had for caregivers and just how much empathy and how much time they put into really caring for caregivers," Iyaz said. "It's very inspirational to know that people out there care. Sometimes you feel overlooked or that people aren't really paying that much attention to caregivers."
Designing a fast-fashion alternative
Beyond her studies at UW, Iyaz is developing a startup company called Novoloom, a DIY clothing brand that uses sustainable fabrics and teaches people how to sew with the intent of being an alternative to fast fashion.
"Clothing trends kind of come and go really fast, and a huge part of environmental waste definitely is the fashion industry," Iyaz explained. "It's something fun to do with friends while also doing something beneficial for the environment."
After graduating, Iyaz plans to work in public health, either at the government level or in consulting. While she has not decided on the specific path her career will take, she ultimately hopes to continue using her passion for interacting with people to improve health outcomes and help communities become more resilient to climate change.
Adapted from the full story on the UW Population Health Initiative site.