Yoni Rodriguez
MS, Occupational Hygiene
Hometown
Toppenish, WA
Future plans
Pursuing an MD/PhD in Environmental Health
"My next step is to couple public health education with technology that monitors and removes environmental toxins in a safe, efficient and sustainable manner."
- Yoni Rodriguez
Editor's note: Rodriguez was recognized as part the UW's 2022 Husky 100 awards in April 2022. 
As a graduate student in occupational hygiene, Yoni Rodriguez is developing a predictive tool that could help prevent pesticide exposures like the one he experienced in 2013.
That summer, he was working in an apple orchard in the Yakima Valley with his father to save up money for college when he and an elder, undocumented coworker were accidentally sprayed with pesticides by a crop duster.
"We were told ... to seek medical attention, but no one would drive us to the hospital," Rodriguez later wrote about the experience. "I realized then that migrants in America encounter more than just xenophobic injustices. They also run the risks of developing neurological diseases and cancers from their long-term exposure to pesticides."
The troubling experience sparked Rodriguez's interest in environmental health, and he began pursuing opportunities to "not only help people become more aware of these exposures, but also learn how we can prevent them," he said.
Now, as a master's student in the UW Department of Environmental & Occupational Health Sciences (DEOHS), Rodriguez was recently awarded a fellowship from the Latino Center for Health and named a semifinalist for a Fulbright grant. He also was named a 2022 Husky 100 award winner by the University of Washington.
Farmworker health in the Yakima Valley
As an undergraduate at Yakima Valley College and Washington State University, Rodriguez got involved in research on lead in drinking water—finding some in his family's own water supply—and the impact of wildfire smoke on air quality in the Yakima Valley.
He also reached out to Edward Kasner, clinical assistant professor in DEOHS, to learn more about his research on farmworker exposure to pesticide drift, which occurs when winds carry pesticides while they are being applied to crops. Such drift events may explain up to 54% of pesticide-related illnesses among US agricultural workers.
"Yoni was described by his undergraduate faculty mentors as a 'super colleague' who is hard working, well organized, professional and fun to work with," said Kasner, now Rodriguez's advisor. "I could not agree more that he possesses these fine qualities. It's an honor to work with him."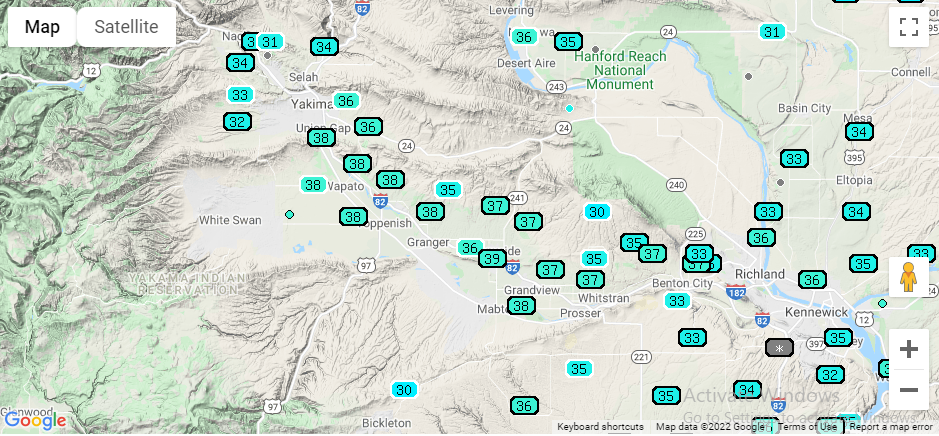 Predicting wind to reduce pesticide drift
For his thesis, Rodriguez is working with Kasner and others to develop a digital tool that could help prevent pesticide drift by predicting periods of high wind on Washington farms.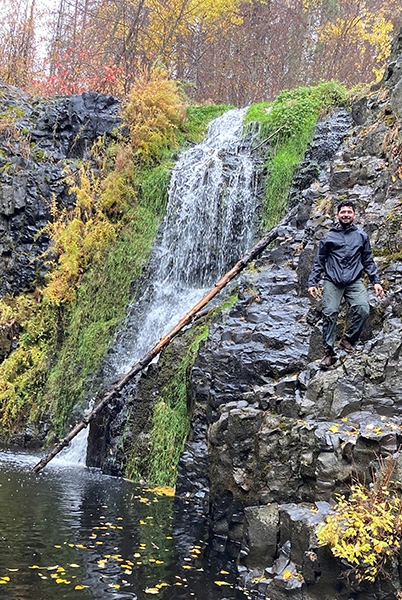 The tool would alert farmers and growers by text or email to pause pesticide spraying during high-wind periods and prevent exposures.
"If we can tell people not to spray on those days, and to inform workers not to be about there as well, maybe that can help reduce cases," Rodriguez said.
It's one of several precision agricultural tools being developed by the Pacific Northwest Agricultural Safety and Health (PNASH) Center, where Kasner is outreach director.
Current regulations require operators to stop spraying if the wind speed is above 10 miles per hour, but operators often rely on one daily reading from the closest weather station, which might be miles away.
Meanwhile, changes in wind speed and direction called "ramps," which occur over minutes to hours, can be many times the average daily wind speed.
Thanks to the fine-scale coverage of Washington State University's network of weather stations (AgWeatherNet), Rodriguez and his collaborators are developing a model to predict these ramps.
Investigating kidney disease and arsenic in cookware
Rodriguez's environmental health interests range far beyond the Yakima Valley. Through previous work with Terragraphics International Foundation, he has examined possible environmental causes of the high rates of kidney disease in sugar cane workers.
He was recently named a finalist for a Fulbright grant to investigate the issue in Costa Rica, in collaboration with DEOHS faculty Kasner, June Spector and Scott Meschke and alumna Jennifer Crowe.
Last year, during an internship with Public Health Seattle King County, Rodriguez researched another pressing environmental health issue: lead poisoning in children of immigrants and refugees caused by cooking with aluminum cookware contaminated with the heavy metal, which is sometimes brought or imported to the US.
Dedicated to farmworker health
Through his work with PNASH, Rodriguez is helping to shape outreach to farmworkers about heat and wildfire smoke through meetings with the Washington Department of Labor and Industries and Department of Health.
As a child, he sometimes accompanied his parents when they worked in orchards early in the morning. At the time, he recalled, most workers seemed unaware of the health risks of pesticide exposure—apart from a few he remembers wearing gloves and glasses.
These days, he thinks many agricultural workers are more aware of the health risks they face, even though they may not feel they have the option to protect their health because of the fear of losing a paycheck or even their jobs.
"They are concerned, but the more immediate concern of paying bills and buying food is greater, so they're out there sacrificing their bodies and their health," he said.