Newly updated environmental health research laboratories in the UW Department of Environmental & Occupational Health Sciences (DEOHS) will have a transformative impact on some of the most important work DEOHS scientists do.
The renovations, expected to be completed this fall, were made possible by a gift from Gilbert S. Omenn and his wife, Martha A. Darling. Omenn is former dean of the UW School of Public Health (SPH) and former DEOHS chair.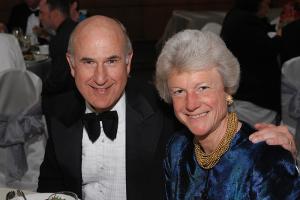 The couple's gift includes funding for modern, more efficient spaces for existing molecular toxicology, vivarium, cell culture, microbiology and field research labs in the department's Roosevelt Building location, as well as new labs for mass spectrometry, biosafety level 2, trace metals, inorganics and gas calibration analysis.
New annual Omenn lecture launches this fall
"Experimental science depends on insightful hypotheses, cutting-edge technologies and places to bring together committed and collaborative researchers and students," Omenn said.
To that end, he sees newer and smarter lab spaces as imperative for the future of public health.
"Having up-to-date facilities is absolutely essential to maintain DEOHS's strong rankings and competitive research program as well as their ability to continue serving the needs of the state," said SPH Dean Hilary Godwin.
DEOHS Professor Elaine Faustman will be using the new labs, which will have an "exponential impact" on research, she said.
Faustman works to identify metals such as arsenic and cadmium that may cause negative health effects in children. She will use the new labs for "low-level metal analysis capabilities, which is critical as the neurodevelopmental toxicity of metals continues to plague our region as well as our nation," Faustman said.
In thanks for this gift and previous gifts to the School and for Omenn's long-standing commitment to public health, the UW is honoring Omenn with a new annual lecture focused on how science informs risk assessment and public engagement.
The inaugural lecture will be hosted by DEOHS this fall.