Our empty roads and restaurants reflect our new reality: Many workers are now working remotely in response to the coronavirus outbreak.
But what if your work requires your presence?
Coronavirus resources for businesses and workers
Maybe you're a childcare provider, a grocery store clerk, an assembly-line worker or a janitor. Telecommuting isn't possible when your job requires face-to-face interaction and hands-on work.
We've gathered tips from our experts in the University of Washington Department of Environmental & Occupational Health Sciences (DEOHS) on how small businesses and their workers can protect themselves from COVID-19, the disease caused by SARS-Cov-2, the novel coronavirus.
Start with the basics
"The most important thing workers and employers can do is stay home when they are sick to protect themselves and others," said Dr. Debra Cherry, DEOHS adjunct associate professor and residency director of Occupational and Environmental Medicine.
Follow the advice of public health experts: Wash hands frequently with soap and water. Cough into your elbow or a tissue. Practice social distancing and avoid physical contact (no handshakes).
Social distancing at work
Stagger employee start times and breaks so workers arrive and depart separately rather than all at once.
Set up a schedule for use of common spaces such as break rooms, supply rooms and kitchens to keep people from congregating.
Even if workers must be in the office together, hold meetings remotely. "People can call in from their cubicles. It seems weird, but it can help increase social distance," said Martin Cohen, DEOHS principal lecturer and assistant chair.
Move desks and work spaces to create at least 6 feet of space between employees. Consider rearranging lobby furniture or the front counter set-up to maintain 6 feet of space between customers and employees.
Clean and disinfect . . .
Set up a cleaning protocol or checklist for your workplace. For example, everyone agrees to clean common spaces and equipment at the end of each use.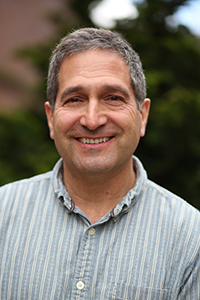 Clean and disinfect high-touch surfaces daily or more frequently. That includes cash machine keypads, time clocks, doorknobs, hand-rails, remote controls, light switches, printers, phones and other shared resources.
If workers need to physically punch in or out using a shared time clock or biometric fingerprint system, this may be a good time to consider a digital alternative, Cohen said.
. . . but don't overdo it
The temptation is to spray down every surface with disinfectant, but that isn't necessary, said Nancy Simcox, DEOHS lecturer and director of continuing education programs.
It could even harm people's health—many chemicals in cleaning and disinfectant products are associated with adverse health outcomes such as asthma and cancer.
Think of cleaning and disinfecting as two separate steps, she said. First, use an all-purpose cleaner and a microfiber cloth to remove grime and grease.
Use this list to find cleaning products that qualify for the US Environmental Protection Agency (EPA) "Safer Choice" label by using safer chemical alternatives that protect health and the environment.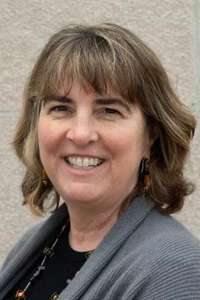 Second, disinfect to destroy viruses and bacteria. Use this list to find disinfectants that meet EPA's criteria for use against SARS-CoV-2.
Be sure to increase ventilation when using cleaning and disinfecting products.
"Employers and workers can choose disinfectants from the EPA list that are safer for their health and the environment," Simcox said. "Look for disinfectants that contain ethanol, isopropyl alcohol or hydrogen peroxide as the active ingredients."
Note that disinfectants have different "dwell times"—the amount of time they need to be in contact with a surface to kill viruses and bacteria.
Communicate, then innovate
By law, employers are required to provide safe and healthy workplaces, but "what I'm hearing now is that some workers are feeling unsafe at work, and that is not ok," said DEOHS Assistant Professor Marissa Baker.
Baker recently led an analysis that found 1 in 10 US workers are potentially exposed to bacteria and viruses (like SARS-CoV-2) on a weekly basis.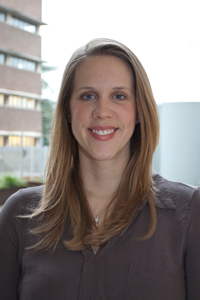 Employers should ask frontline workers what they can do to make the workplace feel safer, she advised.
Consider a virtual group brainstorming session to solicit ideas. "Maybe it's a store clerk saying I'd really like to have gloves I can use while scanning products, or I'd like shorter, more frequent breaks to wash my hands," Baker said.
Those conversations can lead to innovative solutions. She points to Seattle's Canlis restaurant, which shifted from a fine-dining, sit-down restaurant to a comfort-food menu for takeout or delivery—an idea that bubbled up from a team meeting.
"The workers still have jobs, they're protecting the business and maintaining a safe workplace while serving the public," she said.
Bakery Nouveau in Seattle posted online guidance for its customers, encouraging them to call in orders in advance for takeout and avoid clustering inside, Baker noted.
Another Seattle bakery, Deep Sea Sugar & Salt, posted an Instagram photo of its shop with all of the seating removed. Customers phone in orders or place in-person orders at a table outside, where markers on the sidewalk show customers where to stand 6 feet apart.
"Thank you all for the support. We will continue to bake and make as long as we can," the owner wrote. "This space and the people in it are my responsibility, so I will be doing everything I can to keep everyone healthy and to keep this shop humming."