Charles D. (Chuck) Treser, MPH, DAAS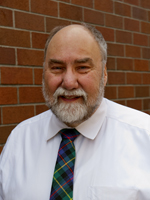 Principal Lecturer Emeritus, Env. and Occ. Health Sciences
(Primary department)
The general area of my teaching and research involves the applied aspects of Environmental Health Practice, i.e., how the principles and concepts of EH are actually practiced in the field, especially in local, state, tribal and federal EH agencies. Principle areas of interest include Administrative Law and Process applied to Environmental Health, Vector Control and Housing, and Environmental Public Health workforce development -- Education and Training.
Contact Information
University of Washington
Office: F-561A
Box: 357234
Health Sciences Center
Seattle, WA 98195-7234
Tel: 206-616-2097
Research Interests
Environmental public health practice, law and regulation; policy analysis; decision making; program planning and evaluation; education of environmental health workforce; housing; zoonotic disease; vector control; environmental health policy
KEYWORDS: Environmental health workforce training, housing and health, lead paint, Legislation, Policy, Sanitation, Zoonotic disease and vector control
Teaching interests
The practice of Environmental health in the community –whether in the USA or abroad.
ENV H 311 - Introduction to Environmental Health
ENV H 442 – Zoonotic & Vector-borne Diseases and their Control
ENV H 473 - Environmental Health Policy & Practice
ENV H 482 - Environmental Health Internships
ENV H 497 - Housing and Health
Education
MPH, Environmental Health, University of Michigan, 1976
Projects
Comparison of the knowledge, skills and abilities desired by public sector employers with the curriculum content of EH programs offered by schools of public health in five states. This study has collected job descriptions of all EH related jobs in all state agencies in Florida, Hawaii, New York, Oklahoma and Washington and we are now in the process of extracting and analyzing the data to identify the specific knowledge and skills that employers say they are looking for, in order to test the "fit" between these and the knowledge and skills taught in our schools of public health.


Development of a practical manual on housing and health for Environmental Health practitioners, housing inspectors and building code officials. This manual was developed as a cooperative project between the US Departments of Heath and Human Services and Housing and Urban Development.


Administering a cooperative agreement between the US Centers for Disease Control and Prevention, National center for Environmental Health and the Association of Environmental Health Academic Programs to strengthen the Environmental Health workforce by promoting and strengthening accredited education programs in environmental Health.
Beck JE, Barnett D, Brown G, Harvey C, Johnson W, Konkel S, Treser CD. Healthy Housing Reference Manual, US Department of Health & Human Services and Department of Housing & Urban Development, Atlanta, 2006.
Brown MJ, Treser CD, Jacobs DE. "The Healthy Housing Workforce: Development and Scope of Practice" Chapter 2 in Healthy and Safe Homes: Research, Practice, and Policy, APHA Press, 2011.