Graduate Student Advocate Rory Murphy Retires After 17-Year Tenure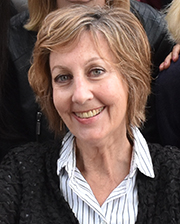 Graduate students recognized Rory Murphy at the Graduation Recognition Ceremony for her 17-year service as the department's graduate program advisor. Murphy retires in August 2016. Chair Michael Yost called her impact and influence "remarkable."
Sure, there were parts of her job that were routine. She advised students, made sure they understood their degree requirements and met the milestones toward graduation. She identified and tracked sources of funding and payroll for students who work as research and teaching assistants. She met with prospective students and helped recruit students at events and meetings.
But there were activities not found in any job description. These came from Murphy's deep, abiding dedication to students and to high standards.
"I have my own idea of what 100% was," she said. Murphy worked late, weekends, and used few of the vacation days she was allocated.
Ask others in the department about Murphy's influence and they will first cite her role as tireless advocate for students, and the fact she sometimes raised uncomfortable questions about policies and practices along with insistent prodding and encouragement to improve the academic environment.
"Rory was always raising her hand and asking the toughest questions," said Julia Carlson in the Graduate School who oversees 270 graduate program advisors on UW's three campuses and has worked with Murphy all 17 years. "It made the Graduate School step back and evaluate our policies," said Carlson. When new policies were being developed, she counted Murphy among a select group of advisors from whom she solicited feedback.
In 2009, the Graduate School recognized Murphy with the first Graduate Program Advisor Service Award. Three different faculty members who had been her supervisor nominated her.
Her supervisor changed every three years, a transition that required Murphy to help each new one "learn the ropes," recalled Associate Professor William Daniell, who supervised Murphy from 2006-2009. Students, he said, didn't just come around with academic concerns; they routinely sought her advice for personal and interpersonal problems.
Graduate school, Murphy explains, is stressful and highly competitive. For whatever reason—because a student is discouraged, because a student isn't meeting the requirements, because a student broke up with a girlfriend or a boyfriend—students confided in her. She said: "I call it a privilege. If I can provide something useful, that's what I call making a difference."
Beyond the one-on-one advising, Murphy mentored the graduate students in the Student Advisory Committee and encouraged their participation in student governance, planning events, and awarding an annual faculty mentor award.
She made sure new technologies were available to students. She wrote grant proposals over the years totaling $150,000 to garner computers, software, and other equipment for the student computer labs.
She led the development of a database to better track student progress and information about past students going back to 1970.
She worked hard to recruit and retain students from diverse backgrounds and she promoted the role faculty could play in recruitment. For example, when the annual meeting of the Society for Advancement of Chicanos/Hispanics and Native Americans in Science was in Seattle, she helped put together a panel of department researchers to highlight how research could directly link to and work with communities. She also instigated the department's diversity committee.
Daniell calls Murphy "the department's conscience, continually nudging the faculty to do better jobs as student mentors, in diversity recruitment, and in responding to social issues related to our profession."
Murphy, with Professor Matthew Keifer (her supervisor at the time), instigated a summer research program for undergraduate students from disadvantaged groups to encourage stronger graduate applications and broader representation of minorities in graduate programs. The program grew to a summer training program funded by the National Institutes of Health and directed by the Chair of our department.
Every year, Murphy wrote the department's diversity strategic plan and with it a proposal to the Graduate Opportunities and Minority Achievement Program to fund a research assistantship for a minority graduate student for three quarters. She received the funding award every year.
She hired a graduate student to develop webpages for Environmental Justice and pushed for the development of a handout that highlighted minority students and student projects that benefitted the health of disadvantaged communities.
What will she miss about working in the department? "I'll miss working with students. It keeps me young," she said.
She looks forward to time to enjoy more traveling. New York City and Paris are two of her favorite places to visit. She loves music and musicals and jazz. She attends the Seattle International Film Festival every year, and looks forward to volunteering at the event.
She loves architecture and history and politics. Before the invasion of Iraq, Rory was involved with the Campus for Peace and Sound Nonviolent Opponents of War, a peace group in Seattle. She enjoys organizing on a community level. She has always been interested in writing and communication and how to define and frame political issues.
She sees the value of taking difficult issues and putting them in language that is accessible and imparting why people should care.
She plans to be a docent at the Museum of History and Industry. She wants to do more with the Seattle Architectural Foundation and volunteer at the Seattle Jubillee Center a battered woman's shelter.
Profile by Elizabeth Sharpe.
Photo credit: Sarah Fish