Galvin's team is seeking additional funding to continue app development. For more information, contact Kit Galvin: kgalvin@uw.edu
Download a free demo version of the app for Android phones. A version for iPhones will be available soon.
Imagine your job requires using a chemical that could be toxic to you or others if not handled correctly.
Now imagine the instructions for safely handling that chemical are written in a language you don't understand, except for a single sentence: "If you do not understand this label, find someone who can explain it to you in detail."
That's the reality for farmworkers—many of them native Spanish speakers—who apply pesticides to Washington crops. Pesticide labels are currently only written in English except for that single sentence in Spanish.
Now there's an app for that. University of Washington researchers have developed a new mobile application called PestiSafe (PestiSeguro in Spanish) that delivers detailed pesticide safety information in Spanish and English.
The app was created by a team led by Kit Galvin, research scientist in the UW Department of Environmental & Occupational Health Sciences (DEOHS). Galvin is also an occupational hygienist in the Pacific Northwest Agricultural Safety and Health Center (PNASH), a DEOHS research center.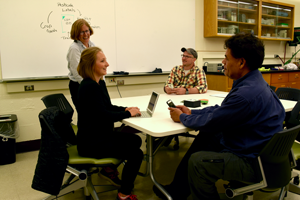 Galvin's team is seeking new funding to continue developing the app after successfully completing beta-testing in 2018. The team is formally launching the app in February during National Pesticide Safety Education Month. 
Anytime, anywhere safety info
The app delivers up-to-date pesticide safety information in Spanish and English via phone or tablet, even when the device is offline.
Galvin's team tested the app with tree fruit farmers in Washington, a majority of whom were native Spanish speakers. About 94 percent of respondents said the translations were clear and understandable, which in turn helped them use pesticides more safely.
Errors can be costly
Galvin and her team developed the app based on a request from Washington agriculture industry stakeholders.
"People want to do the right thing," Galvin said. "Employers want their workers to be healthy, and workers want to follow safety precautions. This app is providing people with a tool to do what they already want to do."
Mishandling pesticides can harm people, crops, communities and the environment. These errors also cost farmers time and money.
Between 2010 and 2017, there were 630 cases of occupational pesticide-related illness in Washington agriculture identified by the state Department of Health (DOH). Nearly 80 percent of the cases were related to farmworkers' inability to access, understand or act on pesticide safety requirements or instructions, according to DOH.
The PestiSafe app does not replace the official English-language pesticide label, which is the law, but it can help keep workers safe.
Farmworkers who tested the app said the Spanish translation helped them explain safety measures to co-workers and better understand the English pesticide label.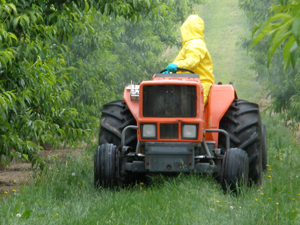 From beta to market
Galvin said safety information is updated as new pesticides come to market or label updates are made. The long-term goal is to make the app available nationally for all farm industry workers.
In the future, she expects the app will operate on revenue from subscription fees paid by employers.
"There is a huge need for this app in the industry, and people will eventually pay for it, but we need funding right now to transition the app from a research tool to a self-sustaining tool," she said.
Short-term funding will help pay for additional development, as well as ensuring accurate translations.
Finding the right words
Spanish-speaking farmworkers come from different countries where phrasing and accents differ. Finding the right words that are true to the pesticide label but also universally understood is challenging, said Pablo Palmández, PNASH's agricultural safety and research extensionist.
The team is using consensus translation, in which several people translate a document and combine efforts in order to find the most accurate translation, he said.
"If we get the money and finish the product the way we have planned, we will be able to have a very good product," Palmández said. "This product is going to improve the long-term health and safety of farmworkers."