Are our pets at risk for COVID-19?
Recent reports of animals testing positive for the novel coronavirus—including a cat in Belgium, a dog in Hong Kong and, famously, a tiger in the Bronx Zoo—have pet owners worrying about their furry companions. Many also wonder whether pets can pass COVID-19 on to people.
"There is no evidence to date of household pets infecting humans with COVID-19. There's certainly more evidence of people infecting animals than there is of animals infecting people," said Dr. Peter Rabinowitz, professor in the UW Department of Environmental & Occupational Health Sciences and the Department of Global Health. "But we need to understand the risk better and help people with good preventive practices to avoid transmission between people and animals."
Rabinowitz and his colleagues at the UW Center for One Health Research (COHR) and the Washington Animal Disease Diagnostic Laboratory (WADDL) at Washington State University are now recruiting participants for a new pilot study of people who have tested positive for COVID-19 and their pets.
They will assess the types of contact owners have with their pets, and whether such contact could lead to transmission of the virus.
"We want to get more evidence about what factors lead to any kind of transmission between animals and humans, as well as how much transmission may be occurring," he said. "We expect that such transmission will be rare but we need evidence about that."
COVID-19 in cats, dogs and ferrets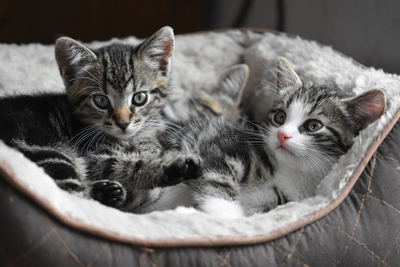 Cats and ferrets are more susceptible to the novel coronavirus than dogs, and cats can pass it on to other cats, according to a recent study by researchers in China. But less is known about what factors control the spread of the virus.
To find out, Rabinowitz's team is looking to King County. The region is known for its pet lovers—Seattle has more dogs than children—and was on the forefront of the emergence of the disease in the US.
The researchers hope to test 100 King County households with pet owners who have been diagnosed with COVID-19. Participants will complete a survey about contact with their cats, dogs, ferrets, hamsters or other pets—including whether they are isolating themselves from pets or washing their hands before touching them.
The survey will also ask about more intimate ways some of us interact with our pets—such as sleeping with them and kissing them.
Veterinarians on the team will test pets for COVID-19 and antibodies to novel coronavirus by taking nasal and mouth swabs and blood samples. The samples will be analyzed at WADDL.
Study participants will receive the test results, and any positive test results will be shared with state officials.
Advice for pet owners
If you have been diagnosed with COVID-19 or suspect you have it, Rabinowitz advises avoiding close contact with your pets. If you must interact with them, it's best to wash your hands first. Pets should also take after their humans and practice social distancing with other pets.
"I do not have a pet currently, but my daughter has a dog, and I have asked my daughter not to kiss her while social distancing measures are in effect!" Rabinowitz said.
He also stressed that there is no current reason for anyone to give up their pet because of concerns about the virus. "Instead, we want to help make good, evidence-based recommendations about preventive measures to take with your pet," he said.
The researchers hope to have results in about three months.
One Health lessons from SARS and MERS
The study underscores the importance of decoding the connections among people, animals and the environment we share, said Rabinowitz, director of COHR.
COHR is one of the only centers in the country focused on this One Health approach, and a focal point for research and training on zoonotic diseases, or those transmitted between animals and humans.
Scientists believe close contact between people and wild animals paved the way for other coronaviruses to jump from animals to people.
The virus that causes SARS (severe acute respiratory syndrome) jumped from bats to palm civets and then to humans, likely in animal markets in China where civets are sold. The virus that causes MERS (Middle East respiratory syndrome) is thought to have jumped from camels to camel herders.
The new coronavirus also first emerged in bats, and then likely jumped to a yet-unknown animal that passed it on to humans.
"We really need to look at the use of wildlife for food or medicine and any opportunities where the virus could jump between animals and people," Rabinowitz said.
But it's unlikely that pets would be carriers for the virus, he added, because people are much more adapted to living with them than with wildlife.
"We've been living closely with domestic animals for thousands of years," he said.