Water is essential for life, but in communities with inadequate sanitation, it can also spread diseases like polio, typhoid and hepatitis A.
By monitoring wastewater and water sources contaminated by wastewater for pathogens in fecal matter, researchers and public health workers can help stop waterborne illnesses in their tracks.
Such environmental surveillance efforts could get easier and cheaper with a portable filtration system designed by Professor Scott Meschke of the UW Department of Environmental & Occupational Health Sciences (DEOHS) and colleagues.
The method helps detect poliovirus in the environment before the disease shows up in people, and the researchers hope it could eventually do the same for novel coronavirus.
Developed in collaboration with the global health nonprofit PATH and with support from the Paul Allen Family Foundation and the Bill & Melinda Gates Foundation, the system was recently commercialized by Scientific Methods. It is now available for purchase for about $70.
Simplifying disease surveillance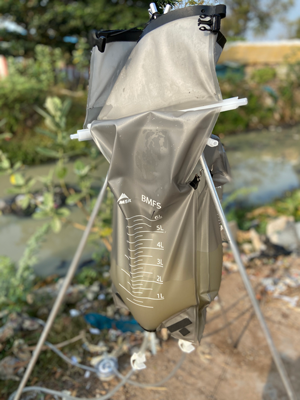 The backpack-sized system consists of a thermoplastic polyurethane bag that can be attached to various filters to capture viruses, bacteria and protozoa. Operators drag the bag through the water, then hang it up on a tripod to drain the water through the filter by gravity.
Unlike in most field filtration methods, there's no need for power or a pump.
To get results, users bring the filter back to a lab for analysis, instead of bringing a water sample that would be heavy, expensive and potentially hazardous to transport. The filter can be analyzed for up to a week after sampling if preservative is applied, whereas a water sample must be kept cold and analyzed within a day.
The method is simple enough to be used by nonscientists, making it suitable for community health monitoring efforts.
"The ultimate goal here is for this to be implemented not just as a research tool, but as a public health surveillance tool," Meschke said.
Design for polio prevention
Meschke and colleagues initially designed the system to support efforts to eradicate poliovirus. Though vaccination has eliminated polio cases in most of the world, Pakistan, Afghanistan and Nigeria still have cases of the virus, which mostly affects children 5 years and younger.
The research team first experimented with filtration designs that mimicked a coffee press and a tool that wrings out water at car washes, but these systems seemed too complicated for field use.
"Then all of a sudden, we noticed that when we just hung the bag there, there was adequate head, or pressure, to drop the water through the filter," Meschke said.
The team optimized their bag-mediated filtration system through field research in Pakistan, Kenya and South Africa.
They have used it to capture a wide range of pathogens, including poliovirus, typhoid and viruses and protozoa that cause gastrointestinal infections.
From polio to coronavirus
For nearly four years, the filtration tool has been used by Pakistan's environmental surveillance program to track poliovirus in wastewater and water sources that are impacted by wastewater.
Since most people infected with poliovirus don't show symptoms of the disease, early detection of the virus in the environment can marshal vaccination and other public health efforts to stem disease transmission and prevent outbreaks.
Now Meschke and his team are evaluating their system for detection of the novel coronavirus, SARS-CoV-2, which can also be spread by people who don't show symptoms of COVID-19.
"We've been able to pick polio up in areas before clinical cases start to show up," Meschke said.
"Our hope is that it will be the same kind of thing with coronavirus."
Parasites and the Polar Bear Plunge
The team has also used the bag-mediated filtration system to monitor waters around Seattle.
Joanna Harrison, a researcher in Meschke's lab and a graduate of the DEOHS master's program in environmental health, adapted the system with a filter capturing protozoa that cause gastrointestinal illness such as giardia and cryptosporidium.
She sampled water at beaches around Lake Washington and Puget Sound in summertime. Protozoa counts are expected to be highest then because swimmers contaminate the water and stir up sediment, where the parasites can settle.
She detected giardia in very low numbers at some locations, including Matthews and Magnuson Beaches on Lake Washington, Green Lake and Golden Gardens Park on Puget Sound. Low levels of cryptosporidium were also found at Magnuson and Golden Gardens.
Then, in the wintertime, she sampled before and after the Polar Bear Plunge, an annual event in which thousands of people jump into Lake Washington on New Year's Day.
The values of both giardia and cryptosporidium were zero before the plunge, but afterward, she found both parasites at levels high enough to make someone sick if they ingested water.
"If you do the plunge, keep your mouth closed," she advised.