About 100 staff, faculty and student workers in the UW Department of Environmental & Occupational Health Sciences (DEOHS) were designated "essential workers" by the UW and worked in person throughout the COVID-19 pandemic to maintain critical DEOHS work and services.
Some worked in DEOHS labs or in field research to keep scientific studies going. Others provided essential services to the state through our Environmental Health Lab, Field Research and Consultation Group, Occupational and Environmental Medicine Clinic and Continuing Education programs.
Today, we are sharing profiles of some of these staff members to recognize their important contributions to DEOHS and the broader community.
Karen Jansen, research scientist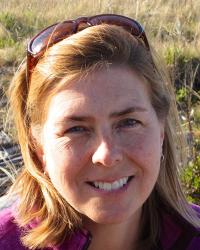 Jansen serves as research coordinator in DEOHS Professor Joel Kaufman's lab, working on air pollution studies, overseeing controlled exposures, clinical measurements, field studies and more.
Keeping these multi-year studies running has been her main focus. She joined DEOHS in 1988.
Jansen's day-to-day work includes benchwork in the lab, study recruitment and participant visits. One of her achievements during the pandemic was becoming a licensed phlebotomist to help with field study blood draws.
"Working during the pandemic has been challenging for everyone, but I felt like the people in our department really pulled together," Jansen said. "The hallways were quiet, but I never felt lonely because there was a certain camaraderie in the labs and offices, even on Zoom."
Alaina Olson, research scientist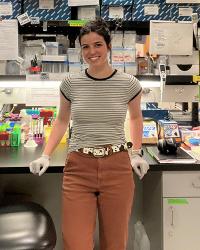 Olson works in DEOHS Professor Jerry Cangelosi's lab, which she joined as an undergraduate student in 2016 before becoming a staff member in 2017.
Olson's focus is to help maintain momentum in the lab's tuberculosis research, including the development and clinical validation of TB diagnostics.
Pandemic lockdowns and failures in diagnoses and treatment courses have dealt an enormous setback to global efforts to stop TB, Olson said. The lab team's work has hopefully prevented additional regression in the fight against TB.
"We work with infectious diseases, processing samples from sick participants, so our group is meticulous about keeping our lab spaces sterile," she said. "If anything, I could forget about the pandemic and the outside world when I was engrossed in lab work."
Still, the sense of community has been shaken by the pandemic, she said. "It's clear that we have a long way to go to get the TB world back together. Face-to-face collaboration … is crucial to our progress."
Angelo Ong, research scientist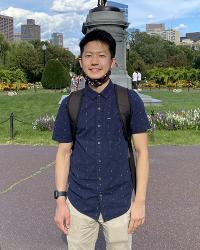 Ong works in DEOHS Professor Scott Meschke's lab. He started at DEOHS in 2019 as an undergraduate researcher.
Ong's job is to support the full range of lab research, including experimentation, lab maintenance and student training. He currently works on a project investigating SARS-CoV-2 variant surveillance in municipal wastewater and another project on disinfectant development from soybean waste products.
"Our lab group was very active during the pandemic," said Ong, who estimates he has worked less than five days remotely since summer 2020.
"In-person lab personnel saw each other every day, and although we had some underlying anxieties surrounding COVID-19 transmission, we all had a mutual understanding of safety and responsibility. I was able to learn about true teamwork and was so fortunate to be surrounded by fantastic coworkers."
Ong said he has grown as a scientist over the past two-plus years. "I've learned to understand failure, manage immense stress and create belief in myself," he said. "Not long ago, I believed that I wasn't capable of being a microbiologist, but my experiences in the past two years have changed that completely."
Pablo Palmández, agricultural safety and research extensionist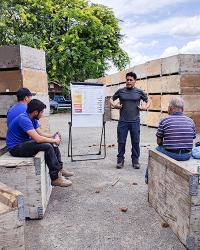 Palmández, who is based in Yakima, works with the Pacific Northwest Agricultural Safety and Health Center (part of DEOHS), which he joined in 2007.
His goal is to connect farmers and farmworkers with PNASH's expertise in agricultural research and safety, specifically in Eastern Washington.
During the past two years, he led in-person field work for the Healthy Dairy Worker study in the Yakima Valley. That work included administering lung capacity tests, taking nasal samples, processing blood and fecal samples, conducting surveys, organizing data and files and visiting dairies and farms to talk with workers, managers and growers.
He said he took care to follow all COVID-19 safety precautions and is grateful to have avoided contracting the virus.
"I have been more consciously taking care of myself to not get exposed to pathogens. I lost friends and people I knew because of COVID, and I feel very sad about that," he said. "I was also able to help educate my family members about not exposing themselves to COVID by following healthy practices."
Catherine Signoretty, research scientist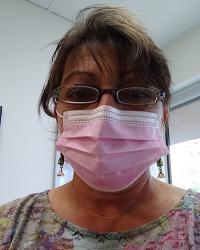 Signoretty calls herself a "lab rat" in the department's Environmental Health Lab, which she joined in 2013.
She analyzes environmental samples brought to the lab for testing. These can be air filter samples or tanks for firefighters or professional divers. Some samples may be bones, urine or blood. That means she is wearing protective gear almost every day and working in the hood or with a variety of instruments.
Soon after the pandemic began, the lab's workers were designated as essential "because other essential workers needed our support to be able to do their work."
"We disinfected all common spaces and surfaces twice a day, wore masks 8 hours/day, 5 days/week. And we trusted each other," Signoretty said.
Lab workers met clients at the loading dock to receive the samples. "People were thrilled to have us on the job so they could continue their work. I heard so many thank-yous from them that it warmed my heart," she said.
"I think everyone was a bit lonely at that time because the sample drop-offs were a good excuse to talk (6 feet apart). It took longer than during pre-pandemic times to get the drop-off paperwork done. I never complained about that!"
Michael Treptor, DEOHS Roosevelt Building manager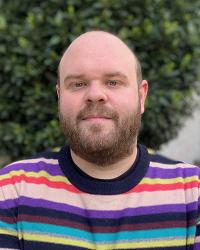 Treptor works with DEOHS leadership, lab managers, property management, vendors and others to ensure everything functions smoothly in the department's Roosevelt building. He joined the department in 2013 as a technician in the Environmental Health Lab.
The office set-up is more complicated than most because it is home to a number of science labs and specialized equipment. Treptor works closely with the labs to make sure nothing interrupts their work.
"I'm the one you call if a light goes out in your office (small deal) or if the air conditioning goes out in a lab with important equipment that needs to stay cool (BIG deal!)," he said.
During the pandemic, Treptor helped oversee major renovations to the building and labs and kept on eye on shared lab resources and equipment like incubators and dry ice supplies. He also helped coordinate the distribution of audio/visual technology with DEOHS IT as people shifted to virtual meetings.
Treptor rounded up masks and PPE to donate to first responders in the first months of the pandemic, distributed PPE and cleaning supplies for DEOHS workers and helped develop a COVID-19 prevention policy for shared spaces.
Working on campus felt surreal, especially during the first months with so few people around.
"I've probably been onsite more often to do things that required physically being at Roosevelt for others who couldn't come in," he said. "Our department takes COVID precautions seriously..., and I found myself with a comfortable balance of in-person contact and personal safety. I would remind myself of how lucky I am whenever I started to get stressed."