The Society of Toxicology recently recognized several researchers in the UW Department of Environmental & Occupational Health Sciences (DEOHS), including three members of DEOHS Associate Professor Julia Yue Cui's lab.
Carl Smith Award for Sarah Kim
DEOHS PhD student Sarah Kim received the prestigious Carl C. Smith Graduate Student Award at the 2023 Society of Toxicology meeting this week.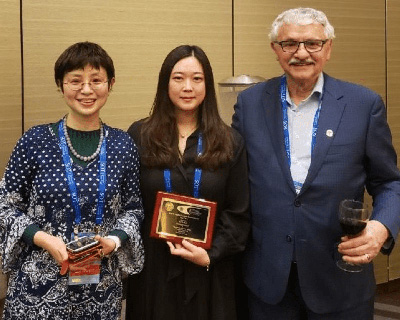 The award is highly competitive: after reaching the finalist stage, applicants are given two weeks to produce a full-length manuscript about their research.
Kim wrote about her work on maternal environmental exposure to a class of flame retardants called polybrominated diphenyl ethers (PBDEs) in mice. These chemicals bioaccumulate in breast milk and fatty foods, and can alter the gut microbiome. Early-life exposure to the chemicals can lead to delayed onset diabetes and liver disease.
Kim explores the complex interactions among PBDE exposure, the gut microbiome and metabolites it produces, and these diseases.
She hopes her research could lead to new therapeutic strategies for diabetes and liver disease—which affect nearly 100 million people in the US—by targeting microbial metabolites affected by PBDEs.
"It's a socioeconomic justice issue," she said, because diabetes and obesity disproportionately affect Black, Indigenous and people of color (BIPOC) and low-income populations.
"Sarah is an outstanding student and researcher," said Cui, Kim's adviser. "She has strong work ethics, great enthusiasm towards science, and is highly independent and proactive at conducting research."
"For two weeks I wrote the manuscript and it was really hard work," Kim said. "When I heard the news I was very elated and honored to receive it, because Julia also got this award during her PhD."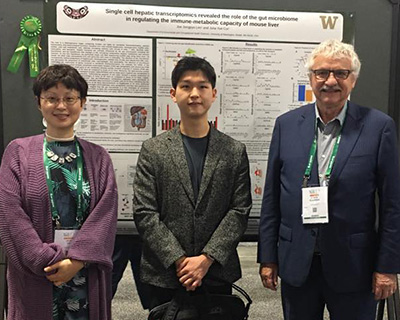 Best presentation award for Joe Lim
DEOHS PhD student Joe Lim received the Korea Institute of Toxicology Best Presentation Award from The Korean Toxicologists Association in America at the 2023 Society of Toxicology meeting.
Lim's research also focuses on early-life environmental chemical exposures and their impact on the delayed onset of liver diseases.
He is working to determine the developmental origins of the adult onset of these diseases using innovative research tools including single-cell transcriptomics, metagenomics, germ-free mice and advanced bioinformatics modeling.
Lim also recently won the Presidential Award of Distinction for his poster on single-cell transcriptomics at the American Association for the Study of Liver Diseases (AASLD) Liver Meeting in 2022.
In 2021, he received the Castner Award to create a public health forum for DEOHS community members to share scientific results with the public.
"Joe is a highly motivated, hardworking young scientist, and he has demonstrated a great potential to become a very successful scientist in environmental health," Cui said.
Hao Wang wins postdoctoral research award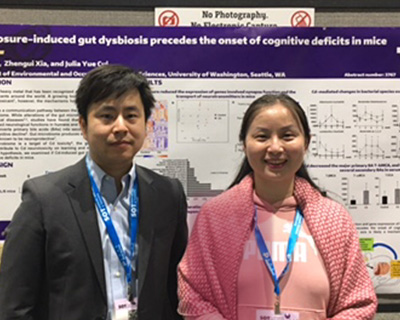 Hao Wang, a postdoctoral researcher in Cui's lab, won first place in the 2022 Gabriel L. Plaa Education Award, the major postdoctoral research award from the Society of Toxicology.
Wang, who has also been a postdoctoral researcher with DEOHS Professor Zhengui Xia, focuses on neurotoxicological effects of the metal cadmium, which people can be exposed to through food, air, water and particularly via smoking. In Cui's lab, he investigates how the gut microbiome contributes to the neurotoxic impact of cadmium.
Last October, Wang received a K99/R00 Pathway to Independence Award from NIEHS, with a total direct cost of nearly $1 million.
"Hao's research is highly innovative, and his work contributed significantly to our understanding of mechanisms underlying cadmium neurotoxicity," Cui said. "In addition to his research accomplishment, Hao is also an educator and a day-to-day mentor for graduate and undergraduate student researchers."