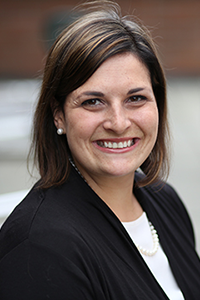 A new pilot project co-led by University of Washington researchers to improve disaster preparedness and climate resilience in South Seattle will put equity at the center, with scientists and community members collaborating to define local needs and priorities. 
The neighborhoods of South Park and Georgetown in the Duwamish Valley are among the Seattle communities hardest hit by flooding in recent years and are expected to bear a heavy burden of climate change impacts in coming years. They already face a disproportionate burden of poverty, air and water pollution, and environmental injustice.
The new project "will center the voices and priorities of those who are most vulnerable to a disaster," said Nicole Errett, assistant professor in the UW Department of Environmental & Occupational Health Sciences (DEOHS) and the project lead.
The $80,000 project is funded by the UW EarthLab Innovation Grants Program, with additional support from DEOHS.
Partners include the Duwamish River Community Coalition, the City of Seattle, the Washington State Department of Health and Public Health—Seattle & King County.
Door-to-door data gathering
The team will work with community members to develop a survey to assess public health emergency preparedness and response in South Park and Georgetown.
UW student volunteers will team up with neighborhood youth and the Duwamish Valley Youth Corps. The teams will go door-to-door to nearly 300 households, gathering data and disseminating information on climate change and health impacts and evaluating the need for information and resources to promote resilience and adaptation.
The team will report back to the community by September 2023 with a baseline assessment of local disaster preparedness and proposed solutions from the community. The project will also allow researchers to develop and test tools for collecting data in the aftermath of a disaster.
Building environmental justice together
"We are very grateful to partner with UW and other partners on this project to center environmental justice and racial equity methodologies for climate resilience," said Paulina López, executive director of the Duwamish River Community Coalition. "We will prioritize leveraging community-engaged research to empower our community and center community decisions at every level."
The information will also support the City of Seattle's work to establish the new Duwamish Valley Resilience District "by helping us elevate community voices and leadership as we continue working to adapt and thrive in the face of sea-level rise and environmental injustice," said Alberto J. Rodríguez, the city's Duwamish Valley Program lead.
"The Duwamish Valley has supported resilient communities since time immemorial—from the fishing and winter campgrounds of the Duwamish Tribe to the people living in it today," Rodríguez said. "But we know these communities have been and will continue to be disproportionately affected by climate change without immediate action."
Creating trusted relationships
Following a disaster, it is common for "helicopter disaster researchers" to drop in, collect data for their own research and then disappear without reporting back to the community, Errett said.
"People often talk about community-engaged research, but it's hard to do in a disaster if you don't already have a trusted relationship," she said. "Researchers show up after a disaster, after the worst day of their lives, and say, 'Hey, can you help us learn from your experience?' We don't want to be those folks."
Her team's goal is "not just collecting information for the sake of science," Errett said. "We want to gather data for the sake of building resilience in our community."
The project is supported by the UW Interdisciplinary Center for Exposures, Diseases, Genomics and Environment at DEOHS and other DEOHS researchers, as well as faculty from the School of Nursing, Civil & Environmental Engineering and the Evans School of Public Policy and Governance.