Belen Salguero
BS, Environmental Health
Hometown
Morton, WA
Future plans
A public health career focusing on worker health in marginalized communities
"I would really enjoy working with marginalized communities ... making sure they're being treated with the utmost respect, and getting the best advice and help they need."
- Belen Salguero
Belen Salguero, an environmental health major in the UW Department of Environmental & Occupational Health Sciences (DEOHS), interned with the Denver Department of Public Health & Environment last summer through the National Environmental Public Health Internship Program. We recently spoke with her about her investigation of the relationship between enteric disease and socioeconomic status, her inspirations to study environmental health and her plans for the future.
How did you decide to major in environmental health?
I'm a first-generation college student and a UW Office of Minority Affairs & Diversity scholar. Coming to UW was a big adjustment because I went to a tiny high school. I wanted to be pre-med, and I had room in my schedule for an elective, but I wasn't sure how to choose. I ended up asking my high school teacher, and she thought I would do really well in Introduction to Environmental Health.
I remember being in class on my first day and thinking: Wow, this is amazing. I'm so glad I chose this class, because I'm having so much fun already.
I decided to go to office hours with the instructor, DEOHS Associate Teaching Professor Tania Busch Isaksen, and after we talked she said, "You know what? You should be an environmental health major." It was funny, because I just thought I was going to introduce myself, but she helped me plan out my entire education.
What inspires you about environmental health?
A lot of it has to do with my dad. He's worked in the mill my entire life, and he did a lot of agricultural work when he was living in Guatemala and when he first came to the US.
I'm very interested in worker health because I see my dad in everybody who's working those kinds of jobs. I think, I want my dad to be safe and I want to do what I can to make sure he's safe. So if I can do that for someone else's dad too, that's even better.
When we're younger, many of us want to be doctors because we want to help people. But that's because being a doctor is the only way some of us know to do that. Before I came to UW, I didn't know anything about public health or environmental health. I had no idea there were so many different avenues to helping people.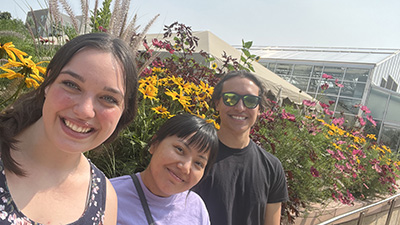 Where did you do your internship?
I did the National Environmental Public Health Internship Program (NEPHIP), and I worked with the Denver Department of Public Health & Environment.
I worked with another intern, DEOHS alumna Cristina Conde. Our overarching project was creating maps using ArcGIS to look at the relationships among enteric illness, retail health violations and socioeconomic status.
What did you find?
In a lot of the research we read in our literature search, there are higher counts of enteric illness in areas with higher socioeconomic status.
This is probably explained by the fact that people in communities with lower socioeconomic status are less able to obtain good health care. And so cases in people who don't seek health care aren't counted. I thought, that makes sense. Because when I get sick, I don't go to the emergency room. I just ride it out.
Surprisingly, our results showed the opposite: higher counts of enteric illness in areas with lower socioeconomic status. We created a series of maps to summarize our results, and at the end of the summer we presented them to the whole department.
What other projects did you work on?
We shadowed case calls with different members of the disease investigation team, including cases of Campylobacter, Salmonella, Legionella and hand, food and mouth disease.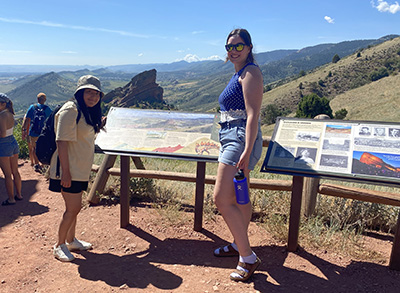 Our mentors set up meetings with other departments in the area, so we visited the coroner's office, the animal department, the environmental planning committee and the sanitation department. They made sure we got to see all parts of public health.
I worked remotely, but Cristina and I visited Denver for a week and we shadowed investigators at food service and child care facilities. We also did some outreach about monkeypox at several gyms and bars.
What did you take away from the experience?
I was inspired to see how much pride my mentors had in the work they did. Getting to hear the testimonies from all the different subdepartments within the public health department was eye opening. They're so happy with the work they do, and they see a difference in the work they're doing. I want to do something like that, too. But I want to do it on my own terms, likely in the field of worker health.
What would you like to do after you graduate?
I would really enjoy working with marginalized communities, especially Latinx people—because I am Latina. I think I would find a lot of happiness working with them and making sure they're being treated with the utmost respect, and getting the best advice and help they need.