Alexa Yadama
BS, Environmental Health
Hometown
Pullman, WA
Future plans
A career in environmental or public health, and eventually a master's in public health.
" I really appreciate mixing public health with my science background and helping people with the knowledge I have."
- Alexa Yadama
Most of us spend summers swatting mosquitoes away, but Alexa Yadama was up early most mornings last summer collecting them.
The UW environmental health major worked on mosquito surveillance for West Nile virus as an intern for Public Health—Seattle & King County (PHSKC).
Each morning, she and a fellow intern from the UW Department of Environmental & Occupational Health Sciences (DEOHS) set mosquito traps around King County, then brought the insects back to the lab to separate them by species and freeze them before shipping them off to be tested for the virus.
Identifying the pesky creatures under the microscope was a surprising pleasure. "They're still intact, and you can see their wings and everything," she said. "It sounds weird, but it's actually really beautiful."
Yadama is being honored by DEOHS this month as the 2020 Outstanding Undergraduate Student for her keen scientific curiosity and dedication to helping others.
From West Nile to wildfire smoke
One of Yadama's mosquito collection sites happened to be in the yard of her adviser, DEOHS Senior Lecturer Tania Busch Isaksen.
Seeing Yadama's intelligence, enthusiasm and work ethic in action impressed Busch Isaksen. The same was true for PHSKC, which extended her summer internship through the end of the year.
At the end of the summer, Yadama approached Busch Isaksen with an idea for a new research study. She and Busch Isaksen received funding through the Northwest Center for Occupational Health and Safety's Professional Training Opportunities Program to study how public employees who work outdoors are affected by wildfire smoke. Now they are surveying jurisdictions around Washington state to document current policies and lay groundwork for new ones.
"Wildfires are only going to get worse with climate change," Yadama said. "It's a great opportunity to think about our health in the future."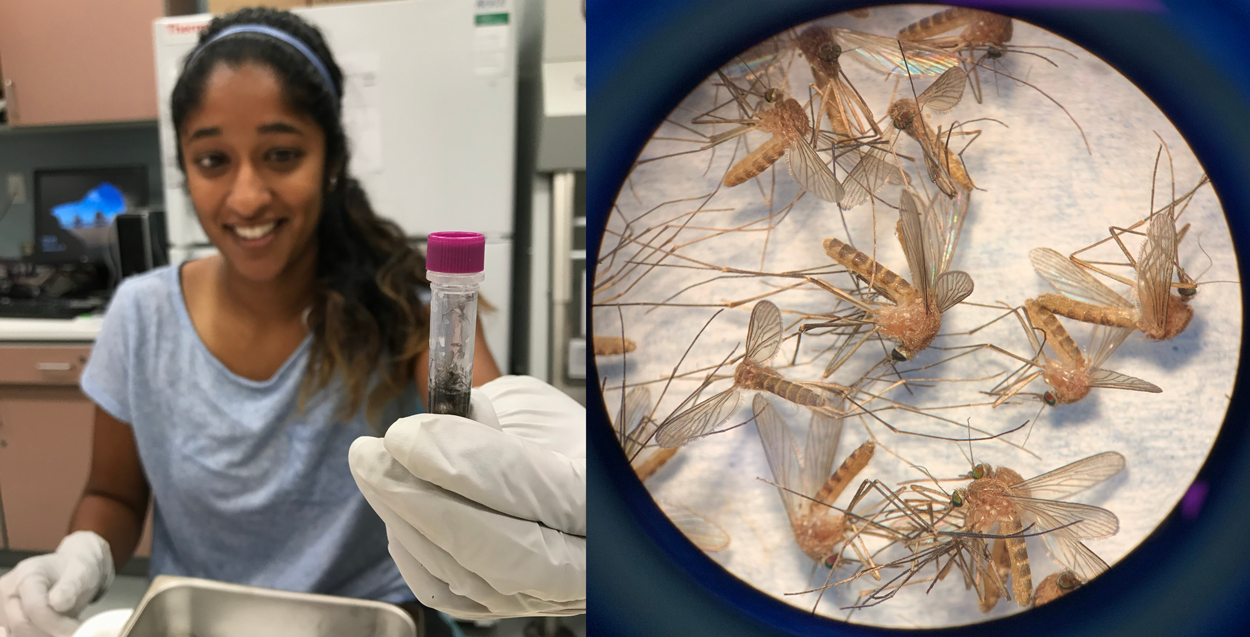 Drive and flexibility
"She takes a lot of initiative," Busch Isaksen said of Yadama. "She's very smart and intuitive, asks great questions and gets things done. But perhaps most important in this time of COVID-19, she understands that flexibility is key when you're working with practice partners."
The pandemic has changed how the two have approached their research project. Instead of conducting focus groups as she had planned, Yadama is reaching out to key informants by phone.
Writing a grant and pursuing the project has also taught Yadama the value of taking risks.
"It's important to put yourself in situations that might be outside your comfort zone," she said. "There are always learning opportunities that can come from it."
Ultimate motivation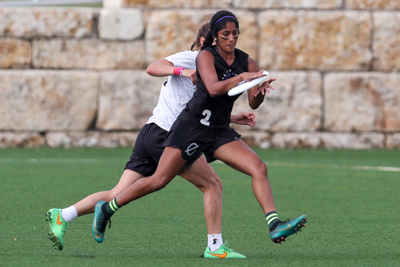 Yadama also takes risks on the field as a captain of UW Element, the university's women's ultimate frisbee team. This year, she was nominated for the Callahan Award, which honors the most valuable players in college ultimate frisbee.
"Ultimate has been one of the best things that I found at UW," she said. "It made the community of such a large school so much smaller for me."
The close-knit DEOHS community has also supported her. A chat with Trina Sterry, manager of Student and Academic Services, when Yadama first started at UW excited her about majoring in environmental health and the many career options in the field. As a sophomore, Yadama was inspired by Lecturer Nicole Errett's class on disaster and public health.
Busch Isaksen has nurtured her growth as a scholar and scientist. And Hayley Leventhal, internship and career manager, advised her and helped her find her internship.
Sharing talent and tenacity
In her environmental health pursuits and beyond, Yadama is driven by a desire to help people.
Her parents are from India, and her family returns there often to visit extended family. "The more that I've gone recently, I've been looking at it through an environmental health perspective—like seeing how sanitation could change how people live," she said.
During her time at UW, she has mentored high school and middle school students, worked as a peer adviser and coached high school and elementary school frisbee players.
"She finds something that she's good at, and she provides service to the community," Busch Isaksen said. "This is very illustrative of her as a person and her future potential."
Eventually, Yadama hopes to return to UW to pursue a master's in public health—and is particularly interested in the MPH program in community-oriented public health practice. In the meantime, she plans to take a job in environmental or public health to learn what aspects of the field excite her most.
"Whatever she does next, I think she will impress people with her leadership skills and tenacity," Busch Isaksen said.