Two undergraduate students in the University of Washington School of Public Health are being honored as part of this year's Husky 100 based on their work with the Pacific Northwest Agricultural Safety and Health (PNASH) Center at the UW Department of Environmental & Occupational Health Sciences.
Idanis Cruz
Bachelor of Arts, Public Health-Global Health
Hometown:
Mattawa, WA
Future plans:
Pursue a Master's in Health Services.
"I came to the UW to learn how to better serve communities and help them find their voice."
Idanis Cruz and Art Aguilar will graduate in June with degrees in Public Health-Global Health from the UW School of Public Health. Each year, the UW honors 100 undergraduate and graduate students who make the most of their time at the UW, using their classroom skills to have real-world impact.
Advocating for farmworkers
Cruz was born in Mexico and moved to the US at age 7. As a child, she worked alongside her parents doing agricultural work. Her firsthand experience with health and safety issues facing agricultural workers led her to study public health.
"Because I grew up in the agricultural community, I am familiar with their needs and how to best communicate with them," Cruz said. "Farmworkers actually know a lot about pesticide safety and their health needs but don't always have a platform to share ideas. Doing a community needs assessment is one way to give farmworkers that platform."
Cruz works as a student assistant for the PNASH Center, giving her the opportunity to work with faculty and staff to address issues close to her heart.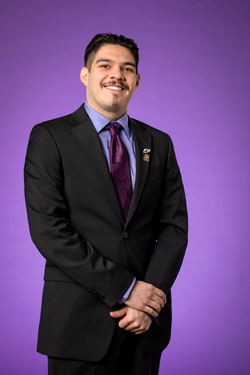 Art Aguilar
Bachelor of Arts, Public Health-Global Health
Hometown:
El Paso, TX
Future plans:
Work as a community advocate on community design, sustainable agriculture and human rights.
"I am thankful for all of the people I worked with at the UW who motivated and inspired me to always do my best."
Recently, she worked on a bilingual pesticide safety app that delivers safety information in Spanish and English. She also works on a project to assess what resources farmworkers need to stay healthy and safe during wildfire season.
Cruz excels at anticipating barriers and analyzing issues, raising challenging questions and finding creative solutions, said Kit Galvin, PNASH research scientist and Cruz's mentor. She is "a positive, thoughtful and mature member of the research team and helped carry the pesticide safety app project far beyond my expectations."
Understanding community needs
Aguilar focused his UW studies on community engagement. He learned the importance of understanding the needs of vulnerable communities to help them find their voices through his work with PNASH and a capstone project with the homeless community in Seattle.
"Providing a one-size-fits-all solution to resolving community public health problems can be detrimental to those that fall outside conventional boundaries," Aguilar said.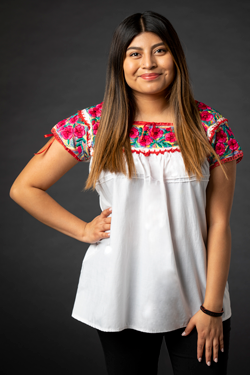 Aguilar's grandparents were agricultural workers. From an early age, he was drawn to finding ways to help that community.
He was selected for the Supporting Undergraduate Research Experiences in Environmental Health (SURE-EH) program administered by DEOHS, focusing his research on how migrant student engagement could benefit agricultural health and safety.
He helped design a curriculum for high school students to educate and empower youth to understand and address health issues faced by agricultural workers. He also worked with a group of students and faculty to conduct outreach and a needs assessment to help reduce farmworker exposure to heat and pesticides in Central Washington.
PNASH Program Manager Marcy Harrington noted that Aguilar brings a lot of curiosity and drive to his work. "He really works to understand an issue well, especially from the point of view of the people most impacted."
After graduation, what's next?
Cruz plans to continue working for PNASH after graduation and also hopes to work for Sea Mar Community Health Centers. She would like to get a Master's in Health Services that will help her "become the person who turns evidence into real-world impact."
"One of the biggest things I have learned in the School of Public Health is the importance of public engagement and ensuring you understand what the community truly needs and wants," she said.
Aguilar remains interested in working with vulnerable populations. "Sometimes decision-makers do not take into account diverse community perspectives, and I plan to advocate for this throughout my career."