Juliette Randazza
MPH, Environmental and Occupational Health
Master in Public Administration
Hometown
Andover, MA
Future plans
Entering public service in local or state government, working on environmental policy and management and their impact on health
"I'm thankful to be attending the Preparedness Summit this year with departmental support from the Environmental Health Student Support Fund."
- Juliette Randazza
Editor's note: Thursday, April 7, is Husky Giving Day! Please make a gift that day to support students like Juliette through the DEOHS Environmental Health Student Support Fund. This fund helps graduate students with travel-related expenses to attend conferences, share their research and learn from other scientists. 
During last summer's record-busting heat wave in the Pacific Northwest, Juliette Randazza's friend overheated and passed out at his desk.
Although he was fine afterward, the experience was alarming and part of a series of personal encounters with extreme heat that affirmed Randazza's research passion: protecting people's health through evidence-based policies in a rapidly warming world.
Randazza will graduate in June from the University of Washington with dual master's degrees: an MPH in Environmental and Occupational Health from the UW Department of Environmental & Occupational Health Science (DEOHS) and an MPA from the Evans School of Public Policy and Governance.
Randazza is also a student member of the UW Center for Health and the Global Environment (CHanGE), which is part of DEOHS and the UW School of Public Health.
We recently talked with Randazza about her research and the importance of donor support for students who are emerging environmental researchers.
Q: What interested you in combining your studies on environmental health and public policy?
My main research focus is on strategies that local health departments and emergency management agencies can use to manage the impacts of extreme heat. By local, I primarily mean at the city and county levels.
I have a background in clinical quality analysis, and I have always been interested in the policy implications of this work. As a dual degree student, I was looking for research opportunities to combine these two fields.
Several experiences have cemented the importance of this topic in my mind. I grew up in the Northeast experiencing increasingly hot and humid summers without air conditioning. Just ten years have radically changed how bearable heatwaves feel in the summer.
In the Pacific Northwest, not having air conditioning is now considered a health risk. Last summer, my friend overheated, and another friend was scrambling to keep their pets cool.
These experiences really hammered in the human aspect of this work. People are directly impacted by policies. I want to know: What are the services and infrastructure that cities and counties must fund and implement to help people stay safe and healthy?
Tell us more about your current research and your work with CHanGE and DEOHS faculty members.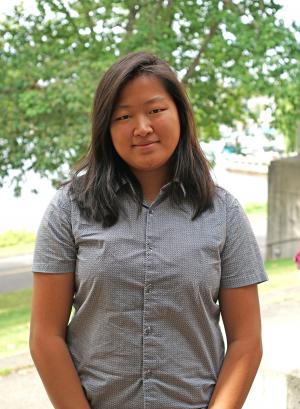 I was really lucky to work as a research assistant for Nicole Errett during my first year. Professor Errett's research focuses on the health impacts of climate change and other environmental policy, and I was assigned to a project on extreme heat responses.
My current thesis project evolved out of that experience. This project is part of a larger collaboration between Professor Errett and CHanGE's director, Dr. Jeremy Hess, as well as researchers at Boston University and the University of British Columbia, who are investigating the health impacts of extreme heat events in the United States.
Most of my work has been focused on analyzing local heat action plans and surveying local health departments and emergency management agencies on their extreme heat management strategies.
What do you hope the impact of your research will be?
I would like to reach policymakers, public health officials and emergency management agencies, many of which are already planning for hotter summers. I hope my research can help define which strategies are most effective in protecting community health.
Here's an example: I recently read a news article that featured a person over the age of 65 living alone—two risk factors, by the way—in a New York City apartment without air conditioning. He knew about a city program providing free air conditioning but didn't know how to access it.
Can we say that this city policy was successful? These are the kinds of questions I hope to raise and answer with this audience.
What has your experience as a DEOHS student been like?
I've been lucky to find very supportive mentors at DEOHS, such as Professor Errett. I've worked with her for several years, and it's been a great experience.
I think the most exciting thing I've witnessed is the expansion of her lab, the Collaborative on Extreme Event Resilience, as well as being introduced to all the ways that environmental health intersects with policy.
Tell us about the support you recently received from DEOHS to attend an upcoming research conference. How important is that kind of support for students?
Going to this conference is important to me not just to be able to present my work but to see the ways in which practitioners and researchers are collaborating on public health emergency response.
I remember sitting down with Nicole Errett as she ran through how much the conference—including flights, accommodations and food—would be and feeling overwhelmed at the expense. The support from the department has made this process a lot more manageable.
What's next for your research?
I've been thinking about how these public strategies can be tailored to work for different communities.
For example, some jurisdictions may have more robust and evenly distributed transportation systems, so accessing public services may be easier. Other jurisdictions may not have such strong transportation systems and may instead need to provide direct transportation to those services.
Further evaluation of these strategies would really require the exchange of knowledge between researchers, practitioners and community members so they can be adapted to work within specific locations.