Last year, two treasured members of the UW Department of Environmental & Occupational Health Sciences (DEOHS) community passed away: Emeritus Professors Jane Koenig and Daniel Luchtel.
During their decades-long careers at UW, both Koenig and Luchtel made major contributions to the field of environmental toxicology, and also shared their talents through teaching, mentorship and service on the UW Faculty Senate and departmental committees.
They are remembered fondly by many of their colleagues.
DEOHS Professor Zhengui Xia recalled sharing office space with Koenig and Luchtel in the F-wing of the UW Health Sciences Building when she first began as a faculty member in DEOHS about 27 years ago.
"They were both really nice and supportive, and they gave me a lot of encouragement," Xia said.
Jane Koenig
Jane Koenig was "one of the pioneers in studying the physiological effects of air pollution inhalation, especially in humans," said DEOHS Professor Joel Kaufman, who collaborated with her.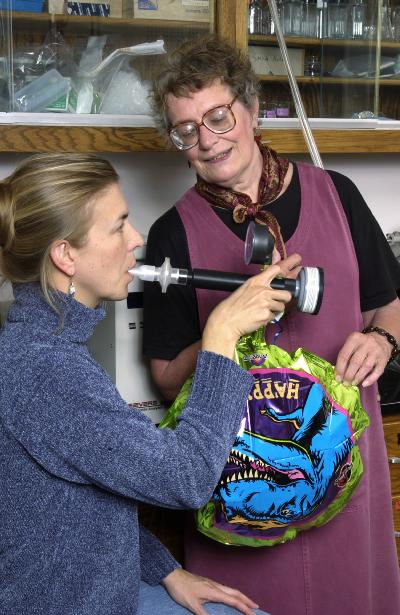 Koenig joined DEOHS in 1974 as a research associate in the Air Pollution Health Effects Group. She was promoted to full professor in 1993, at a time when she was one of the few women professors in the department. In 2010, she retired and became professor emeritus.
"She held her own always with a smile, and kind of a Zen attitude toward things," recalled Timothy Larson, professor emeritus in DEOHS and the UW Department of Civil & Environmental Engineering.
In her labs on the fifth floor of the F-wing with a view of Lake Washington, Koenig had a unique facility for monitoring air pollution exposure in human volunteers, allowing her to observe health effects when adults and children exercised under low concentrations of air pollutants.
She was one of the first researchers to document the health effects of residential wood smoke on hospital admissions for asthma—a study that influenced US clean air policy and is a highly cited paper on air pollution and health, noted Larson, who collaborated with her on the research.
As director of the Northwest Center for Particulate Air Pollution and Health at UW, which operated from 1999 to 2006, Koenig catalyzed the interdisciplinary approach of studying air pollution exposures, health effects and toxicology that has become "a major part of this department's success," Kaufman said.
She also served as an advisor on regional and federal committees including the US Environmental Protection Agency's Clean Air Scientific Advisory Committee.
"She was very active in the development of the science underlying the seminal air quality regulations that we still have," Kaufman said.
Koenig also served on the UW Faculty Senate, and in 2014 received the Leadership Award for long-term service to the UW chapter of the American Association of University Professors.
Xia described her as a "very gentle person" who cared deeply for her mentees and colleagues.
"When I decided I wanted to look into air pollution and child health in my career, Jane was just so welcoming," said DEOHS Professor Catherine Karr. "I really liked how she developed an atmosphere of support with her staff, trainees and colleagues—it's something I've brought with me into my own work."
Koenig collaborated closely with allergists in her work, as well as with the Northwest Asthma & Allergy Center in her work on childhood asthma and air pollutants.
"She was always cheerful and flexible, interested in many different things and able to work with groups outside the academic community easily," Larson said. "She was a kind soul who will live on in our hearts."

Daniel Luchtel
Using a wide variety of microscopy techniques, Daniel Luchtel studied lung morphology and pathology in animals to shed light on lung disease and the effect of air pollution in humans. He was also an avid mountaineer.
Luchtel spent 38 years as a faculty member in environmental toxicology in DEOHS, retiring in 2012 with an emeritus appointment.
"While he was an inhalation toxicologist and respiratory pathologist, I think he considered himself fundamentally a microscopist," employing high-powered electron microscopes to image lung processes, Kaufman said. Xia recalled his "room full of many different types of microscopes."
Luchtel collaborated closely with Koenig on many studies, including research on the effects of the air pollutants sulfur dioxide and ozone on human airway cells.
"He was always right there next to Jane, and always very friendly and supportive," Larson recalled.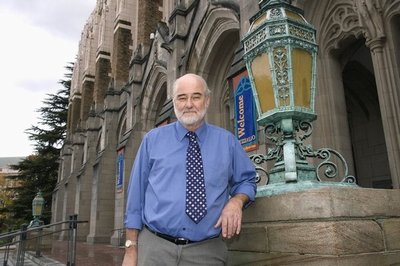 Luchtel also dedicated years of service to the UW through leading departmental reviews, chairing many standing committees, serving as faculty senator and even chairing the UW Faculty Senate.
In his role as a faculty senator, he strongly encouraged the university to provide more support for child care. Xia recalled sharing her concerns about the issue with him after he asked what could be done to support women faculty and staff.
"He pushed for support of women faculty and staff, and I was really touched by how much he cared about that," she said.
Outside of his work as a scientist, Luchtel was a member of the Mountaineers Club and climbed many major peaks around the world.
"It was his side passion and avocation," said DEOHS Professor and Chair Michael Yost.
"They were both tremendous colleagues and mentors, and I really dearly miss them," Xia said. "I was privileged to have such good people to work with."
Watch a video of Jane Koenig produced by the UW School of Public Health History Project.