John Lykins
Applied MS, Environmental Health Sciences
Hometown
Midland, OH
Future plans
A career as an industrial hygienist in the maritime industries.
"I want to find solutions that have a minimal impact on people's workflow while providing maximum protection for workers."
- John Lykins
John Lykins is an MS student in Applied Environmental Health Sciences in the UW Department of Environmental & Occupational Health Sciences (DEOHS). After retiring from the Navy in 2014, Lykins was inspired to pursue a career as an industrial hygienist because of his desire to help workers in the maritime industries. Recently we talked with him about his experience in the Navy, his internship on firefighters' health and safety and his plans for the future.
How did you make the transition from serving in the Navy to studying environmental and occupational health at the UW?
I got into the Navy 10 days after I graduated from high school, and I served for about 20 years with a short break in the middle. I retired as a chief petty officer in 2014.
I was a hull maintenance technician. I was responsible for all the metal and structural components on ships, all the piping. I dealt with the sewage; I did firefighting and sheet metal, lagging and insulation work. Basically, if something broke on the ship, I was the person they called to come fix it.
After I retired from the Navy, I got an associate's degree in IT networking, and then a bachelor's in organizational leadership and technical management. But I wanted to specialize more in something meaningful to me.
I'd had an interaction with an industrial hygienist once that I felt wasn't necessarily the most positive. I had a complaint, and I was effectively ignored. I thought I could join the field and make a more positive contribution.
The Veterans Readiness and Employment Program, which helps veterans find meaningful employment, is supporting my education.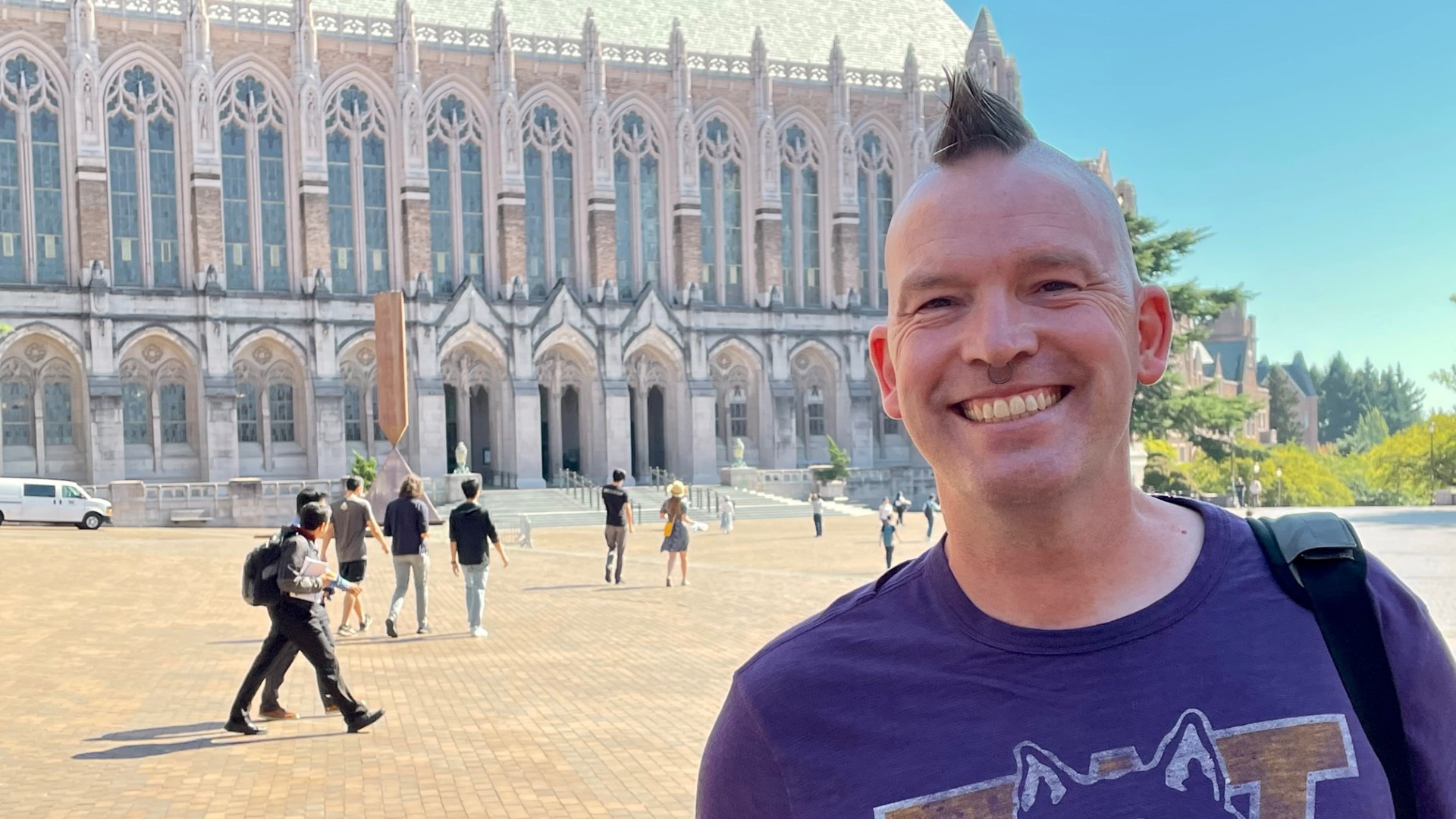 Tell me about your research project.
Right now I'm doing my internship with DEOHS Assistant Professor Elena Austin on firefighting gloves, in a project funded by the Washington State Department of Labor and Industries Firefighter Injury and Illness Reduction (FIIRE) initiative.
It's a continuation of a project that she and DEOHS MS alum Asheton Gilbertson started. They showed that during cleanup activities after a fire is fought, only about 28% of firefighters they surveyed used structural firefighting gloves.
We're exploring what glove option provides the highest amount of protection from carcinogens, while minimizing the impact on finger dexterity and performance. We're also gathering subjective data to say, how comfortable is this, would you use this?
One of the great things about the project is how energized and involved the firefighters in the advisory group have been. They're looking to find these answers, because they're 9% more likely to get cancer, and 14% more likely to die of it, than the average person.
How has your experience been in the program?
Being here has been the most positive year of my life. I'm really excited about it.
I come from a rural environment. Growing up, I barely knew anyone with a college education. When I showed up here, I was nervous, even with all of my experience. The other students within my cohort—great, hardworking people—went out of their way to help me.
I told DEOHS Professor Christopher Simpson I was worried about falling behind, and he met with me for an hour every week. The feeling I got from the program is: We're here for you, we want you to succeed. Yes, you're going to have to work hard. Yes, it's going to be challenging. But when it comes down to it, talk to us because we are on your side.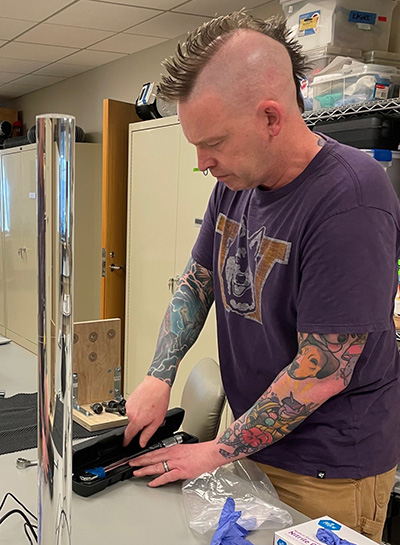 What are some of the most memorable things you have learned so far?
I've realized I was exposed to many things in my work that I either ignored, wasn't told about or was discouraged from learning about. For example, I worked with aqueous film-forming foam, which is sometimes called firefighting foam.
It's used to quench fuel fires or burning liquids. It creates a vapor barrier, it works like a charm. But it's loaded with highly toxic per- and polyfluoroalkyl substances (PFAS).
We used to clean that stuff up barehanded. But if you're a young, tough guy, you put your hand in, and it doesn't hurt, right? So you say, let's keep going.
It seems like having that first-hand experience would help you to communicate risks with workers as an industrial hygienist.
Yes, I had this conversation with an industrial hygienist the other day, and he said: The science and data are important in industrial hygiene, but even if you have all the data in the world, you have to establish relationships with people to communicate it in a way that they can understand. In a way that they can embrace, in a way that gives them the chance to be better and feel good about themselves.
What are your plans after you graduate in December?
My goal is to work as an industrial hygienist in the maritime industries, particularly in a shipyard. I want to listen to workers' concerns and do the best I can to have exposures be as low as reasonably achievable.
Since I've been involved with the Navy all of these years, I think shipyard workers and sailors deserve the best I can give them. There are workers who do fine craftsmanship: working on nuclear components, and putting together things that are critical to the nation's defense. And there are also people who are operating those things under arduous conditions.
I like that everything that I do in my career will be to help people. I would like to support the health and safety of the average 25-year-old working in a shipyard who's trying to pay the rent and raise a kid or two, because I think they deserve it. If you don't know the health risks in your workplace, how are you going to protect yourself?