Asheton Gilbertson
MS, Occupational Hygiene
Hometown
Denver, CO
Future plans
Working as an industrial hygienist at Sandia National Laboratories.
"My work with firefighters helped solidify that I made the right choice in coming to UW, because I would not have gotten to do this anywhere else."
- Asheton Gilbertson
Before coming to the UW, Asheton Gilbertson advocated for environmental conservation policies in Denver as communications coordinator for a nonprofit.
In the process of talking with residents impacted by air pollution, she said, "I realized I was not only passionate about the environment, but more so the people who were disproportionately impacted by those effects."
That drive to make a difference in people's lives and health inspired her to pursue a MS in Occupational Hygiene in the UW Department of Environmental & Occupational Health Sciences (DEOHS).
Gilbertson is now being honored as the 2023 DEOHS Outstanding Master's Student for her research partnering with firefighters to improve their health and safety, her leadership and collaboration skills, and her efforts to mentor fellow students.
"Asheton always impresses through her quick thinking, diligence and commitment to engaging and translating her research to partners," said DEOHS Assistant Professor Elena Austin, Gilbertson's adviser.
Getting an early start
"People sometimes ask me, 'How did you get involved in studying firefighter gloves? It seems so specific,'" Gilbertson said, laughing.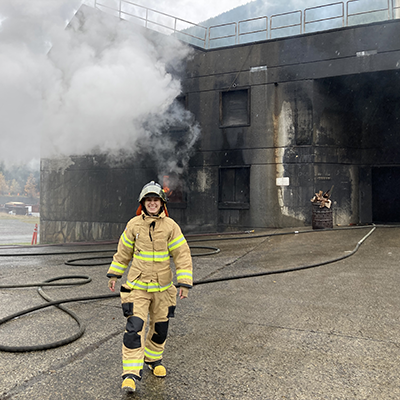 But the gloves firefighters choose influence their health and safety, including their susceptibility to hand and wrist injuries and their exposure to toxic chemicals.
The topic sparked Gilbertson's interest after she reached out to Austin the summer before starting her master's program. Austin was partnering with firefighters to understand why these first responders have such a high incidence of hand and wrist injuries, and what can be done about it.
Researchers suspected that rigid structural firefighting gloves, which are recommended but not required during cleanup activities after firefighters suppress a fire, could contribute to these injuries.
Through interviews with a small group of firefighters that summer, Gilbertson found, to her surprise, only 40% of respondents wore structural firefighting gloves in these "post-fire" activities because they limit dexterity and mobility.
When it came to choosing gloves, she found the firefighters were concerned about musculoskeletal injuries, but even more so about their dermal exposure to toxic chemicals such as polycyclic aromatic hydrocarbons (PAHs). These combustion products are carcinogens and are also associated with respiratory, cardiovascular and other health concerns.
Addressing firefighters' needs
"If we want to suggest a best practice for glove use, we need to understand the musculoskeletal component, the dermal exposure component, and really address the needs our firefighters have," Gilbertson explained.
To do this, Austin, DEOHS Teaching Professor Martin Cohen and Gilbertson applied for and received a Safety and Health Investments Projects (SHIP) grant from the Washington State Department of Labor & Industries. The project aligns with the recently passed Firefighter Injury and Illness Reduction (FIIRE) Initiative, a program involving over 40 fire departments in Washington state.
Gilbertson surveyed a group of 364 firefighters from departments across the state on their glove preferences. She also measured dermal exposure to PAHs in a smaller group of firefighters at the Washington State Fire Training Academy in North Bend, Washington.
There, her experience as a fitness instructor—she is certified to teach cardio kickboxing and leads classes at the UW Intramural Activities Building—helped her forge connections with the firefighters.
"I'd run around with them and joke, 'Drop down and give me 20!'" she said. The bonds extended to the research as well.
"I really appreciate that the firefighters are excited about having us work with them," she said. "I've had so many people reach out to me to say, 'How can we get involved?'"
Making sure gloves are comfortable and protective
Gilbertson's results show only 28% of survey respondents wore structural firefighting gloves during post-fire activities.
Others most often wore leather gloves and mechanic work gloves, citing their physical protection, comfort and range of motion. The results show how important it is to address both ergonomics and dermal exposure when setting policy for gloves, Gilbertson said.
"Somebody is not going to adhere to a policy that doesn't meet their needs," she said.
Her preliminary analysis indicates that although firefighters' structural gloves protect them from larger particles, smaller molecules like PAHs may still be absorbed by the skin.
"Folks are decontaminating, but if it's already absorbed by their skin, then it's not necessarily making a large difference," she said. "We want to push the industry potentially to make better gloves."

Becoming a leader
At DEOHS, Gilbertson has valued the support of her adviser, professors and fellow students, and the chance to pursue hands-on research, project management and leadership opportunities.
"I love that Elena is supportive and very open to my ideas," she said. Gilbertson has led presentations to the 40 fire departments in the FIIRE group as well as an advisory group for PPE, helped write the SHIP grant application, and recruited members of the team's Firefighter Glove Research Advisory group.
"I really appreciate that Elena and others in the department value my passion, initiative and drive," she said.
"With Asheton's interpersonal skills, drive and energy, she will no doubt be a leader in the field," said Cohen.
Embarking on a career
Gilbertson recently snagged her dream job: in June, she will start as an industrial hygienist at Sandia National Laboratories, where she will assess exposures for the scientists working there.
The move will also reunite her with her partner and her cat, both of whom she's been dearly missing during her two years in Seattle.
Last summer, Gilbertson interned at Boeing, where she was also offered a job. She has since translated that experience into helping other budding industrial hygienists find jobs by mentoring fellow students in networking and preparing for interviews.
"I feel like I've not only made friends but established a community that I want to continue to cultivate," she said.