Editor's note: Natalie Peterson is a UW senior completing her BS in Environmental Health. Her JRCOSTEP internship was recently featured by the Indian Health Service on its website.
This summer I am interning in the Junior Commissioned Officer Student Training and Extern Program (JRCOSTEP) in the US Public Health Service. I have been working for the Indian Health Service in Aberdeen, South Dakota.
As a nonregulatory authority, the Indian Health Service provides guidance and recommendations on health and safety.
Every day brings a new challenge. When the phone rings, there is always a new issue that needs researching. I love being kept on my toes and not knowing what problem we will get to solve next.
I have made vaccine deliveries to remote locations, performed seat belt observations, attended community meetings and surveyed grocery stores, meat shops, delis and community spaces.
Contending with COVID-19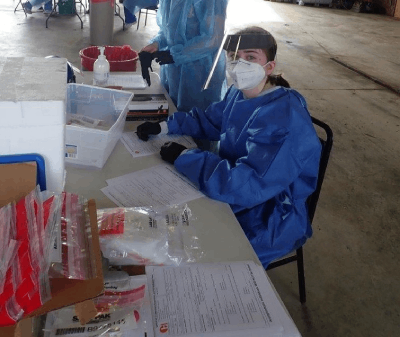 In addition to routine activities, environmental health officers have been taking on a lot of challenges related to COVID-19. We have assisted in providing guidance to employers on the best ways to reopen in order to ensure the safety of staff and customers.
I've worked at mass COVID-19 testing events for communities, where I helped prepare test kits and collect preliminary demographic information for patients. I have attended school reopening meetings with various community members to help weigh the risks of going back to in-person schooling. As the demand for personal protective equipment (PPE) increases, I have assisted in compiling data related to the PPE burn rates at several hospitals in the area.
Being able to help with the COVID-19 crisis in any way I can has been a humbling experience. I have learned that effective communication is essential, and I've developed new science communication strategies.
Seat belt safety
A big part of my internship so far has focused on injury prevention related to seat belt usage on reservations in the Great Plains. I've completed observational seat belt surveys, which involve counting the number of passengers and drivers wearing seat belts at a certain location at different time periods.
This data is compiled into annual summaries, which are then used to provide recommendations for laws, enforcement and education regarding seat belt usage. I've created infographics, reports and summaries with seat belt data at the tribal community and Great Plains levels.
I am very excited to see what the rest of the internship holds, and I know I won't want to leave when my time here is up. Working with underrepresented populations has been very meaningful, and I have learned a lot about how to be culturally sensitive while doing what needs to be done to protect health and safety.
Ready for the future
My time as a JRCOSTEP intern has helped prepare me for my future goals of becoming an environmental health specialist to help protect the health and safety of underserved communities.
JRCOSTEP internships are very broad, including projects on water quality, vector control, food protection, hazard communication plans and environmental health surveys. In the office I took classes in emergency management and basic readiness, and learned new technical skills that I've applied in the field.
If you're considering a JRCOSTEP internship, go for it! It is one of the most unique, hands-on and knowledge-gaining experiences that an environmental health student could ask for.