Shelley Stephan
MS, Occupational Hygiene
Hometown
Irvine, CA
Future plans
A career as a research industrial hygienist.
"Looking at the industrial hygiene and occupational health field with a wider lens has been a unique opportunity, different from the more traditional workplace monitoring I have conducted previously."
- Shelley Stephan
The challenge of starting graduate school in a pandemic led Shelley Stephan to develop a database that is already helping guide policy decisions on worker health.
Instead of the fieldwork she'd hoped to do for her master's thesis in Occupational Hygiene, Stephan analyzed existing data to tackle a question that had never been determined before for the US: How do people's socioeconomic and demographic backgrounds influence their exposure to chemical hazards at work?
Stephan found that cleaning agents are the most common workplace exposure in the US, affecting about 19 million workers, or 12% of the workforce. Workers who are female, Latino, foreign-born or with lower levels of education are disproportionately exposed to these hazards at work.
"It was really cool to see the power of the data," she said. "It confirmed what we already suspected—that the least privileged carry the greatest burden of occupational exposures. But it also put a number on it."
Now Stephan is being honored by the UW Department of Environmental & Occupational Health Sciences (DEOHS) as the 2022 Outstanding Master's Student for her path-breaking research and its impact on public health.
"In Shelley I see a strong future leader in public health, and a respected advocate for worker health and safety, who commits and embodies occupational justice, equity and inclusion in all her work," said her adviser, DEOHS Assistant Professor Marissa Baker.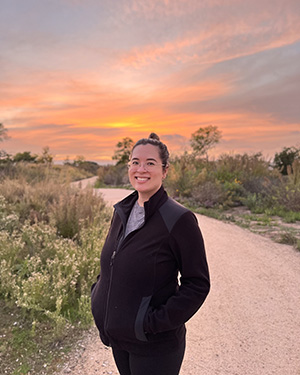 Journeying into occupational health
Stephan had experience in occupational health even before starting her master's at DEOHS.
In college, she studied biology and spent a semester doing an independent study of environmental health. Soon after graduation, she started working as an industrial hygienist for Naval Hospital Bremerton on a team consulting with the Puget Sound Naval Shipyard.
During her nearly four years on the job, she developed into a journey-level industrial hygienist, doing her own inspections and hazard assessments.
Her desire for more training and to contribute to advancing the field led her to apply to the master's program at DEOHS and join as a trainee through the Northwest Center for Occupational Health and Safety.
"I wanted to understand why I was doing the things I was doing as an industrial hygienist—why are the OSHA [Occupational Heath and Safety Administration] standards at these levels?" she said. "There is a lot of work that still needs to be done in this field," including updating outdated standards.
A transformative internship
Stephan's thesis took shape during her internship last summer with the King County Hazardous Waste Management Program. She worked on a project examining the racial and ethnic distribution of occupational exposures in the county, on a team led by DEOHS Affiliate Assistant Professor and PhD alumnus Trevor Peckham.
Stephan was inspired to expand their local analysis to the whole country. She analyzed data from the US Bureau of Labor Statistics, the US Census Bureau and other sources on nearly 250 chemical exposures after writing code to merge the data sets.
Her findings are already influencing policy. The King County Hazardous Waste Management Program will use the local data to prioritize community outreach on safer cleaning agents for the most impacted populations and communities.
On a broader scale, results from her work are of interest to collaborators at the National Institute for Occupational Safety and Health and the National Cancer Institute, where they could inform policies, research and interventions, Baker said.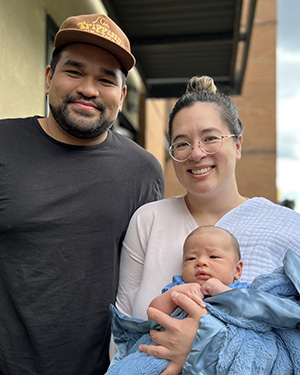 A powerful pair of mentors
Stephan has been guided in her journey by excellent mentorship from both Baker and Peckham.
"Both of them have been really amazing in helping me think outside of the box to look at occupational health from a broad perspective and think about how policies have changed over time," she said.
Additionally, Baker has "supported my goals and interests, and helped me define my thesis project and make connections to make it happen," Stephan said. "Throughout my thesis project she has been available whenever I need and has really helped me grow in the field."
What's next
In the future Stephan hopes to pursue a career as a research industrial hygienist where she could identify new workplace safety issues and come up with solutions in either the private sector or government.
In her free time, she enjoys traveling (Disneyland is one of her favorite spots) and staying active. During the days of pandemic lockdown she had fun getting moving at home with the video game Just Dance.
This spring, she and her partner welcomed their first child.
"With my son, my focus is now on establishing a good work-life balance," she said.
Stephan received funding from the National Institute for Occupational Safety & Health, the American Industrial Hygiene Association and the Pacific Northwest Chapter of the American Industrial Hygiene Association.