Katy Burr
MPH, One Health
Hometown
Seattle, WA
Future plans
Joining the CDC Epidemic Intelligence Service program
"I'm hopeful that my work will help to illuminate ways to keep people who work with animals safer at work."
- Katy Burr
Veterinarian Katy Burr is an MPH student in One Health at the UW Department of Environmental & Occupational Health Sciences (DEOHS) and a trainee in the Northwest Center for Occupational Health and Safety's Occupational Health at the Human-Animal Interface program. We recently spoke with her about her motivation to study public health, her research on how the pandemic has impacted the health and safety of veterinary professionals, and—perhaps most important—her pets, Binx and Chai. Read more about her research here.
What first inspired you to pursue a career in veterinary medicine and environmental health?
I have had a lifelong interest in animals and the environment. As I progressed through my undergraduate studies in zoology I realized that veterinary medicine would be a natural fit for me, and was overjoyed when I was accepted. I loved every minute of veterinary school, but at the time I was very focused on pursuing a career as a small-animal veterinarian.
Over time my interest in public health grew and I eventually decided to step away from working in an animal clinic to serve in the US Peace Corps. It was an amazing experience and allowed me to gain more of an understanding of public health practice. That experience solidified my decision to shift my career focus from small-animal medicine into the public health sector.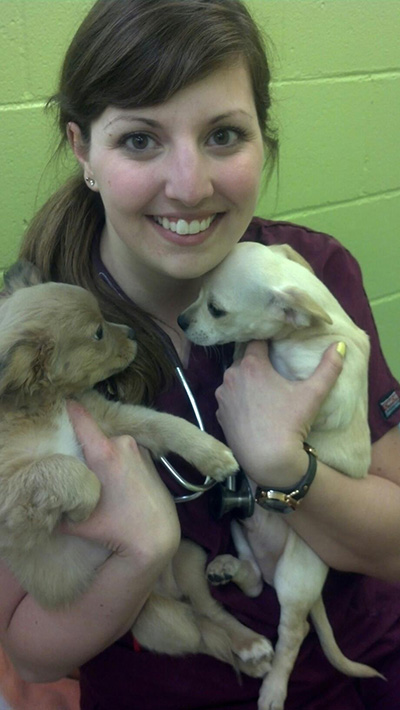 How did you choose to do an MPH in One Health at UW DEOHS?
The One Health MPH was the perfect fit for my previous experience and future career goals. I had expertise and experience in animal health, and I had an interest in developing knowledge and skills to improve the health of communities. One Health is an interdisciplinary field that studies the connections between animal, human and environmental health, then seeks to apply systems-thinking approaches to tackle very complex problems.
From the first time I met with my faculty advisor, Dr. Peter Rabinowitz, he really understood and encouraged my interests and goals. It was the combination of world-class instruction and the personalized guidance and support from faculty that sold me on this program.
What do you find most exciting about your research?
I am most excited that my research might have real applications to help people in the future. My thesis project involves looking at how attitudes and behaviors of veterinarians and other veterinary workers might have changed during the COVID-19 pandemic, and how those changes might influence occupational health risks.
For example, we are looking into whether veterinarians are using personal protective equipment more often after living through the threat of COVID-19. People working with animals can be at risk for a lot of different illnesses and injuries due to their work, and the pandemic has had a big effect on the veterinary industry. I'm hopeful that my work will help to illuminate ways to keep people who work with animals safer at work.
What do you like to do in your free time?
I love to spend time with my pets. I have a cat named Binx and a golden retriever named Chai. I also love spending time outdoors, and Chai and I go on frequent hikes and backpacking trips during the summer!