Joanne Medina
MPH, Environmental and Occupational Health
Hometown
Brooklyn, NY
"Be open to diverse experiences, because you never know how those skills may prepare you for future jobs and opportunities."
- Joanne Medina
As an environmental science officer in the Army, Joanne Medina has trained soldiers in field sanitation in Texas, managed water quality and medical entomology operations at a hospital in Hawaii, collaborated with public health and medical workers in Malaysia and served as the chief of industrial hygiene for the Army's US Public Health Command-Pacific from Washington state's Joint Base Lewis-McChord.
Despite her wealth of practical experience in public health, Medina wanted to broaden her knowledge. Last year, she was admitted to the Army's Long Term Health Education & Training program to pursue her MPH in Environmental & Occupational Health at the UW Department of Environmental & Occupational Health Sciences (DEOHS).
"I wanted to come back and learn more of the academic side of public health, to really delve into the research and the policies," she said.
During her MPH, Medina is helping vulnerable communities prepare for the health impacts of wildfire smoke and other disasters in collaboration with her adviser, DEOHS Associate Teaching Professor Tania Busch Isaksen, and agencies in King County and Washington state.
"It's an honor and privilege to work with Joanne," Busch Isaksen said. "She represents the very best environmental public health professionals have to offer our communities, and in her case, our nation. I am deeply grateful for her service to our country."
Finding her way to environmental health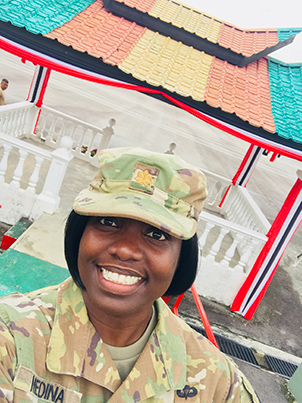 When Medina first joined the Army, she didn't know that the position of environmental science officer existed. She was commissioned as a chemical officer after graduating from college, where she majored in biology and enrolled in the Reserve Officers' Training Corps (ROTC) program.
As a chemical officer, she trained soldiers on chemical, biological, radiological, nuclear and explosives equipment before they deployed overseas. She also served in combat as an assistant operations officer in an aviation unit during Operation Iraqi Freedom.
It was when she took a hiatus from the military to earn her master's degree in environmental management that she began to think about a career in public health.
"While in the Army, I could see how public health played a critical role in the promotion of health and prevention of diseases and injuries, and in empowering people to manage illnesses or disabilities," she said. "That led me to look more into the field, because it was where I thought I could have the most impact."
Fortunately, her next job, as a career counselor for service members transitioning out of the Army at Fort Sam Houston in San Antonio, Texas, was near the US Army Medical Center of Excellence. There, she connected with military public health professionals who encouraged her interest in environmental public health.
In 2012, she returned to the Army to serve as an active-duty environmental science and engineering officer at the rank of captain, and was promoted to the rank of major in 2017.
Empowering communities for cleaner air
During her MPH, Medina has drawn on her years of experience training soldiers in many aspects of environmental public health. For her practicum last summer, she trained leaders from five community-based organizations in South King County to build do-it-yourself box-fan filter kits that clean indoor air during wildfire smoke events.
The organization leaders then passed on this training to community members, distributing over 400 free kits last summer through a program sponsored by Public Health — Seattle & King County and the Puget Sound Clean Air Agency.
"I loved this opportunity because it was a way to focus on the assets and capabilities of the communities," Medina said, noting that the communities face multiple environmental health threats, including wildfire smoke, COVID-19 and pollution from nearby highways and industrial sites.
Medina evaluated the workshops through surveys and produced a report with recommendations on the best way to conduct future trainings.
For her thesis, Medina is analyzing how information on extreme weather events, including wildfires, is communicated to homeless populations.
"Working on my practicum piqued my interest to explore further how these impacts can be devastating to vulnerable populations that may not necessarily have the means to be able to protect themselves," she said.