History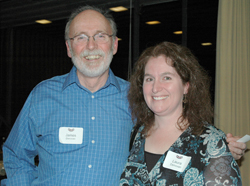 Environmental health
The phrase "Environmental Health" was first used in 1947 to identify a new division within the Department of Preventive Medicine. This division included the undergraduate program in Sanitary Science (which was renamed Environmental Health) and an Environmental Research Laboratory.
The environmental emphasis was strengthened in 1963 when the Legislature funded the Environmental Research Laboratory and construction of the F wing.
In 1970, Environmental Health became a department in the new School of Public Health and Community Medicine. A preventive medicine residency program began shortly thereafter. Teaching, research, and service were given equal weight in the early days. The Environmental Health Laboratory (successor to the Environmental Research Laboratory) still supports service, basic research, and student training.
The words "occupational" and "sciences" were added to the Department of Environmental Health's name in 2003, but a focus on both fields dates back half a century.
Occupational health
Since the late 1940s, the Department of Environmental Health has provided industrial hygiene services to the state. In 1963 the Legislature allocated funding to the Department from workers' compensation funds for "the prevention of industrial and occupational disease among workmen, the promotion and protection of safer working environments and dissemination of the knowledge and information acquired..."
In the 1970s the Department began receiving federal training funds from the National Institute for Occupational Safety and Health (NIOSH) to serve as regional resources in Occupational safety and health. At that time the Department developed a collaborative relationship with the University's Department of Medicine to run the occupational medicine program, and with the School of Nursing, which administers the occupational health nursing program. Since then, the Department has trained students, conducted research, and provided service in each of these disciplines.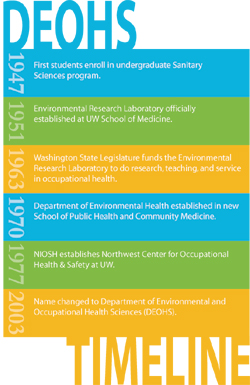 Timeline
1947
First industrial hygiene courses offered at UW School of Medicine.
1951
Environmental Research Laboratory officially established at UW School of Medicine.
1963
Washington State Legislature funds the Environmental Research Laboratory to do research, teaching, and service in occupational health.
1970
Department of Environmental Health established in new School of Public Health and Community Medicine.
1977
NIOSH establishes Northwest Center for Occupational Health & Safety at UW.
2003
Name changed to Department of Environmental and Occupational Health Sciences.
2008
60th Anniversary Celebration. More than 200 alumni and friends of the department gathered March 6 to celebrate 60 Years of Environmental Health excellence at the University of Washington Club. Photos from the party
More History