MS In Environmental Health
Environmental exposures cause hundreds of thousands of illnesses each year, including asthma and cancers. This Master of Science degree in Environmental Health trains students to identify, evaluate, and control exposures to chemical and microbial contaminants in air, water, soil, and food. The curriculum includes courses in the supporting sciences of biostatistics and epidemiology, as well as foundational courses in exposure science, toxicology, and risk assessment. Additional courses provide training in waste management, air pollution, water and wastewater, and other environmental health topics. Students earning this degree are well prepared to help maintain a safe supply of food and drinking water, discover mechanisms of diseases caused by environmental exposures, treat and dispose of solid and toxic wastes, and reduce air, water, and noise pollution.
Career Paths of Recent Graduates
Graduates from the MS in Environmental Health program pursue careers in environmental health practice, research, or consulting, or continue on to doctoral work in the field.  Recent graduates from this degree option are currently working as:
An Environmental Health Associate at Ramboll Environ, a global consulting firm that works to manage environmental and health risks (Class of 2015)
A Public Affairs Specialist at the Environmental Protection Agency (Class of 2015)
An Environmental & Health Sciences Consultant at ICF International, a global consulting and technology services provider (Class of 2015)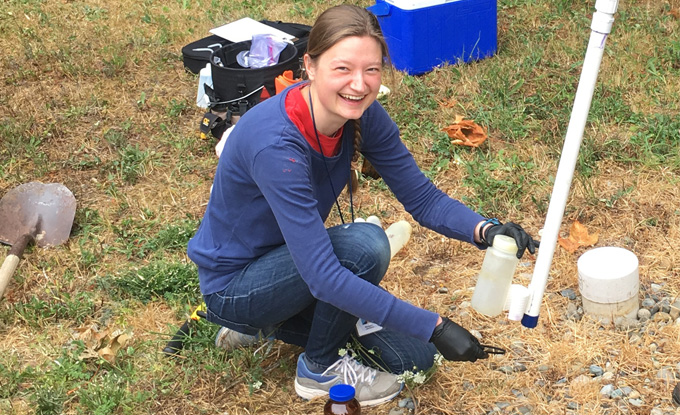 Current Student Profile
Meagan Jackson
"I have always been interested in health, but knew that I did not want to be a medical doctor. As I explored different public health fields, I learned from communities around the world that depend on the environment for their livelihoods. I learned how environmental changes are limiting agricultural productivity and access to clean water, depleting fish stocks, and leading to health problems. I became interested in environmental health because I saw that our interactions with the environment have global impacts on health.
My current research involves partnering with the Washington State Department of Health to study ultraviolet disinfection in onsite wastewater treatment. We want to know whether ultraviolet disinfection units operate properly under field conditions. To answer this question, I am observing septic systems in the field, running tests for the presence of microorganisms, and talking with people who operate and maintain these systems. My long-term career goal is to work with a community-based organization to provide resources that empower communities to access environmental health interventions and promote environmental justice."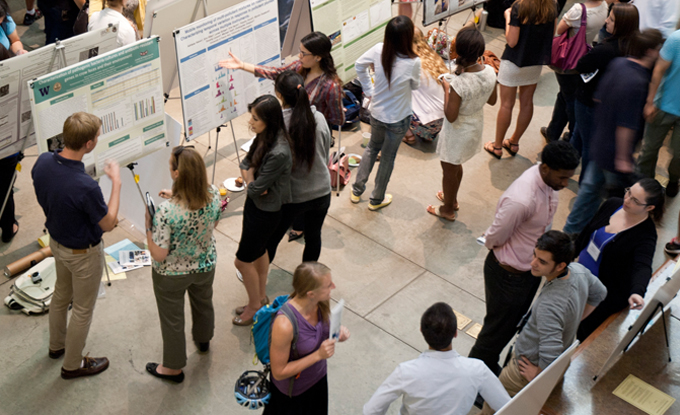 Student Research
Recent Projects
Spatial Analysis of Emergency Medical Service Calls and Extreme Heat in King County, WA
Student: Aubrey Devine (2017)
Faculty Advisor: Tania Busch Isaksen
Poliovirus and Rotavirus Detection in Water: Evaluating and Applying Environmental Surveillance Methods
Student: Jill Falman (2017)
Faculty Advisor: Scott Meschke
Non-Invasive Diagnosis of Pediatric Tuberculosis
Student: Jenny Lohmiller (2015) 
Faculty Advisor: Jerry Cangelosi
Explore more MS in Environmental Health student research projects. 
More Information & Requirements