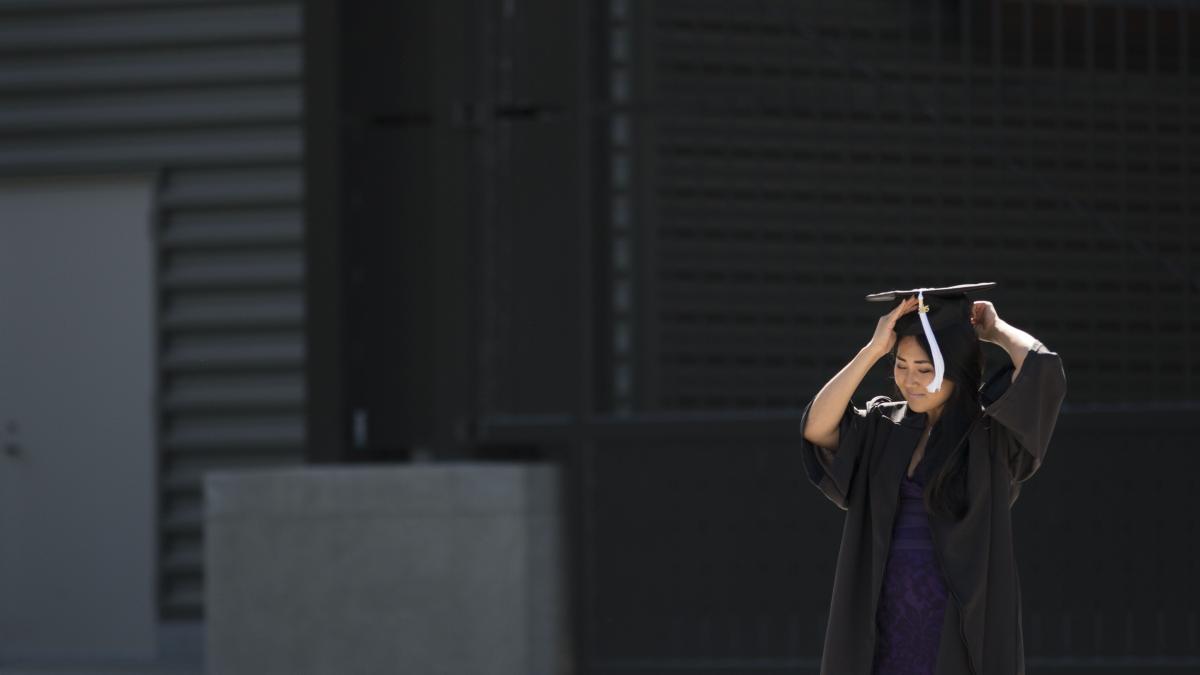 Join us to send off the DEOHS class of 2021!
Happy graduation to our 56 DEOHS graduating students! We are so proud of your accomplishments and your resilience through the unexpected challenges of this year.
You represent the very best of what our department can contribute to public health. We can't wait to see how you will make your mark on a world that needs you now more than ever.
Please join us to celebrate our graduates on Saturday, June 12, at 10 AM PDT. We welcome all DEOHS students, faculty and staff—as well as families and friends—to join us on Zoom for the 2021 DEOHS Graduation Celebration. This event will include live and pre-recorded elements.
Order of Events:
Introduction and Welcome
Graduate Program Address:

Madeline Benoit, MPH One Health

Recognition of Graduate Program Graduates
Undergraduate Program Address:

Sumaya Aden, BS Environmental Health

Recognition of Undergraduate Program Graduates
Presentation of 2021 Faculty Mentor Award
Congratulations from DEOHS faculty, staff, and non-graduating students
Closing remarks
Reception with graduates, family, staff, and faculty
Bring your favorite beverage to toast our graduates and connect as a community. 
We'll see you there!
Note: UW Commencement will begin at 12:00 PM PDT on Saturday. The School of Public Health graduation celebration will be held on Sunday, June 13, at 11:00 AM PDT, with a "purple carpet" and graduation watch party on Facebook starting at 10:00 AM PDT.
Speakers
Madeline Benoit
MPH One Health
Sumaya Aden
BS Environmental Health
Award Winners
Additional congratulations!
Michael W. Cashman, MD, MPH, MHA
MPH Occupational and Environmental Medicine
Congrats DEOHS graduates! I enjoyed getting to know and/or work with each and every one of you! If you need it, don't be shy and hit me up for that LinkedIn recommendation or endorsement ;)
Madeline M. Benoit
MPH One Health
It is with passion, courage of conviction, and strong sense of self that we take our next steps into the world, remembering that first impressions are not always correct. You must always have faith in people. And most importantly, you must always have faith in yourself. Congratulations - we did it!!!
Hien Bui, MD
MPH One Health
Congratulations to the One Health cohort! Congratulations to all DEOHS graduates!
Alexandria Rose Vingino
MPH One Health
Congratulations to the class of coronavirus! I am so grateful that I was able to connect with such a resilient group of individuals, especially who didn't mind spending extra time studying with me for biostatistics! I have been so lucky to learn from each of you and to hear the stories that brought you here. I am so hopeful for all of us and can't wait to see where we all end up! Congratulations again to the class of 2021!
Ayantu Abdu Hajikedir
BS Environmental Health
It must be a very proud moment for all of us. All of the hard work we have put in has paid off. We are an achiever and this is just the beginning of of your journey. Congratulations to all of you and I hope you never stop chasing your dreams.
Bruk Samson Molla
BS Environmental Health
"Just like what the late Nipsey Hussle said, ""Dedication, hard work plus patience...This is a real celebration"" I am fortunate to be part of the most dedicated graduating class. CONGRATULATIONS CLASS of 2021!!!! Thank you God! Thank you MOM! Thank you SIS and the rest of my family!"
Alexandria Sjoboen
BS Environmental Health
Congratulations to all the graduates! I wish we had more time together on campus, but I am grateful to have had the time we did! I can't wait to see what everyone accomplishes in the years to come.
Hillary Godwin
Faculty and Dean
Congratulations to all of our graduates - this has been a tough year for everyone and you have succeeded beyond our wildest dreams. We can't wait to see the great things that you do in the next phase of your career - please keep in touch!
Shar Samy
Staff
We need you! Never let anyone convince you that you are not needed. Not getting a job offer (or a grant) just means you have not found the right place yet. Keep looking with vigor. We all really need you! Just remember the future is in your hands, no pressure:). Everyone of us relies on people like you. You made it, Congratulations!
Sarah Philo
Student
Congratulations! You've managed to do a whole year of zoom school AND graduate! Best of luck in all that you do!
Bonnie Ronish
Student
Congratulations on making it through an absolutely ridiculous year! The world will be a better place with you practicing your craft, and you should be proud now that you've finished this step of your journey. Good luck and thank you for the good deeds you're about to commit.
Nicole Errett
Faculty
Congratulations class of 2021! I can't wait to see you apply your training and talents to build back healthier, more equitable and sustainable communities and robust public health systems. You've demonstrated remarkable resilience and we're so proud of you.
Lee Monteith
Faculty
Congratulations Graduates:
Here I am looking back over 90 plus years of environmental and occupational health; retiring and seeing what has been done, including the role of our department and the accomplishments of our faculty and graduates. You are here, looking forward into the universe of what will be done with our continually improving ways. Your part will be so interesting, challenging and involving the application of your skills and knowledge. You can do more than you ever dreamed or thought possible.
Get ready to jump in and enjoy the swim. The water's fine and so rewarding. We are behind you all the way and rooting for the best. Bon Voyage!
Sincerely,
Lee Monteith, retired Senior Lecturer Emeritus, in DEOHS from1965-2021+
Julia Cui
Faculty
Congratulations Class of 2021! Thank you Gabby Mascarinas, Bruk Molla, and Kyle Kim for your research support, and Allen Chan for TA'ing in ENV H 205!