Magali Blanco
PhD, Environmental and Occupational Hygiene
Hometown
Santa Cruz, CA
Future plans
Continuing her research on environmental exposures and health outcomes in an academic or government setting.
"It's so important to be open to unexpected opportunities. I found there were so many different paths and so many experts in the department to collaborate with."
- Magali Blanco
Sprayers blasted tiny droplets of pesticide onto an orchard near Hood River, OR. Drifting clouds of pesticide aerosols, picked up and dispersed by the wind, settled onto the faces, arms and clothing of workers picking fruit at the farm next door.
As a young college student, Magali Blanco's first hands-on research experience launched a passion for harnessing the power of science and big data to protect the health of communities at risk from environmental hazards.
She developed and implemented bilingual safety training for the farmworkers on how to limit their exposure to pesticides, translating materials into Spanish and collecting data to evaluate the results.
"You have people being sprayed on, and it's obviously such a big problem," Blanco said. "I just really liked that it was applied science, addressing problems that were really important to the community . . . I wanted that bigger-picture connection."
Blanco was recently named this year's Outstanding PhD Student by the UW Department of Environmental & Occupational Health Sciences (DEOHS). Her department mentors cited Blanco's initiative, creativity, work ethic and intelligence in selecting her for the award.
"I expect her to continue to identify new ways to use her scientific expertise to advance environmental justice . . . to give back to traditionally underrepresented communities and help them reduce their exposures," said DEOHS Professor Lianne Sheppard, Blanco's PhD adviser.
Finding her own way to college
College almost didn't happen for Blanco.
She is a first-generation immigrant who moved to California with her family from a small town in Jalisco, Mexico, when she was age 5. She is the first in her family to go to college.
A high school friend urged her to apply for college. With the application deadline coming up fast, Blanco was so stressed about gathering all her materials in time that she almost gave up.
Ultimately, she earned her BA in biology from Lewis & Clark College in Portland, OR. "It is hard when you don't have anybody in your family who's done it before. You're just figuring things out as you go," she said.
Her experience helped pave the way for her two younger siblings—one graduated with an engineering degree, and the other is studying psychology.
Exploring the link between air pollution and dementia
Blanco received her MS from the department in 2017, focusing her master's thesis on the issue of pesticide drift.
"I can say that Magali was the strongest MS student I mentored over 30 years at UW," said DEOHS Professor Emeritus Richard Fenske, her MS adviser. At Fenske's urging, Blanco decided to pursue her PhD in the department and a newfound interest in big data.
She is working with Sheppard on a first-of-its-kind air pollution exposure study to investigate the role of ultrafine particles and black carbon pollution on brain health.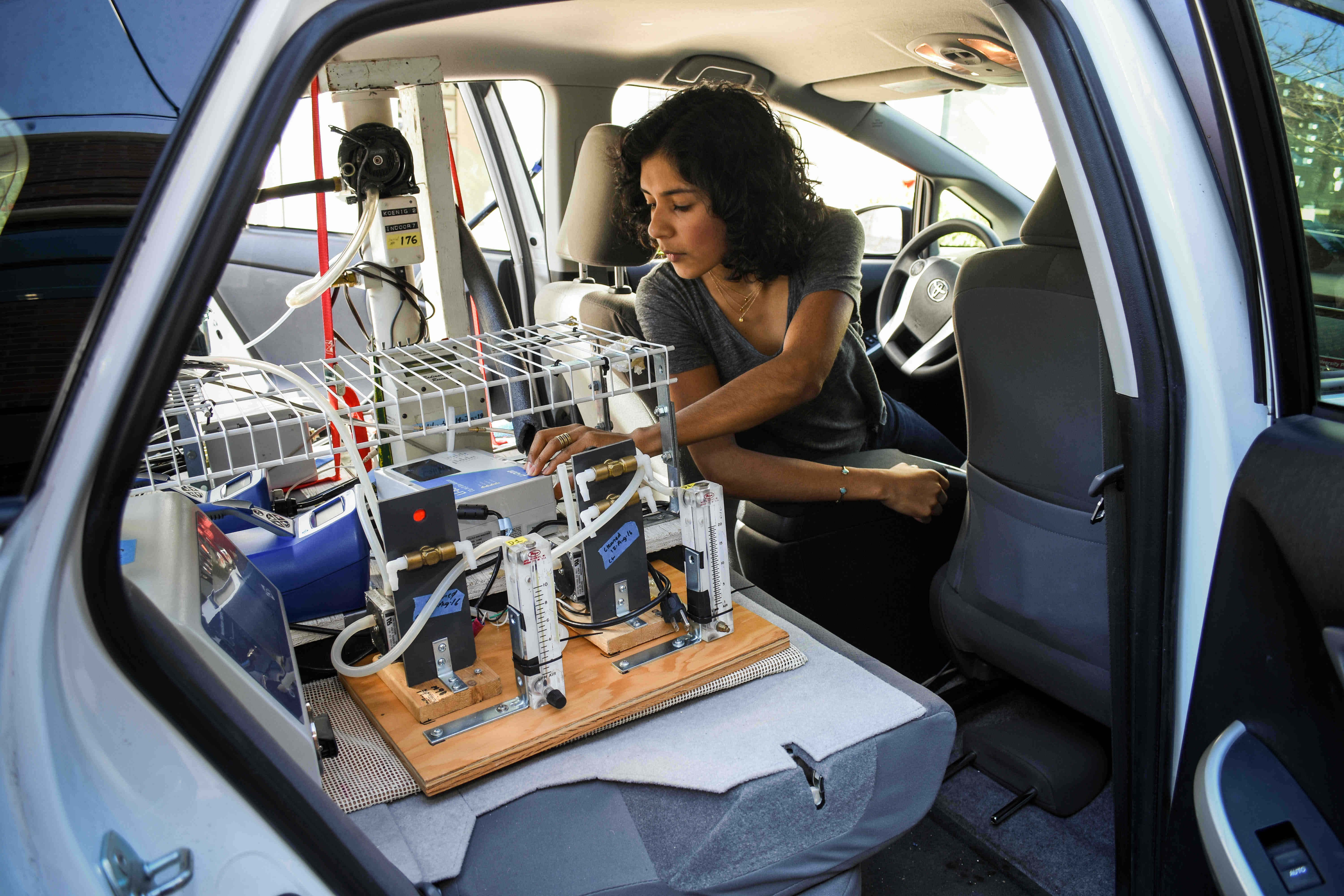 Blanco led the planning and protocol development for a yearlong project to measure pollution exposure using a mobile platform. Specialized instruments continuously recorded data from a car driven around Seattle gathering air samples at more than 300 off-road locations and along the route between these locations. The data include second-level measurements from more than 280 driving days, six hours per day, over the course of a year.
"Magali has distilled a massive number of measurements to produce the first maps of ultrafine particle and black carbon pollution across the greater Seattle area," Sheppard said. "She has also developed a strategy to project these exposures back in time, and now she is poised to consider how they are associated with dementia incidence."
Blanco is currently a DEOHS postdoctoral fellow working with Sheppard to finalize and analyze the data. The work has already resulted in one preprint publication with more to follow.
"Great mentors have made a huge difference"
Blanco's work to promote the health and well-being of Latinx communities in Washington earned her a 2020 fellowship from the Latino Center for Health Student Scholars Fellowship Program.
Blanco also has served on several DEOHS committees, mentored undergraduate students, conducted scientific peer reviews and recently joined the Community Advisory Board for the Sea-Tac Airport Ultrafine Particles Study.
She enjoyed the sense of community she found in DEOHS, she said. With a PhD cohort of seven students, Blanco found it easy to get to know people and connect with her professors.
Her appreciation for her mentors runs deep.
"Great mentors have made a huge difference for me, pushing me when I'm maybe not as confident, suggesting new things to try," she said. "It was the best part of my masters and PhD programs to have so many people supporting me."
Funding support: Biostatistics, Epidemiology & Bioinformatics Training in Environmental Health; Achievement Rewards for College Scientists Foundation Fellow; Pacific Northwest Section of the American Industrial Hygiene Association Scholarship; Latino Center for Health Student Scholars Fellowship.