Magali Blanco and Gabino Abarca from the University of Washington School of Public Health were selected to take part in the inaugural Latino Center for Health Student Scholars Fellowship program.
The program recognizes students who have demonstrated a strong commitment to promoting the health and well-being of Latinx communities in Washington state. Blanco and Abarca, both first-generation college students, will each receive $7,500 to support their education.
Connecting air quality and environmental justice
Blanco, a Latina immigrant originally from Jalisco, Mexico, and raised in California's Bay Area, is pursuing a PhD in environmental and occupational hygiene in the Department of Environmental & Occupational Health Sciences (DEOHS).
"It's a great surprise," said Blanco, who also received her MS from the department in 2017. "I'm grateful for the Center, School, DEOHS community and my advisor, Dr. Lianne Sheppard, who is the most amazing mentor."
Blanco is working with Sheppard, her dissertation chair and a professor of environmental and occupational health sciences and of biostatistics, on a first-of-its-kind study using car-mounted sensors to measure exposure to traffic pollution in the Seattle area and to characterize the area's hotspots.
When combined with medical records from a long-running study of aging, the data they collect from this innovative mobile-monitoring campaign could reveal whether long-term exposure to traffic pollutants affects brain health and increases the risk of dementia or cognitive decline.
For her dissertation, Blanco is leveraging data from this study to build exposure assessment models that predict air pollution levels in different places based on hundreds of variables such as population density and land use changes.
She is also working to expand the model back in time to points when data are not available in order to estimate longer-term exposures to air pollution. "Given environmental justice concerns, her work will support Latinx communities in helping them reduce their exposures," according to Sheppard.
As a master's student, Blanco led research that has informed efforts to protect farmworkers, many of whom are from Latinx and migrant communities, from pesticide exposure. For her master's thesis, she used real-time monitors to characterize the movement or drift of airborne particles from agricultural pesticide spraying, a significant public health concern that affects farmworkers not only in Washington state but around the country.
Promoting Latinx health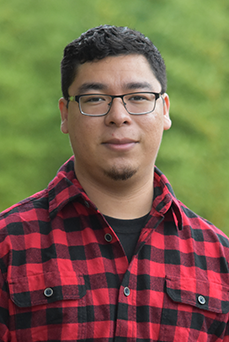 Abarca is pursuing his MPH in the Department of Health Services. For his master's thesis, he is examining the relationship between social stressors and the severity of physical symptoms that present among immigrant Latina women.
"It's an honor to be recognized for my work by an amazing organization that aims to promote and improve the health of Latinx communities in the state of Washington," Abarca said. "Coming from a small agriculture community, I have always been driven to promote and improve Latinx health and at the UW, I have been able to continuously do work with that aim."
Abarca, who received his bachelor's in public health from the School, grew up picking fruit with his parents in eastern Washington. As a student research scientist in DEOHS, he returned to the orchards to conduct research aiming to improve the health of thousands of agricultural workers.
Originally from Mattawa, Abarca helped Associate Professor June Spector investigate the connection between work and heat illness, and what can be done to lessen the risks. Watch a video about his research.
Mentoring next-generation leaders
The new fellowship program is in line with the Latino Center for Health's goal to mentor the next generation of leaders equipped to respond to current and emerging health issues facing Latinx communities in Washington state and the region. A total of ten students were selected, representing health science programs at the UW and Heritage University, a private university on the Yakama Indian Reservation in Toppenish, Washington.
The center is the first in the state to focus singularly on advancing Latinx health and well-being. It builds on the UW's expertise in health sciences with core faculty from the School of Public Health, School of Medicine and School of Social Work, where it is housed.
"The recipients of the Latino Center for Health Student Scholars Fellowship Program are the future leaders of Latino communities in our state and region," said center Co-Director Leo Morales, professor and chief diversity officer of the UW School of Medicine and adjunct professor of health services at the UW School of Public Health. "They are the most important aspect of the Latino Center for Health's aspirations and vision."
Read the center's full announcement.