Tianai (Scyler) Li
BS, Environmental Health
Hometown
Hefei, China
Future plans
Starting veterinary school at Washington State University this fall.
"Community health is important in terms of protecting every individual in the population. It's like medicine, but for a whole population."
- Tianai (Scyler) Li
When Tianai Li, who goes by Scyler, applied to college, she considered studying biochemistry. She calls her eventual decision to major in environmental health a happy accident.
UW's Department of Environmental & Occupational Health Sciences (DEOHS) caught her eye because of her experience volunteering at the Singapore Zoo throughout middle school and high school. She loved working with animals and teaching zoo visitors about environmental conservation.
As soon as she started her first public health class at UW, she was hooked.
"It was a really good combination of my passion for environmental conservation and health," she said.
Since then, Li has done research on topics ranging from toxicology to the health of homeless youth in three labs in DEOHS, and audited the safety of over 500 more UW labs as an intern with the UW Environmental Health & Safety Department. She also completed two ad hoc theses that earned her departmental honors.
Now DEOHS is honoring Li as the 2021 Outstanding Undergraduate Student.
"Scyler embodies the spirit and drive we want for our students," said Tania Busch Isaksen, associate teaching professor in DEOHS. "Her academic achievements, strong work ethic and passion for environmental public health made her our top choice for the award."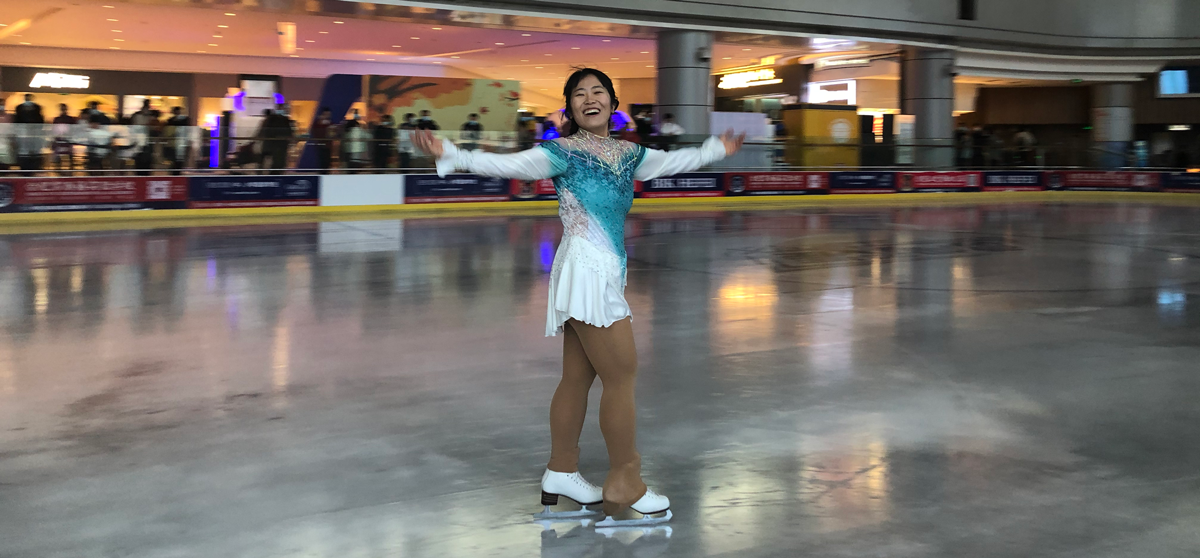 An early fascination with science
Li grew up with a keen interest in science that was first inspired by playing in a home lab set up by her grandfather, a professor of physical chemistry.
"I used to get into all these little accidents. Not really little," she said with a smile. "I almost drank hydrochloric acid once. So I learned early on how important lab safety is."
She was most fascinated by biology, but there weren't many opportunities to get involved in life sciences research in her hometown in China. So at 14, she moved to Singapore to attend middle school and high school, learning complicated biology vocabulary in English, her second language.
Through volunteering at the zoo, she became captivated by the intersection of human and animal health. "Understanding more about animals is also about understanding how they play a bigger role in human health," she said—including how model organisms illuminate human disease and how infectious agents such as the novel coronavirus are thought to have spilled over from animals to humans.
Finding her place in One Health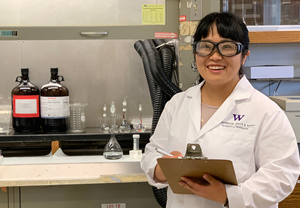 At the UW, these interests drew Li to volunteer at DEOHS's Center for One Health Research (COHR), which focuses on the health linkages among humans, animals and the environment.
"Her body of work for our center alone has been a truly remarkable contribution for an undergraduate volunteer," said Dr. Peter Rabinowitz, DEOHS professor and director of COHR.
The most meaningful project for Li at the center involved working with homeless youth and their pets to understand and aid their access to health and veterinary care.
"It made me realize how important environmental health is, and how much impact we can make if we focus on community health," she said.
Rarely do students "take as much initiative and consistently seek out new challenges as Scyler has," Rabinowitz said.
A foot in every pond
Other research opportunities in DEOHS also engaged Li's curiosity about the connections between people and the animal kingdom.
In DEOHS Professor Thomas Burbacher's lab, she studied the behavior and learning of baby monkeys to understand the effects of their exposure in utero to a marine neurotoxin, domoic acid, found in some shellfish in the Pacific Northwest and beyond. She presented her research at the UW Undergraduate Research Symposium and the Washington State Environmental Health Association's Annual Education Conference.
She also worked with DEOHS Professor Marilyn Roberts on a project exploring how local waterways may influence disease transmission. She cultured fecal samples from marine mammals and water from local rivers to screen for drug-resistance patterns in bacteria.
"I was trying to dip my foot into every pond," she said. "Because I started early with research, I had a lot more opportunity to make mistakes, and to try out new things to see if I liked them."
Carving a path on the ice and the page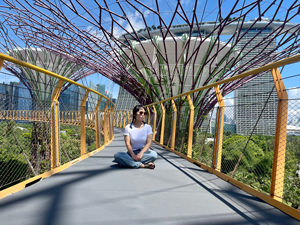 Despite Li's many research commitments, she also found ample time for fun at UW. Her love of graphic design led her to found the UW Calligraphy and Hand Lettering Society. She served as an officer for DEOHS's Student Environmental Health Association, where she met many of her close friends in the department.
She is also a figure skater for the Washington Ice Emeralds, a synchronized skating team. She fondly recalls her last big trip before last spring's COVID-19 lockdown: going to Canada to compete with the team.
A veterinary epiphany
In her sophomore year, through her work in Burbacher's lab, Li had the opportunity to shadow a veterinarian for laboratory animals at the Washington National Primate Research Center and help perform surgery on a rat. Through this experience and a similar shadowing term at the One Health Clinic in COHR, Li was inspired to become a vet herself.
This fall, she is entering the doctor of veterinary medicine program at Washington State University. She hopes to continue doing research, perhaps in One Health.
"Scyler has great potential as a future leader in public health," Rabinowitz said. "She is destined to excel and go on to become one of our most distinguished graduates."
Funding support: The Cind M. Treser Memorial Student Scholarship.