Frederick Law Olmsted, who designed New York's Central Park, once called trees the lungs of the city.
Trees and shrubs filter a variety of air pollutants, including nitrogen dioxide, ozone and particulate matter.
But could they also benefit communities near airports by absorbing harmful ultrafine particles from aircraft exhaust?
A team of University of Washington researchers led by Edmund Seto, associate professor in the Department of Environmental & Occupational Health Sciences (DEOHS), is using drones to answer this question in King County.
Their new project, which was recently awarded a $75,000 UW EarthLab Innovation grant, is a partnership with the Seattle nonprofit community group El Centro de la Raza and state and local agencies.
The problem with ultrafine particles
Last year, Seto and colleagues reported that planes descending toward Seattle-Tacoma International Airport leave behind a plume of air pollution in communities underneath and downwind of their landing paths. Similar plumes have previously been documented at Los Angeles International Airport and others.
In their Mobile ObserVations of Ultrafine Particles (MOV-UP) study, Seto's team showed that jet pollution is dominated by ultrafine particles, invisible flecks of less than a micron in diameter. When inhaled, they can pass into lung tissue and the bloodstream, as well as through the blood-brain barrier and across the placenta.
Greater exposure to these miniscule pollutants is linked with increased risk for heart and lung disease, some cancers and adverse birth outcomes. It may even contribute to cognitive issues such as dementia.
Community-inspired science
So what can we do about this? That was the question Seto heard again and again in talking with city leaders, community partners and residents about the results of the MOV-UP study.
Members of El Centro de La Raza, a nonprofit in Beacon Hill committed to serving the Latino community and people of all races, wondered whether urban planting projects could help.
As Seto dug into the literature, he found some hopeful evidence. It's still unclear, however, what type and configuration of planting works best to filter out ultrafine particulates.
"Not every type of urban greening project might be as effective," Seto said. "There are some interesting questions there."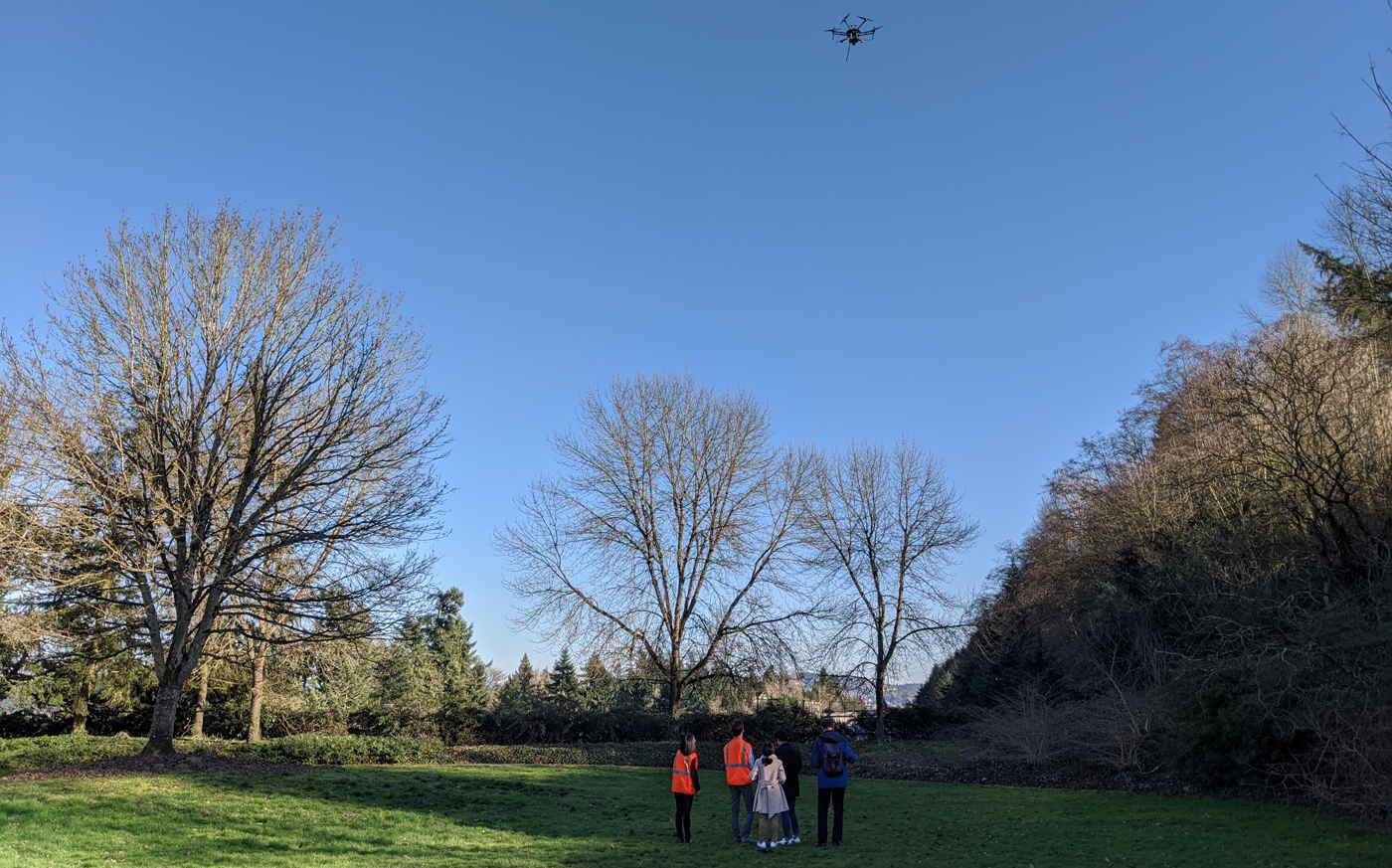 Up in the air
Seto's team has characterized aircraft and highway pollution close to the ground by driving a car outfitted with air monitoring instruments all over Seattle.
But they also want to know how pollution levels vary at higher altitudes, closer to a jet's exhaust plume.
It's a perfect job for a drone. By outfitting an unmanned autonomous vehicle with air pollution sensors and taking off in areas with different types of vegetation, the researchers could answer their questions about greening and altitude at the same time, Seto said.
An interdisciplinary team at UW is taking on the project, including Professor Timothy Larson of DEOHS and the Department of Civil and Environmental Engineering (CEE), CEE Assistant Professor David Shean and Professor Joel Thornton of the Department of Atmospheric Sciences.
Testing the drone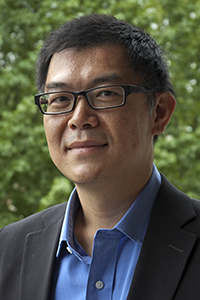 This isn't your recreational drone—it's the size of a tabletop, big enough to carry several air monitoring sensors.
Two measure ultrafine particles and black carbon. The latter indicates how sooty a particle is. Together, the two metrics indicate whether particles come from diesel or jet fuel exhaust or other sources.
Another measures volatile organic compounds. These tiny chemicals are released in the burning of fossil fuels.
But living plants produce them too, and they can promote the formation of particulates under certain conditions—an important piece of the puzzle when assessing greening projects.
Finally, the team will use imagery collected by the drone and satellites to characterize the vitality and configuration of the vegetation.
In February, the team launched the drone on a few test flights from planted lids over I-90 where the highway crosses Mercer Island. They saw differences in air pollution levels derived from vehicle exhaust as they flew to different elevations and distances from the highway, Seto said.
Kicking off the project
The project will be guided by a steering committee including El Centro de la Raza, the Puget Sound Clean Air Agency and the Washington State Departments of Health and Ecology.
This summer, Seto's team plans a kickoff meeting with the committee to introduce the project and choose locations. During the approximately year-long course of the study, they will present preliminary data to the committee and solicit their feedback.
Seto hopes community members could be a part of the sampling too, if the pandemic abates in time. "We want to make it a community event, so people can see us launch the drone and see the data that we're collecting," he said.
They've already had one surprise contribution from a community member. After Seto's team received the EarthLab grant, a manager of Seattle's Outside Citywide initiative reached out with interest in assessing some of the city's new planting projects, including one in South Park.
"We have this nice opportunity to look at some real-world greening projects," Seto said.