As a young woman, Diana Ceballos spent Saturdays volunteering with impoverished children living in a neighborhood built on top of a garbage dump in her native Medellin, Colombia.
"I could see how sick they were, the skin diseases, the coughing, the deplorable conditions," Ceballos said. "It was evident to me how the environment plays a huge role in health. But back then, no one talked about how the environment could make you sick."
That early experience laid the groundwork for Ceballos's research and teaching career animated by a passion for environmental justice and health equity.
Ceballos is a new assistant professor in the UW Department of Environmental & Occupational Health Sciences (DEOHS) whose research identifies environmental factors that cause disease and injury among workers and their families.
She focuses particularly on vulnerable workers from communities of color or those working in small businesses or developing economies that often have the most hazardous jobs.
Seeking 'the human component'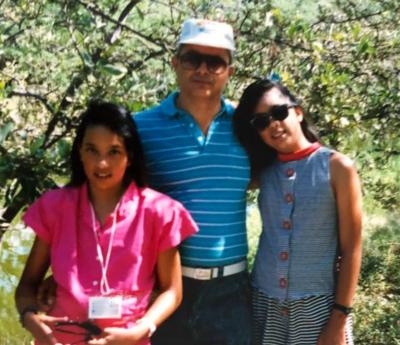 Ceballos's grandparents were coffee farmers in a rural community. Her father became the first in his family to go to college, becoming an engineer. Ceballos chose chemical engineering for her major at Universidad Pontificia Bolivariana in Medellin.
She loved science and research and decided then that she wanted a career as a researcher and professor. Yet she felt something was missing.
An internship with Dow Chemical in Cartagena working on environmental health and safety made her realize that she wanted "the human component to motivate my work."
Immersed in environmental health
She graduated in 2000 and then earned a master's in atmospheric chemistry at the University of Nevada, Reno, where she graduated in 2003. But she realized she had a gap in her education.
"Coming from engineering, I didn't have a background in health," she said.
One of her Reno roommates was studying environmental health, and Ceballos found herself immersed in her friend's study materials. "She was an environmental health nut! She had all the VHS movies, like 'Erin Brockovich,' all the books, and I just started watching and reading everything."
The same roommate helped her connect with DEOHS Professor Christopher Simpson, who offered her a job as a research scientist while she finished prerequisites to start the DEOHS PhD program in Environmental and Occupational Hygiene.
Tracing toxic exposures in the workplace and at home
As a PhD student, Ceballos worked closely with her adviser, current department Chair Michael Yost, and her mentor, the late DEOHS Professor Richard Fenske.
Yost, also an engineer, guided her career in industrial hygiene, helping her get an internship with the Washington State Department of Labor & Industries working with the collision repair industry. That evolved into a dissertation and postdoctoral fellowship to understand the effectiveness of protective gloves against catalysts in car paint.
Fenske had pioneered the use of fluorescent tracer technology to test the effectiveness of protective equipment used by farmworkers and others who mix and apply pesticides.
That inspired Ceballos to take a similar approach with a federally funded study she now leads working with construction workers. She uses wipes that turn red in the presence of lead to show how the toxic metal may be carried home by workers from their jobs, exposing their children.
Consulting on worker safety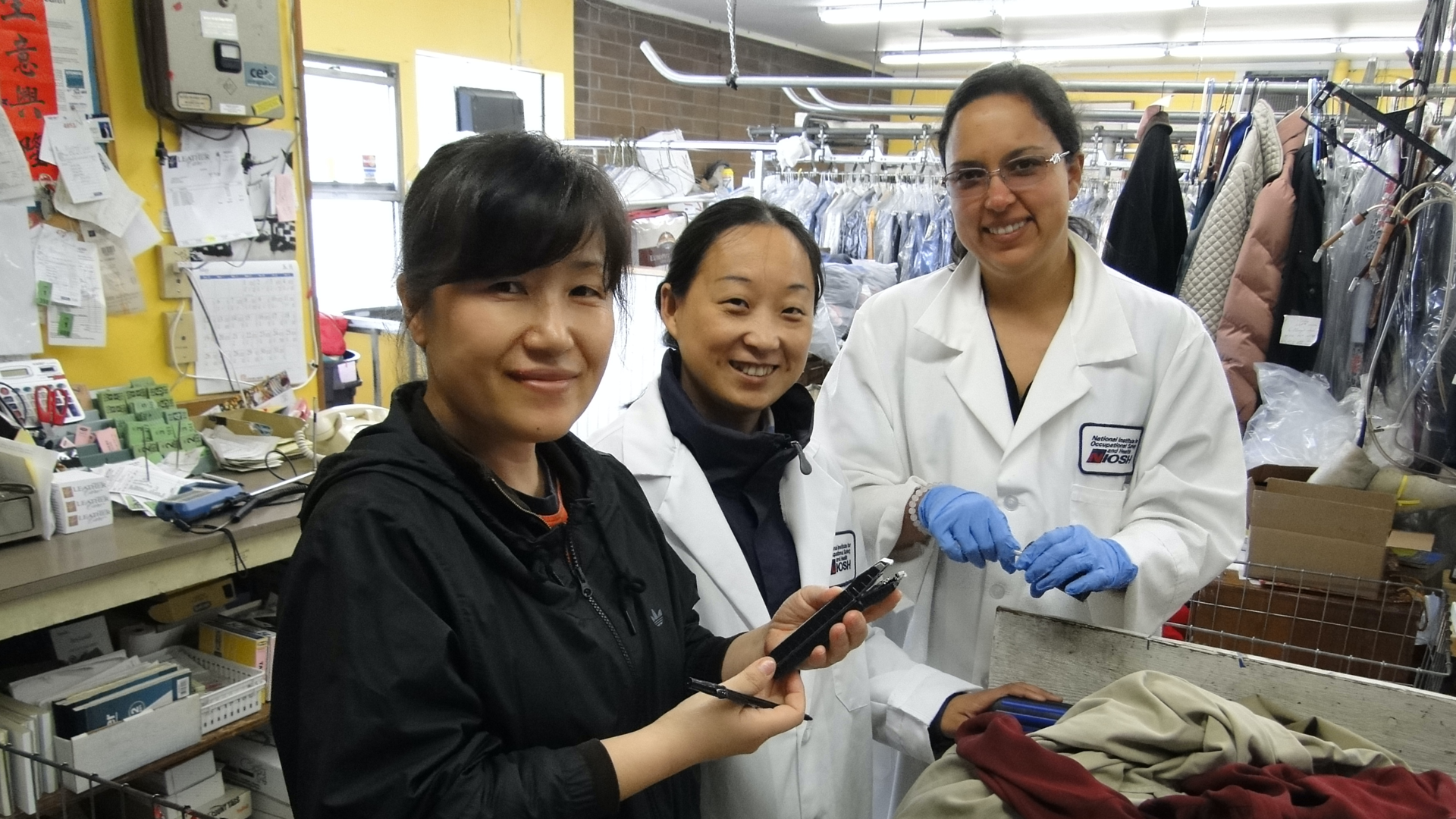 After completing her PhD and a postdoctoral fellowship in 2010, Ceballos spent five years working as an industrial hygienist for the National Institute for Occupational Safety & Health in its Health Hazard Evaluation Program.
From her base in Cincinnati at the Alice Hamilton Laboratory for Occupational Safety and Health, she flew around the country consulting with government agencies and companies on health and safety issues in the workplace, with a focus on addressing issues affecting vulnerable workers.
Her work took her to dry-cleaning businesses, electronics recyclers, an airline catering company, an airplane refinishing facility, a large mail-order pharmacy retailer and even to FBI headquarters to assess the chemicals they were using to extract fingerprints from surfaces.
Her commitment to health equity research was recognized with an appointment as a government fellow in the JPB Environmental Health Fellowship Program at Harvard's TH Chan School of Public Health.
Returning home to Seattle
By 2015, Ceballos was ready to return to her original dream of becoming a university professor. She took a job as a research scientist and instructor at Harvard before getting hired as an assistant professor at Boston University.
Yet Ceballos yearned to return to the Pacific Northwest, which had felt like home to her from the moment she landed in Seattle, "even more like home to me than Colombia," she said. By then, she had a young daughter with family ties in the Northwest. The pandemic made Ceballos feel isolated from friends and family.
She was thrilled when she was hired for a new assistant professor position in DEOHS in 2022. She is also serving as assistant director for the Industrial Hygiene program in the Northwest Center for Occupational Health and Safety (NWCOHS), part of DEOHS.
Launching the Exposure Equity lab
Ceballos has named her research lab the Exposure Equity lab, which investigates the health effects from exposure to complex chemical mixtures and aims to develop safer alternatives, controls and solutions.
Her current research includes a project with King County and the state Department of Ecology to replace toxic chemical degreasers used in auto repair businesses with less hazardous, water-based alternatives. The project is funded by the Interdisciplinary Center for Exposures, Diseases, Genomics and Environment, part of DEOHS.
Another project, also in collaboration with King County, is with DEOHS master's student Aesha Mokashi to investigate eyeliners traditionally used by women in the Afghan refugee community and their children that can have high lead levels. The goal is to identify culturally appropriate alternatives with safer ingredients.
And she leads a pilot study with Seattle nonprofit Casa Latina to develop worker safety and health trainings for day laborers, a project funded by NWCOHS.
UW invests in diverse faculty
Since returning to Seattle, Ceballos has enjoyed hiking as well as spending time with her 14-year-old daughter.
Ceballos is grateful for UW's support for new faculty members, including a faculty development program for new faculty from under-represented communities. "It is nice to see that investment," she said.
She shared a recent conversation with one of her students, a Latina from Eastern Washington. "She said, 'I'm so glad you're on our faculty; it's wonderful to see a Latina in that role.' That really moved me."