Marilyn Roberts still remembers the advice her father gave her when she headed off to college: "Do something so you can get a career."
Marilyn Roberts
Professor, UW Department of Environmental & Occupational Health Sciences
Adjunct Professor, UW Department of Global Health
Adjunct Professor, UW Department of Pediatric Dentistry
Proudest achievements:
Professionally: all the students I have trained, my impact on the field of antibiotics over the past 40 years, and my standing in the international field. Personally: raising two successful, productive children.
Joined DEOHS faculty:
2006
By all accounts, she has exceeded those expectations. A microbiologist in the UW Department of Environmental & Occupational Health Sciences (DEOHS) who has helped illuminate the problem of antibiotic resistance, Roberts is retiring after 41 years as a faculty member in the School of Public Health.
During her career, she has mentored over 80 undergraduates, advised dozens of graduate students and postdocs, and published over 225 papers and over 50 book chapters.
Roberts was recently appointed professor emeritus in DEOHS, in large part so she could continue serving on several of her students' committees.
"Marilyn has always made mentoring a central part of her work as a faculty member," said Michael Yost, DEOHS professor and chair. Students frequently sought her out as a mentor, and she was active in the Supporting Undergraduate Research Experiences in Environmental Health (SURE-EH) program for students from traditionally underrepresented backgrounds, he said.
"A hallmark of Marilyn's mentoring style was to work closely with her students, meeting frequently, helping navigate courses and at times working beside them in the lab."
Path to a professorship
"The one thread throughout my career has been looking at antibiotic-resistant bacteria, their genes and how they spread," Roberts said. "For the last 20-plus years, I've been looking at how they spread through ecosystems, whether it's from humans to animals to the environment, or vice versa."
But how she got here is far from straightforward. Roberts grew up in Seattle with an interest in biology, and spent her first two years of college studying it at University of California Davis.
Then "the bottom fell out" of Boeing, where her father worked, so she came back home and transferred to the UW. She majored in microbiology "because it sounded interesting."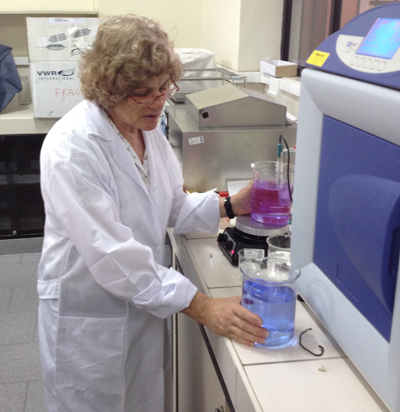 After graduating, getting married and taking a detour to become a medical technologist, where she says she "needed more of a challenge," she returned to the UW get her PhD in microbiology and immunology.
Soon after that, she started her own lab as a professor in the UW Department of Pathobiology, focusing on clinical work in dental and respiratory microbiology. In 2006, she transferred to DEOHS because of her love for the field of One Health, which examines the health interconnections among humans, animals and the environment we share.
Antibiotic resistance around the world
Roberts has examined these health linkages across the world and in many different species, from orcas in Puget Sound to wild primates in Nepal.
Recently, a new study led by Roberts' former student Alexandria Vingino, an MPH alum in DEOHS, found antibiotic-resistant bacteria in the poop of harbor seals, harbor porpoises, river otters and English sole and in marine water in the Salish Sea (Puget Sound) region.
Another recent MS alum advised by Roberts, Tyler Gerken, studied the spread of methicillin-resistant Staphylococcus aureus (MRSA) in Hawai'i's beaches and rivers.
One of the biggest takeaways from her lab's research, Roberts said, is how important it is not to overuse antibiotics. This can lead to the spread of antibiotic resistance and failure of the life-saving drugs.
"The more antibiotics you take, the more likely your own microflora will become drug resistant. And then it can transfer to a pathogen, making an infection harder to treat," she said. The result: there may come a time when there are no longer effective antibiotics to treat some infections.
"Then we will be left with protocols including cutting limbs off, cutting tissue out, things that we did before antibiotic therapy became common," she said.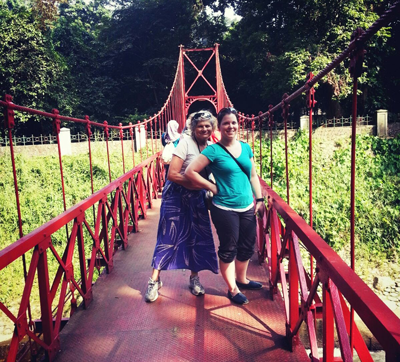 A zest for travel and science communication
Roberts loves to travel, and her career has taken her all over the world. She has done research in England, Indonesia, Peru, and Portugal and traveled to France, Germany, Italy, Norway, the Republic of Georgia and the United Kingdom for meetings and lectures.
"I've been to a lot of interesting places that I wouldn't necessarily have gone to on my own," she said.
The pandemic scrambled her plans to continue her research on MRSA in wild primates through a Fulbright fellowship in Thailand and Nepal, as well as planned trips to Scotland and Hawai'i. In retirement, she hopes to get to these spots and others.
She also plans to continue serving as a source for news media on all matters of microbiology. She's spoken about antibiotic resistance in live television and radio interviews for outlets including the BBC. Since the pandemic, she has fielded many questions about COVID-19, including whether it can be spread through food or money (no and no).
Her biggest advice on the subject of the novel coronavirus? It's the same as what she often tells her students: "Get vaccinated."