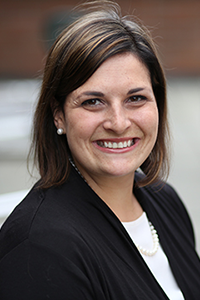 How do you plan ahead for the unforeseen?
That's the tricky question a group of national and international disaster preparedness experts will try to answer this week when they gather at the University of Washington.
The Disaster Research Response Workshop aims to build regional capacity for research response following disasters such as earthquakes, heat waves or wildfire smoke events in the Pacific Northwest.
Planning for the three-day workshop from Aug. 9-11 is being led by Nicole Errett, assistant professor in the UW Department of Environmental & Occupational Health Sciences (DEOHS), and her research team at the UW Collaborative on Extreme Event Resilience, part of DEOHS.
"Disasters are increasing in magnitude, and we don't know a lot about what happens to people after disasters and the short- and long-term health effects," Errett said.
"Research in the aftermath of a disaster can help us to learn about these impacts to inform preparedness, response and recovery efforts, but we need to go out and collect the data really quickly," she said.
Event participants will include local, state and federal officials, as well as representatives from regional tribes, academia, the private sector and community-based organizations.
Creating interdisciplinary solutions
Since 2019, Errett and her team have brought together partners from the National Institute of Environmental Health Sciences and experts across the UW from built environments, engineering, public policy, medicine, nursing and public health to identify interdisciplinary solutions to the challenges of disaster research.
They are collaborating with government and community partners across the Pacific Northwest as well as international partners across the Pacific Rim that experience similar disaster risks.
"The opportunity to collaborate with colleagues and connect with new partners to build capacity for disaster research response has been such a privilege," said Jamie Vickery, CEER research scientist. "The planning process has fostered important discussions for how we, as researchers, can effectively and intentionally work with and learn from communities and key partners to advance actionable disaster research." 
The group also aims to identify training needs to prepare students and current professionals to participate in disaster research. And they are working to improve processes for institutional review boards, whose goal is to promote ethical research that supports the rights and welfare of research participants, to review time-sensitive disaster research.
Building back better
Errett describes her motivation for conducting community-centered, disaster research: "What it comes down to for me is the opportunity to contribute. There's a very small community of disaster and health researchers across the country -- it's growing, but it's a space that has been traditionally underexplored and under-researched," said Errett.
Errett has a special interest in working to diminish inequities in recovery efforts and supporting communities to build resilience in the aftermath of disasters.
"As a researcher, [working on disasters] keeps me excited and motivated, because there's always so much work to do, and there are such great consequences for real people who are experiencing disasters every day," she said.
More than 75 UW students, faculty and staff along with partners from local, state, federal and tribal governments and community-based organizations participated in planning the workshop.
Other DEOHS experts participating in the conference include Tania Busch Isaksen, Elaine Faustman, Dr. Jeremy Hess, Dr. Joel Kaufman, Elizabeth Walker and Michael Yost.
Other DEOHS staff and students supporting the conference include Cat Hartwell, BJ Cummings, Lisa Hayward Watts, Matias Korfmacher, Isabel Nerenberg, Kathleen Moloney, Juliette Randazza and Amber Khan.