Thomas Burbacher
Professor, UW Department of Environmental & Occupational Health Sciences
Proudest achievements:
Making discoveries in toxicology and seeing how research is used for public health protection, engaging with communities and teaching undergraduates
Joined DEOHS faculty:
1991
"I've had the perfect job for the last 10 years, with teaching undergraduates and working on my research program. I just love coming to work every day."
- Thomas Burbacher
Tom Burbacher remembers the moment that set him on the course to become an environmental toxicologist.
As an undergraduate majoring in Physiological Psychology at the University of Cincinnati, he heard a guest lecturer share his research on how chemical exposure during pregnancy affects children's brain development.
"The research sounded really exciting to me," Burbacher said. So he went up to the lecturer and asked if he could work in his lab.
Volunteering in the lab, at the Children's Research Institute in Cincinnati, led him to a paid position, which he continued full time the year after he graduated. His interest in the research eventually inspired him to pursue a PhD in Developmental Psychology at the UW to study how prenatal exposure to stress affects offspring development.
Since then, Burbacher has spent decades researching how toxic chemicals affect children's developing brains—a field now known as children's environmental health. His findings have helped shape environmental regulations, and his dynamic teaching and mentorship have inspired students to enter the field themselves.
Burbacher retired in June after 32 years as a faculty member in the UW Department of Environmental & Occupational Health Sciences (DEOHS).
"One of the things I've enjoyed throughout my career is interpreting the research and getting it out to the public, as well as trying to see how the research fits into environmental protection," he said.
"Tom has had a major influence on DEOHS, both in his contributions to toxicology and to instruction," said Michael Yost, DEOHS professor and chair, who noted that Burbacher's work on neurotoxins such as methylmercury and domoic acid "has had practical implications to setting limits for dietary exposure to these agents from fish and shellfish consumption."
"His teaching has shaped our curriculum and these contributions will continue to be felt for years to come," Yost added.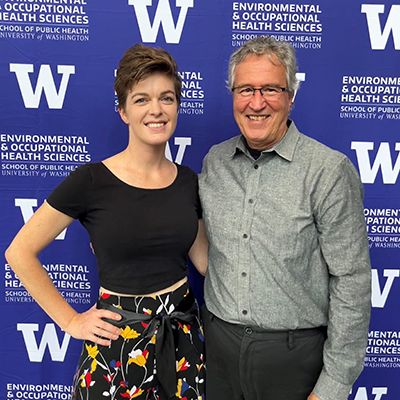 Finding toxicology
Burbacher first came to the UW in 1974 as a graduate student to study at what is now the Washington National Primate Research Center under the guidance of Gene (Jim) Sackett, professor in Psychology.
He later collaborated with UW Pathology Professor N. Karle Mottet to research the effects of prenatal methylmercury exposure on brain development. People are generally exposed to this neurotoxic chemical by eating fish, which bioaccumulate this form of mercury from the environment.
Burbacher helped Mottet write a grant and then coordinated it for several years. "By the time I graduated, I had already led a research grant," he said.
The project introduced to him to the field of toxicology, which he then focused on as a postdoctoral researcher at UW. In 1991, he was hired as a research assistant professor in DEOHS.
For over 20 years, he has worked closely with senior research scientist Kimberly Grant, and mentored dozens of undergraduates and grad students in his lab.
"Dedicated. Steady. Kind. These are the words that I think best describe Tom," said Grant. "His long and successful history of funding through NIH speaks to the importance of his research and his unerring ability to get the job done. Tom is a masterful methodologist and his projects were complex, requiring focused attention on a daily basis. His calm demeanor and ability to lead multidisciplinary teams to a common goal were appreciated by those who worked with him."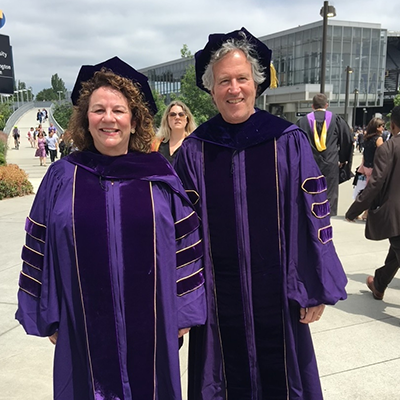 Shaping policy on neurotoxic chemicals
Burbacher's research and expertise on methylmercury helped shape policy about exposure levels to the chemical.
In 2000, he served on a National Academies of Sciences and Engineering panel to review the US Environmental Protection Agency's decision to lower the reference dose, or acceptable amount of exposure, to the neurotoxin.
It meant entering a contentious debate pitting supporters of industries emitting mercury, such as coal-fired power plants, against environmentalists and public health advocates. After a year of deliberation, the panel supported the EPA's decision to lower the reference dose.
Burbacher calls the experience a highlight of his career. "That was a time when you could really see how research informed regulations," he said.
His commitment to communicating science also led him to serve on a state panel for lead exposure, and to direct community outreach for two DEOHS centers, the UW Superfund Research Program and what is now the Interdisciplinary Center for Exposures, Diseases, Genomics and Environment.
"I've really enjoyed engaging with communities on issues that are important to them," he said.
"A huge joy" in the classroom

During his early years as a faculty member in DEOHS, Burbacher served as graduate program coordinator and cofounded the Student Advisory Committee with the chair at the time, Professor Emeritus Gerald van Belle.
Though Burbacher has taught both graduate and undergraduate courses at UW, he has found the most satisfaction in teaching a course to introduce undergraduates to environmental health. It "has been a very popular course for entering students to learn about our field," Yost said.
"It's so exciting to see students coming in who are just starting up, and seeing their enthusiasm," Burbacher said.
"Teaching has been a huge joy. About every quarter, I'd get a note from one of the students who said something like, 'You changed my whole way of thinking about what I want to do in my life.'"
Tracking a shellfish contaminant
Burbacher's most recent research focuses on domoic acid, a naturally occurring neurotoxin produced by some species of harmful marine algae. It can poison people or animals when they eat shellfish contaminated with the chemical.
The damage it can do was made clear last month, when it was blamed for the deaths of hundreds of sea lions and other marine mammals along the California coast.
Burbacher conducted the research with two recent advisees, PhD alumnae Rebekah Petroff and Alicia Hendrix. Their research shows that exposure to domoic acid can lead to subtle changes in the brain and in behavior at levels near the current regulatory guidelines, and that older individuals are at increased risk for toxicity.
"I am so grateful that I had the time to learn and grow under Tom's wing," said Petroff, now a science and technology fellow for the Federal Judicial Center. "He modeled kindness, empathy and understanding, while striving for top-tier science and environmental health in his work and lab. I am happy that his positive impacts will continue to live on in me, his other students and projects well beyond his soft retirement."
Travel and teratology
Burbacher will continue to work as professor emeritus in DEOHS, and is particularly excited about several ongoing projects with Grant. They will manage the Teratogen Information System (TERIS), a database that allows health care providers to access information on chemicals and medications that may cause fetal abnormalities after exposure during pregnancy.
"Through these new efforts, Tom's intellect and compassion for children will continue to be felt around the globe," Grant said.
In retirement, Burbacher also hopes to take a few trips each year with his wife to destinations in Europe and Africa. But as of late June, he was helping their daughter, who just finished her first year at the UW, move out of the dorms.
"And then, you know, I'll just relax," he said.